Best Places To Be Alone In Los Angeles
Stories like these are only possible with your help!
You have the power to keep local news strong for the coming months. Your financial support today keeps our reporters ready to meet the needs of our city. Thank you for investing in your community.
Los Angeles is a massive city, where millions of residents shuffle from one place to the next and hustle to pay exorbitant rents. The proliferation of health-oriented activities and services in the city is sometimes a huge help, but often they're massively popular and packed with people—a.k.a. the opposite of relaxing. So where do you go when you need some time away from your hectic life and all the people within it? Here are some of our favorite spots where you can shut everything off and tune into that inner voice.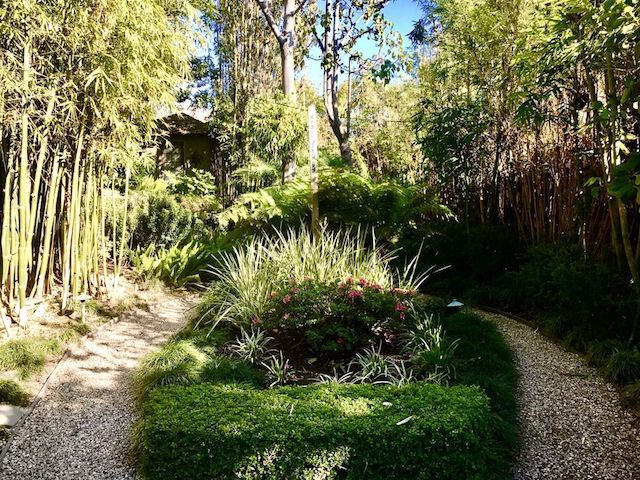 The Peace Awareness Labyrinth and Gardens. (Photo by Kym B. via Yelp)
PEACE AWARENESS LABYRINTH & GARDENS
L.A. has a history of cults—both real and pseudo—so sometimes it's difficult to trust something that promotes spirituality from a self-described "villa." Don't let the Peace Awareness Labyrinth and Gardens scare you, though. It's truly a haven of meditative calm and personal getaway. The first visit includes a required tour of the space, which means lots of framed photos of generations of spiritualists, but once you've heard the history, your guide will take you outside and give you full access to the labyrinth and tiered garden. It's a complete enclave in the mansion-studded area of West Adams and the best spot to journal or relax while surrounded by trees, manicured bushes, and people contemplating their metaphysical existence. The outside world melts away inside the gardens.
The Peace Awareness Labyrinth & Gardens is free to enter with reservations. It's located at 3500 W. Adams Blvd, Los Angeles and is open Monday to Thursday from 12 p.m. to 4 p.m., as well as the 4th Saturday of the month and some Sundays.

The Velaslavasay Panorama. (Photo by Suzanne Danziger via the LAist Featured Photos pool on Flickr)

VELASLAVASAY PANORAMA
Normally, no one should enter the area between 23rd Street, Jefferson, Vermont, and Figueroa if they aren't a USC student because regular people don't need that kind of negativity in their life [Editor's note: I was a USC student and don't approve this sentiment] [Writer's note: I was as well and that's why this sentence is correct]. That being said, the Velaslavasay Panorama (touted as an exhibition hall, theatre and garden) is possibly one of the most magical, most calming, most wistful, most meditative spots in all of Los Angeles. The top floor is where the panorama itself is located. Up a creaking wooden stairway is a small circular room, with the hand painted panorama covering the entire wall and extending into a small dip between the wall and the floor. Currently on display is "Effulgence of the North," which depicts an arctic scene with subtly changing lights, and the cool room creates for a full sensory experience. Downstairs is an auditorium, and outside is a magical garden of gazebos and plants and stone walkways. The Velaslavasay Panorama is located at 1122 West 24th Street, Los Angeles. (213) 746-2166. It's open from 12 p.m. to 6 p.m. Fridays through Sundays, with a $6 suggested donation.

The Bourgeois Pig. (Photo by Kendra W. via Yelp)

FOREST ROOM AT THE BOURGEOIS PIG
The Bourgeois Pig does not have particularly good coffee. It does not have particularly good food. But it has a back room decorated like a forest. The light is dim, so at 3 p.m. on a sunny weekday afternoon it's possible to sneak to the back and pretend like you're all alone in the wilderness (OK, maybe that's an exaggeration, but it's still a nice place to relax). There's also wifi, and just enough light to read, so turn it into a productive or relaxing getaway. There will be other people here, because it's a dining establishment, but everyone turns it into their own private hideaway, so be a true Angeleno and sit among strangers without saying hello to any of them.The Bourgeois Pig is located at 5931 Franklin Ave, Hollywood Hills. (323) 464-6008. It's open every day from 8 a.m. to 2 a.m.

The view from the top of the Baxter Stairs. (Photo by Andy Sternberg via the LAist Featured Photos pool on Flickr)
TOP OF THE BAXTER STAIRS
Sometimes the best way to romanticize Los Angeles is by looking at its skyline from far away, with palm trees peppering the sky and a calm, smog-less breeze gently moving past your ears. The best place to experience this sensory wonder is at the top of the Baxter Steps in Echo Park. Don't descend into Elysian Park itself (there are people there); find a stoop to sit on across the street from boxy modernist homes whose landscapes consist exclusively of succulents. Look at the world in front of you, taste it, remind yourself why you picked Los Angeles (or why it picked you). The walk up the steps is grueling enough to make the top feel like an accomplishment, but not so grueling as to dissuade a spontaneous trip.
The Baxter Stairs can be accessed at the end of Baxter Street in Echo Park, east of Echo Park Avenue.

The Central Library. (Photo by kayno919 via the LAist Featured Photos pool on Flickr)

HISTORY FLOOR OF THE CENTRAL LOS ANGELES PUBLIC LIBRARY
The Central Library in general is a great place to get away, with its stacks of poetry and art and fiction and entire cabinets filled with archived memorabilia. The most secluded spot of all, though, is all the way down in the basement. The lowest floor houses the history and genealogy sections, so you know it's not gonna be boppin' like the mainstream fiction section. Only old crusty cretins here, plus you, an Angeleno desperate for some respite from the power-grubbing mobs of street level citizens. Ask the great librarians for some maps and/or trivia and get lost in the Los Angeles of yore to escape the Los Angeles of now. The Central LAPL is located at 630 W 5th St, Los Angeles. (213) 228-7000. It's open from 10 a.m. to 8 p.m. on Monday through Thursday, 9:30 a.m. to 5:30 p.m. on Friday and Saturday, and 1:00 p.m. to 5:00 p.m. on Sunday.

NEW HIGH MART
New High Mart is a special kind of hideaway for people who have a ton of money or for people who find no pangs of desire when confronted with expensive and beautiful linen jumpsuits and Japanese tea sets. Or, for people who have those pangs of desire, but the pleasure of interacting with such fine goods outweighs the frustration of being broke and taking nothing home. It's along Vermont Avenue in Los Feliz, a.k.a. the opposite of a place to hide away (unless you count solo viewings of the matinees at Los Feliz 3, which count very much), but it's tucked behind a ton of blinds and is missable if you aren't paying attention. The tiny signage is legible only when you're up close, which guarantees that aimless passers-by probably aren't going to be coming in and out. Phones also must remain tucked away, so it's real alone time: alone time no one else knows you're having.
New High Mart is located at 1720 N Vermont Ave, Los Feliz. (323) 877-2331. Hours vary, so check the door every time you walk past.

The view from the top of The Grove parking lot. (Photo by via the LAist Featured Photos pool on Flickr)
TOP FLOOR PARKING AT THE GROVE
The Grove may be one of the worst places in Los Angeles, rivaled only by Hollywood & Highland and the Santa Monica Pier. The parking lot, though, is often fairly empty on the top floor, making it a perfect spot for 360-degree views of Los Angeles and pretending you're in the music video of an anthemic pop song about living in the moment. Parking is free if you stay under an hour, so grab some candy from Dylan's Candy Bar and hang out at the top of the parking lot while you contemplate whether this hodge-podge city is the place your dreams are made of. Just don't look down at the gaggle of tourists too much.
The Grove is located at 189 The Grove Drive, Los Angeles. The parking lot is open from 4 a.m. to 3 a.m. daily.

Vista Hermosa Natural Park. (Photo by Salman Jafri via the LAist Featured Photos pool on Flickr)
VISTA HERMOSA NATURAL PARK
Vista Hermosa isn't a particularly unknown park, but it manages to feel secluded and private on even its busiest days. The views of downtown are unparalleled, and the tiers of grass and windy paths make for an extremely relaxing environment. It's an urban natural park maintained by the Santa Monica Mountains Conservancy, so the park also features way more biodiversity and conservation efforts than any regular public space. Relaxing and feeling good about the environment—what could be better? Golden hour is the best time to hang out here because there's no better view than the downtown skyline contrasted with a cotton candy sunset.
Vista Hermosa Natural Park is located at 100 N Toluca St, Westlake. It is open every day from dawn until dusk.

Spa Palace. (Photo by Jinny L. via Yelp)

SPA PALACE AT 11 P.M. ON A SATURDAY
Everyone in Los Angeles understands the glory of Korean spas, with their inexpensive entrance fees and constant supply of fantastical saunas. Wi Spa is the most popular of the spas, but that means it's also constantly busy. I, personally, don't understand the appeal of seeking relaxation at a spa that feels more like a public pool, and a trip to Wi Spa feels more like a chance to socialize while naked with all your friends. Real, true relaxation comes in the form of a near-empty Korean spa very late on a Saturday night. My favorite spot? Spa Palace. The only other people there are the ones who figured out the bliss of eschewing a stupid bar and embracing the rejuvenating rush of dunking in the super cold bath. Also, it'll be so late that no one will bat an eye if your post-spa jimjilbang hang turns into a nap until the wee hours of the morning. Spa Palace is located at 620 S Union Ave, Westlake. (213) 637-0000. It is open 24/7 and is $25 if you arrive before 8 p.m. and leave before midnight ($30 if you arrive after 8 p.m.).