AXIS Dance Company Rolls into the Southland
Stories like these are only possible with your help!
You have the power to keep local news strong for the coming months. Your financial support today keeps our reporters ready to meet the needs of our city. Thank you for investing in your community.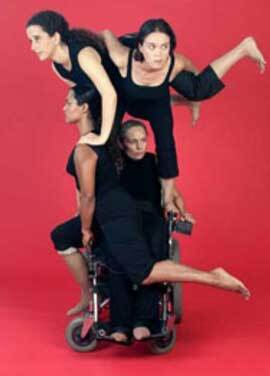 Twenty years ago, former champion equestrian Judith Smith became involved with a movement class for wheelchair-bound women. She, herself, had injured her spinal cord in a car accident and could no longer ride. The class created its first choreography, which piqued people's interest and received a hugely popular positive response. So began AXIS Dance Company. Including both able-bodied and physically-challenged performers, the company has since performed throughout the United States, Europe, Russia, China and into Central America.
Confronting our perception of what dance is or "ought to be," the Oakland, California-based group is bringing a program of work created by well known and respected modern dance choreographers to the Cerritos Center for the Performing Arts this Friday for only one performance. This program includes dances by LA's own Victoria Marks, the Bay Area's Joe Goode, Margaret Jenkins with Melanie Elms and New York's Kate Weare.
Calling their movement modality "physically integrated" or "mixed-ability" dance, the company has previously made work with Tony award-winning choreographer Bill T. Jones, as well as with artists Meredith Monk, Ann Carlson and Stephen Petronio, among others. Through these creative collaborators, the dancers investigate their range of movement and their bodies' relationships to other bodies around them. They have earned widespread respect and critical acclaim for pioneering this revolutionary dance form which transcends physical disabilities and pushes the boundaries of what defines dance.
The company was highlighted in the nationally televised People in Motion and Dancing From the Inside Out documentaries, as it breaks stereotypes about disabillity. In fact, one of the dancers, Uli Schmitz, was awarded an Isadora Duncan Dance award (the Bay Area's dance Oscar) for an individual's outstanding performance. This was the first disabled dancer to win such an award, though the company has received similar recognition for its choreography, costume design and company performance.
Not to be missed!
For sneak peeks, check out:
and
photo courtesy of the company