AXIS Dance Company Rolls into the Southland
LAist relies on your reader support, not paywalls.
Freely accessible local news is vital. Please power our reporters and help keep us independent with a donation today.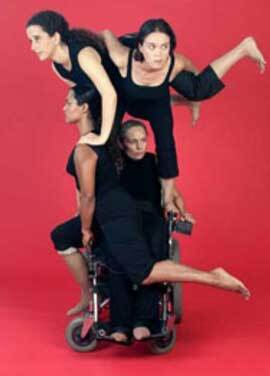 Twenty years ago, former champion equestrian Judith Smith became involved with a movement class for wheelchair-bound women. She, herself, had injured her spinal cord in a car accident and could no longer ride. The class created its first choreography, which piqued people's interest and received a hugely popular positive response. So began AXIS Dance Company. Including both able-bodied and physically-challenged performers, the company has since performed throughout the United States, Europe, Russia, China and into Central America.
Confronting our perception of what dance is or "ought to be," the Oakland, California-based group is bringing a program of work created by well known and respected modern dance choreographers to the Cerritos Center for the Performing Arts this Friday for only one performance. This program includes dances by LA's own Victoria Marks, the Bay Area's Joe Goode, Margaret Jenkins with Melanie Elms and New York's Kate Weare.