Alan Thicke Was Joking Around During Hockey Game Before Suffering Heart Attack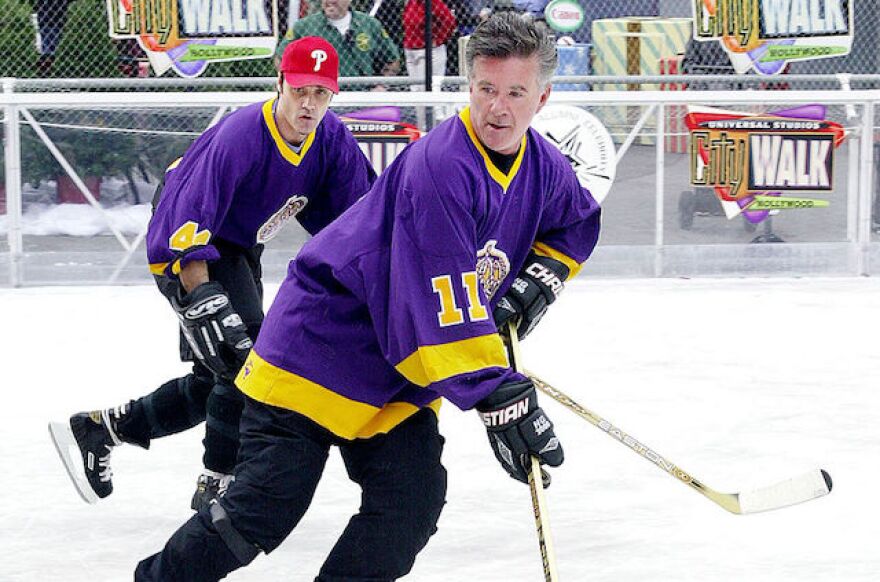 LAist relies on your reader support.
Your tax-deductible gift today powers our reporters and keeps us independent. We rely on you, our reader, not paywalls to stay funded because we believe important news and information should be freely accessible to all.

Witnesses say that Alan Thicke appeared to be in good health before and after he suffered a heart attack on Tuesday. Thicke died later that afternoon at the age of 69.As previously reported, Thicke was playing hockey with his 19-year-old son Carter at Burbank's Pickwick Ice Rink when he fell on the ice and taken to the hospital. Witnesses say Thicke appeared to be in fine health before he fell ill.
"We called 9-1-1 and within a couple of minutes the paramedics were here and they took him away," Pickwick Operations Manager Kyle Stavert told KTLA. "He seemed to be in good spirits when he left," noting that the actor was even joking around as paramedics put him on a stretcher. Pickwick Vice President Darin Mathewson told Entertainment Tonight that Thicke even told his son Carter to take a photo of him as he was being taken away on a stretcher.
Decades ago I played hockey with #AlanThicke and he told me something I never forgot: "Ever hear of passing the fucking puck, asshole?" RIP

— Denis Leary (@denisleary) December 14, 2016
On Tuesday evening, R&B singer Robin Thicke told the L.A. Times that his father was "the greatest man I ever met" and "always a gentleman." He added that one of the last things he said was complimenting Carter on a nice shot in the rink.
Both Robin and Carter Thicke remembered their father on Instagram on Tuesday night:
Thicke is best known for his role as the father on Growing Pains, Jason Seaver. Former castmembers, including Leonardo DiCaprio and Kirk Cameron, posted messages in remembrance of Thicke on social media:
I loved Alan- he was one of the smartest and funniest men I have ever known- we shared a life changing success and friendship

— Joanna Kerns (@joannakerns) December 14, 2016
Alan made me laugh everyday-usually at myself. Loved you dearly RIP old friend.

— Joanna Kerns (@joannakerns) December 14, 2016