This is an archival story that predates current editorial management.
This archival content was written, edited, and published prior to LAist's acquisition by its current owner, Southern California Public Radio ("SCPR"). Content, such as language choice and subject matter, in archival articles therefore may not align with SCPR's current editorial standards. To learn more about those standards and why we make this distinction, please click here.
Aaron Paul's Photobomb And 9 More Awesome (And Terrible) Photos From Coachella
We need to hear from you.
Today during our spring member drive, put a dollar value on the trustworthy reporting you rely on all year long. The local news you read here every day is crafted for you, but right now, we need your help to keep it going. In these uncertain times, your support is even more important. We can't hold those in power accountable and uplift voices from the community without your partnership. Thank you.
Coachella is a theater of the absurd, and we've got some of the best examples from the fest so far.

Aaron Paul Photobombs Couple


Lots of celebrities could be seen roaming around the festival. This couple thought they were being super slick by taking a picture with Aaron Paul in the background. Paul, who has been taking photos with fans throughout the fest, seemed to catch on and made it better by giving them the ol' thumbs up. That may or may not be Kellan Lutz lurking to the right, too.

Beyonce and Jay Z Look Amazing Always
The heat and with sand-blasting wind just seemed to make Beyonce and Jay Z look all the more #flawless. They woke up like this 'n' shit.
BUTTZ

We've gone from skimpy to outright nudity at Coachella. (Anyone see Dum Dum Girls frontwoman Dee Dee performing in goth-stripper pasties?) Speaking of which ...
Whip Cream Girl Thinks Modesty Is For Losers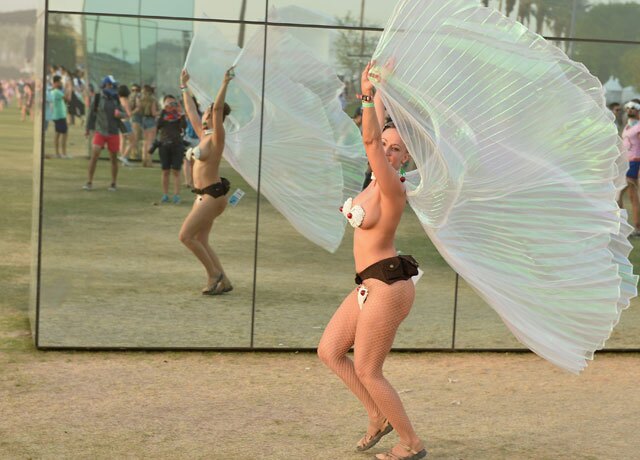 (Photo by Matt Cowan/Getty Images for Coachella)
This girl nailed her Coachella look by pairing a whip cream bikini with some sort of Renaissance Faire fanny pack.
Woo-girl Goes 'Ultra'

Do it, girl. Do it for all the woo-girls who would couldn't be there with you.
Astronaut Installation Becomes Fuel For Jokes

Of the cool art installations at Coachella, the giant astronaut looming over everything certainly made the biggest impression for sheer size alone. Besides the obligatory group shots,the MTV-esque moon man drew lots of imitating selfies, optical-illusion high fives and, our favorite, feeding the guy.
Empire of the Sun Dude Looks Ridiculous

(Photo by Mark Davis/Getty Images for Coachella)
It's hard to know what the hell is going on here at first glance. It's that guy from Empire of the Sun playing a double-necked guitar like ZZ Top with a dislocated shoulder. Moving on ...
Green Guy Is Terrifying

(Photo by Frazer Harrison/Getty Images for Coachella)
Maybe you spent a week planning your "perfect" Coachella outfit. Maybe you really went for it and wore something you'd never wear back home. Then this guy shows up head-to-toe in green nylon and blows it all out of the water. Looks a little dumb, sure, but we bet he was happy about his choice once sand started blowing in everyone's faces.

We're Copying This Awesome Trash Can Idea At Home
Lots of fun, weird trash cans throughout the fest. These are our favorites, a nod to OutKast's reunion set.

This Guy Shaved 'Coachella' Into His Hair

Photo by Emma Gallegos
Have fun at work Monday!

But Yeoh is the first to publicly identify as Asian. We take a look at Oberon's complicated path in Hollywood.

His latest solo exhibition is titled "Flutterluster," showing at Los Angeles gallery Matter Studio. It features large works that incorporate what Huss describes as a "fluttering line" that he's been playing with ever since he was a child — going on 50 years.

It's set to open by mid-to-late February.

The new Orange County Museum of Art opens its doors to the public on Oct. 8.

Cosplayers will be holding court once again and taking photos with onlookers at the con.

Littlefeather recalls an "incensed" John Wayne having to be restrained from assaulting her and being threatened with arrest if she read the long speech Brando sent with her.