Whittier Muder-Suicide Links to Missing Woman
LAist relies on your reader support.
Your tax-deductible gift today powers our reporters and keeps us independent. We rely on you, our reader, not paywalls to stay funded because we believe important news and information should be freely accessible to all.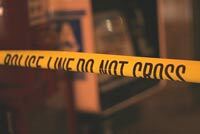 When 37-year-old Monica Harris didn't show up for work Friday morning, her family began to suspect that she had been abducted by her estranged husband. The Upland woman had been previously kidnapped by her husband, who is currently scheduled to start a 16-month prison term in a few weeks for those charges.
Harris' Ford Explorer was found Saturday morning in the parking lot of the Whittier Inn Motel, where inside, another discovery was made: two unidentified bodies, one male and one female, thought to be deceased as a result of a murder-suicide.
According to CBS2.com, "In addition to the bodies, police found a handgun believed to be the murder weapon." The Whittier Police Department's Officer Diana Salazar also indicated that the scene indicates there had been some kind of struggle.
Photo by VeryBadLady via Flickr