This is an archival story that predates current editorial management.
This archival content was written, edited, and published prior to LAist's acquisition by its current owner, Southern California Public Radio ("SCPR"). Content, such as language choice and subject matter, in archival articles therefore may not align with SCPR's current editorial standards. To learn more about those standards and why we make this distinction, please click here.
Stabbed Paramedic Named 'Paramedic of the Year'
We need to hear from you.
Today during our spring member drive, put a dollar value on the trustworthy reporting you rely on all year long. The local news you read here every day is crafted for you, but right now, we need your help to keep it going. In these uncertain times, your support is even more important. We can't hold those in power accountable and uplift voices from the community without your partnership. Thank you.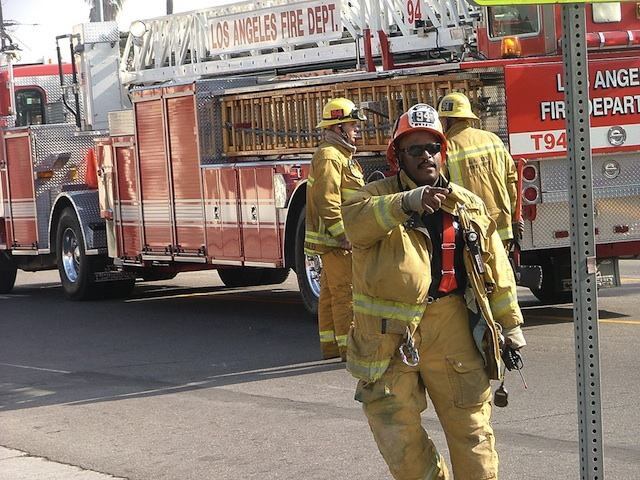 Stock LAFD Image | Photo by bcmacsac1 via LAist Featured Photos on Flickr
A paramedic stabbed by a patient earlier today happened to be sent to the very hospital where he's expected to be honored as "Paramedic of the Year," KCAL-TV is reporting. Charles Anthony MacDougal, a nine-year veteran with the Los Angeles Fire Department, was walking by the Cecil Hotel in downtown this morning when someone asked him for medical help, reported blogdowntown. As MacDougal helped him, that person stabbed him several times before fleeing inside the hotel.
As MacDougal was sent County-USC in stable condition, police created a perimeter on the 600 block of Main Street and began searching the hotel floor by floor. As of 5 p.m., the perimeter was broken down and no suspect had been arrested, according to a LAPD spokesperson.
A doctor told KCAL-9 that MacDougal only suffered superficial wounds.
MacDougal is a well known face around County-USC in Bolye Heights, even so much that he was already set to be honored by staff as the "Paramedic of the Year." He works out of Fire Station 9, which is known as the busiest in the city.
It's been many, many years since we saw this much snow in our mountains. Going up there right now isn't safe, but here are some places where you can enjoy the view and snap a pic.

April Valentine died at Centinela Hospital. Her daughter was born by emergency C-section. She'd gone into the pregnancy with a plan, knowing Black mothers like herself were at higher risk.

A look at years past when snows creeped into our citified neighborhoods, away from the mountains and foothills.

In the face of a drier future, that iconic piece of Americana is on its way out in Southern California.

Bob Gregory, 62, went missing the same day as Sands. His body was recovered near Mount Islip.