The Station Fire is Still Burning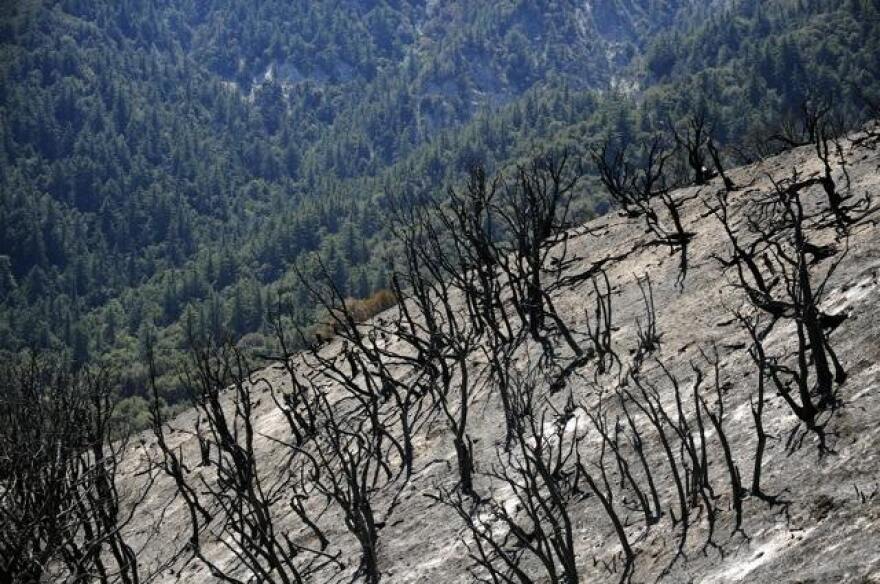 LAist relies on your reader support, not paywalls.
Freely accessible local news is vital. Please power our reporters and help keep us independent with a donation today.
AP Photo/Jae C. Hong
Although the massively large Station Fire was fully contained last month, it still burns in the Angeles National Forest. That may be confusing, so revisit the common definitions of containment and control, as given by officials in most fire updates to the public on InciWeb:
When referring to a fire, the difference between a fire being contained or controlled can be unclear. When a fire is contained a fuel break has been completed around the fire manually by hand line, and/or mechanically by dozer line. These breaks may also include the use of natural barriers such as rocky outcroppings. When a fire is controlled, it has been extinguished completely, including hot spots. When a fire has been controlled, the fireline is secure enough so that flare-ups within the fire perimeter will not break through the line. Therefore, just because a line is contained does not mean that the fire is controlled.
The LA Times today reports that the Station Fire remains burning in the Mount Wilson area. "The fire's not out by any means," explained information officer Stanton Florea. When will it be out? Officials hope when the cold winter rains begin to fall