This is an archival story that predates current editorial management.
This archival content was written, edited, and published prior to LAist's acquisition by its current owner, Southern California Public Radio ("SCPR"). Content, such as language choice and subject matter, in archival articles therefore may not align with SCPR's current editorial standards. To learn more about those standards and why we make this distinction, please click here.
Baja Fresh Backs Down on Using 'Kogi,' Goes with 'Gogi'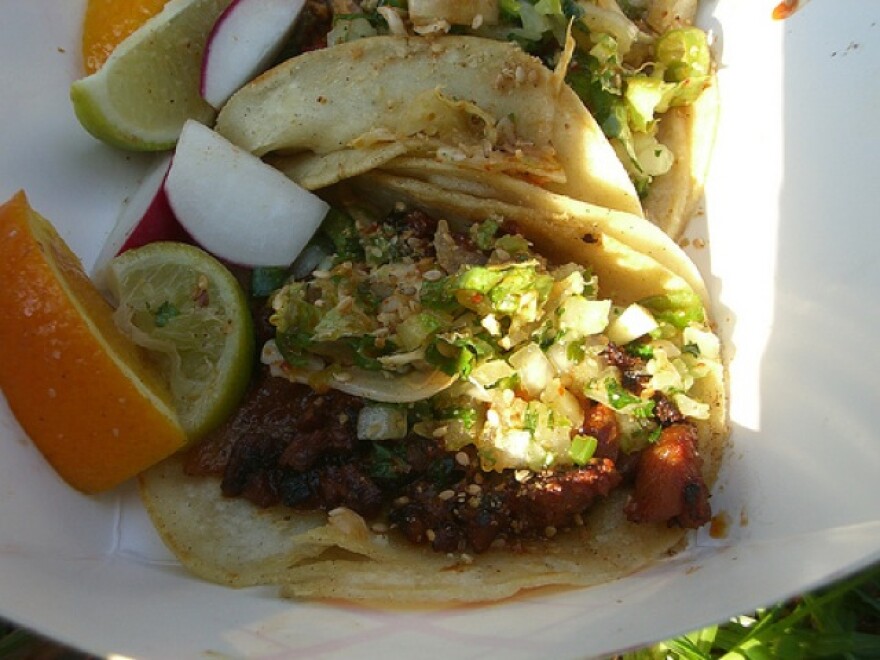 Our June member drive is live: protect this resource!
Right now, we need your help during our short June member drive to keep the local news you read here every day going. This has been a challenging year, but with your help, we can get one step closer to closing our budget gap. Today, put a dollar value on the trustworthy reporting you rely on all year long. We can't hold those in power accountable and uplift voices from the community without your partnership.
Not even 24 hours after a post on LAist about Baja Fresh's suspiciously sounding Kogi BBQ-like menu spread through Twitter, the Orange County based company has changed their word usage and released the following statement by Chuck Rink, president of Fresh Enterprises, which owns Baja Fresh:
Baja Fresh wants to clarify that our Korean BBQ style "Kogi" chicken and beef tacos and burritos, concept testing right now in one Irvine store, was by no means intended to seem "stolen" from the famous LA-area Kogi taco truck. Rather, we were under the impression that "Kogi" was the generic word for Korean BBQ style. We have since learned "Gogi" is the general word and will be moving to change our naming to Gogi, for the Irvine store, and for any future roll outs of these products.

We admire greatly the success and popularity of the food items from the Kogi taco truck, and Korean BBQ style food overall.

As always, when our customers are interested in and demand a food offering, we often do what we can to get that food into our stores.

We are really excited about all the buzz and interest in our Korean BBQ style Tacos and Burritos, and hopeful that we can extend beyond Irvine, giving fans more choices, including, always, the original Kogi taco truck.


It was inevitable that
Kogi BBQ's success
would inspire others--come on,
look at the hordes of mobile food trucks already out there
in just over six months since Kogi began--but Baja Fresh was entering a sticky trademark territory. We have to say, it's an honorable move by Baja Fresh to listen to its customers and make changes so quickly.
Cruise off the highway and hit locally-known spots for some tasty bites.

Fentanyl and other drugs fuel record deaths among people experiencing homelessness in L.A. County. From 2019 to 2021, deaths jumped 70% to more than 2,200 in a single year.

This fungi isn't a "fun guy." Here's what to do if you spot or suspect mold in your home.

Donald Trump was a fading TV presence when the WGA strike put a dent in network schedules.

Edward Bronstein died in March 2020 while officers were forcibly taking a blood sample after his detention.

A hike can be a beautiful backdrop as you build your connection with someone.