This is an archival story that predates current editorial management.
This archival content was written, edited, and published prior to LAist's acquisition by its current owner, Southern California Public Radio ("SCPR"). Content, such as language choice and subject matter, in archival articles therefore may not align with SCPR's current editorial standards. To learn more about those standards and why we make this distinction, please click here.
Oh, Canada
Before you read more...
Dear reader, we're asking you to help us keep local news available for all. Your financial support keeps our stories free to read, instead of hidden behind paywalls. We believe when reliable local reporting is widely available, the entire community benefits. Thank you for investing in your neighborhood.
I went to Canada for my summer vacation. While Zach was running the ship, and while all the guest editors were guest editing, I was north of the border drinking beer, buying weed from Hells Angels, and constantly eating poutine and sushi.
They have fireworks in the bay several times during the summer, they have a garbage strike that doesn't seem to effect anyone. And they have an odd relationship with buying booze in that they make it very difficult to get at unless it's from a private store, in which case it's quite expensive ($10 for 4 PBRs).
I ate sushi four days in a row, I ordered room service twice, I was involved in a threesome, and I saw the Simpsons movie in a multiplex that had a Food Court. And I played strip video poker with some porn stars from the '80s.
Tons of photos after the jump.
Vancouver is a city that usually has rain falling on it. So during the three months of sunshine and warm weather, even the restaurants cuddle close and embrace the beauty.
There's an outdoor city strike. The indoor city employees joined in. Part of those striking were the garbagepeople. People tried to help the city by bringing their garbage to the dump but the garbagepeople were all, hey wtf eh. And the people were all, oh yeah eh. Still the city is ridiculously clean.
We went on Granville to find the seediest arcade we could. It was still cute as hell.
The olympics are coming in 2010. Some can't wait.
This is that movie theater, and this is the food court. To the right, out of frame is a TCBY. To the left is a long line of Canadians who are buying popcorn and ignoring the wide selection of crap.
This is the best place to buy Chinese food out of a window in town. It's open till 3am.
Speaking of, this was the view out of my hotel window.
This is the hotel everyone told me i have to stay at next time.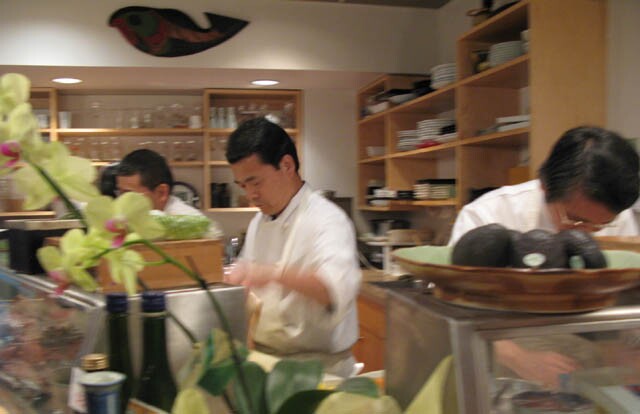 The best sushi I ate was at Toshi Sushi on 16th and Main
I saw many cool things there, but this might have been the coolest.
Thank you for showing me some of your secrets, Vancity, I will be back. I heart you so.
xoxoxox
tony
all photos by me for laist