UTLA Continues to Hold Protests Against LAUSD for Pink Slips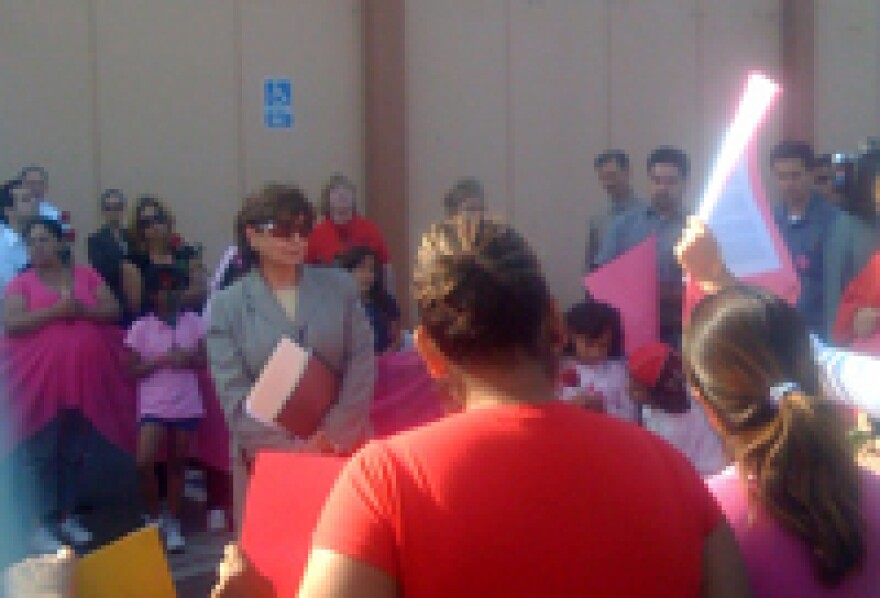 LAist relies on your reader support.
Your tax-deductible gift today powers our reporters and keeps us independent. We rely on you, our reader, not paywalls to stay funded because we believe important news and information should be freely accessible to all.
Members of the United Teachers Los Angeles are gathered right now outside the LAUSD's Local District 5's offices to protest the board's plan to terminate thousands of teachers, many of them the district's youngest and most energetic. The crowd, dressed in either their UTLA red shirts or pink (symbolic of the pink slips) prompted District 5 Superintendent Carmen Schroeder to come down to address the crowd. Using a microphone, several of the area's teachers and students spoke to the trauma of losing their jobs and their teachers respectively, pointing out the many positive strides in education in the area, and the vast impact the budget cuts and pink slips are going to have on the students and teachers. More UTLA protests are slated to take place in the coming weeks, including one tomorrow at the weekly LAUSD Board of Education meeting downtown; recently a UTLA protest delayed the start of the meeting and was marked by the ongoing presence of the police.