U.S. Senate Committee Allocates $2.5 Billion for High Speed Rail
Stories like these are only possible with your help!
You have the power to keep local news strong for the coming months. Your financial support today keeps our reporters ready to meet the needs of our city. Thank you for investing in your community.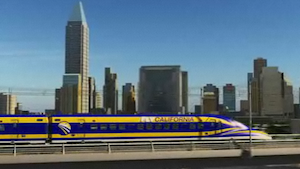 Earlier this fall, the House of Representatives allocated $4 billion for High Speed Rail in the 2010 transportation bill. Then along came the Senate with a proposal to cut that to $1.2 billion. That changed yesterday.
"The Consolidated Appropriations Committee bill included $2.5 billion for high-speed rail for fiscal year 2010, more than doubling President Barack Obama's original recommendation of $1 billion and the Senate's original $1.2 billion figure, but still short of the $4 billion recommended by the House," explained Erin Steva of CALPIRG, a non-profit, non-partisan public interest advocacy organization. The full Senate is expected to vote on the matter soon. Once passed, the money will be sought for by California and other states in a competitive grant process.
The funding is "a step toward an ongoing, annual commitment to fund the construction of a high-speed rail system throughout the United States," according to Anaheim Mayor Curt Pringle, who chairs the state's High-Speed Rail Authority. Annual funding for high speed rail could be placed in the upcoming national transportation budget.
Last year, Californians approved Prop 1a, which gave the state's High Speed Rail Authority a $9 billion boost in bond funding. The state also turned in a $4.8 billion grant application to fund the project, which is envisioned to connect San Diego, Los Angeles, San Franciso, Sacramento and various cities between in relatively short travel times.