This is an archival story that predates current editorial management.
This archival content was written, edited, and published prior to LAist's acquisition by its current owner, Southern California Public Radio ("SCPR"). Content, such as language choice and subject matter, in archival articles therefore may not align with SCPR's current editorial standards. To learn more about those standards and why we make this distinction, please click here.
U.S. Senate Committee Allocates $2.5 Billion for High Speed Rail
Support your source for local news!
Today, put a dollar value on the trustworthy reporting you rely on all year long. The local news you read here every day is crafted for you, but right now, we need your help to keep it going. In these uncertain times, your support is even more important. We can't hold those in power accountable and uplift voices from the community without your partnership. Thank you.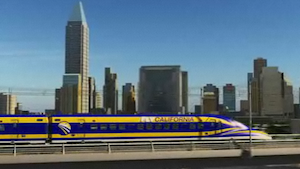 Earlier this fall, the House of Representatives allocated $4 billion for High Speed Rail in the 2010 transportation bill. Then along came the Senate with a proposal to cut that to $1.2 billion. That changed yesterday.
"The Consolidated Appropriations Committee bill included $2.5 billion for high-speed rail for fiscal year 2010, more than doubling President Barack Obama's original recommendation of $1 billion and the Senate's original $1.2 billion figure, but still short of the $4 billion recommended by the House," explained Erin Steva of CALPIRG, a non-profit, non-partisan public interest advocacy organization. The full Senate is expected to vote on the matter soon. Once passed, the money will be sought for by California and other states in a competitive grant process.
The funding is "a step toward an ongoing, annual commitment to fund the construction of a high-speed rail system throughout the United States," according to Anaheim Mayor Curt Pringle, who chairs the state's High-Speed Rail Authority. Annual funding for high speed rail could be placed in the upcoming national transportation budget.
Last year, Californians approved Prop 1a, which gave the state's High Speed Rail Authority a $9 billion boost in bond funding. The state also turned in a $4.8 billion grant application to fund the project, which is envisioned to connect San Diego, Los Angeles, San Franciso, Sacramento and various cities between in relatively short travel times.
It's been many, many years since we saw this much snow in our mountains. Going up there right now isn't safe, but here are some places where you can enjoy the view and snap a pic.

April Valentine died at Centinela Hospital. Her daughter was born by emergency C-section. She'd gone into the pregnancy with a plan, knowing Black mothers like herself were at higher risk.

A look at years past when snows creeped into our citified neighborhoods, away from the mountains and foothills.

In the face of a drier future, that iconic piece of Americana is on its way out in Southern California.

Bob Gregory, 62, went missing the same day as Sands. His body was recovered near Mount Islip.