This is an archival story that predates current editorial management.
This archival content was written, edited, and published prior to LAist's acquisition by its current owner, Southern California Public Radio ("SCPR"). Content, such as language choice and subject matter, in archival articles therefore may not align with SCPR's current editorial standards. To learn more about those standards and why we make this distinction, please click here.
Trutanich to Fight City Attorney Layoffs, Villaraigosa Says there are Other Options
Support your source for local news!
The local news you read here every day is crafted for you, but right now, we need your help to keep it going. In these uncertain times, your support is even more important. Today, put a dollar value on the trustworthy reporting you rely on all year long. We can't hold those in power accountable and uplift voices from the community without your partnership. Thank you.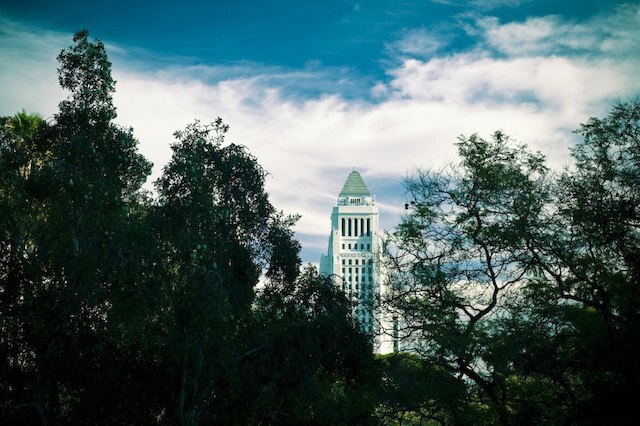 City Hall seen through trees | Photo by photo_tnmartin3 via LAist Featured Photos on Flickr
One has to wonder that if politics are involved with a current mid-year budget report, expected to be offiically released this afternoon, that in part examines 1,000 city hall layoffs as a budget solution. The City Attorney Office could see 100 members of his office go while the Mayor and City Council offices see a zero reduction and the City Attorney himself is ready to fight it, according to the LA Times.
"It doesn't matter how many police officers are in the field," said Chief Deputy City Atty. Bill Carter, speaking for Carmen Trutanich, to the Times. "There won't be a sufficient number of prosecutors to file or handle those cases at a time when the governor is contemplating releasing thousands of inmates in the general population who have a recidivism rate of 70%."
It doesn't have to be that way, Mayor Antonio Villaraigosa told reporters today. "If [city employees] contributed a couple of percentage points more [towards their pensions], that could put us in a much stronger financial position. If we work through this together, I think we can minimize layoffs." Employes currently contribute 7%, Villaraigosa wants 9%.
Other options are reducing salaries and pay, contracting out some services to contractors and privatizing some departments and services like the L.A. Zoo and parking garages and meters.
As of 4 p.m., the Financial Status Report was still not released. The report shows how the city is doing mid-budget year (for example, are revenues projections and spending on target?) and gives recommendations based on the info. In this year's case, recommendations will be on how to close the budget. The City Council and Mayor must use it to make mid-year adjustments and plan for next year's budget.
Cruise off the highway and hit locally-known spots for some tasty bites.

Fentanyl and other drugs fuel record deaths among people experiencing homelessness in L.A. County. From 2019 to 2021, deaths jumped 70% to more than 2,200 in a single year.

This fungi isn't a "fun guy." Here's what to do if you spot or suspect mold in your home.

Donald Trump was a fading TV presence when the WGA strike put a dent in network schedules.

Edward Bronstein died in March 2020 while officers were forcibly taking a blood sample after his detention.

A hike can be a beautiful backdrop as you build your connection with someone.