This is an archival story that predates current editorial management.
This archival content was written, edited, and published prior to LAist's acquisition by its current owner, Southern California Public Radio ("SCPR"). Content, such as language choice and subject matter, in archival articles therefore may not align with SCPR's current editorial standards. To learn more about those standards and why we make this distinction, please click here.
Three-Story Target Opens in Glendale and No One's There to Ride the Shiny Escalators
Stories like these are only possible with your help!
You have the power to keep local news strong for the coming months. Your financial support today keeps our reporters ready to meet the needs of our city. Thank you for investing in your community.
It was supposed to be a big deal. The signs have been up for months. Big, fancy Target on Colorado Blvd to open on July 29th. We got word that the "soft launch" of this super-new, super-big, super-special Target would take place this week. What's so special about this three-story Target? An excellent question.
So we checked it out during prime evening shopping hours and could not believe that it was empty, empty, empty. We asked some questions. Are there more things here than at our own Target? New items you can't get at other Targets? More Libertine clothing? Whole new sections other Targets haven't even dreamed up yet? Nope, nope and nope. Just more space, they said. It's just bigger, they mantra-d. Wider aisles, they assured us. And we're all for more space, but, um, maybe in a store that needs more space. Like - Trader Joe's where you have to elbow your way through. Whole Foods, maybe. Have you ever been in a Target and thought to yourself "God, this would be so much better if I had more room to wheel my cart around?" Exactly.
Nice entrance, right? Notice the lack of people?

Cool Target logos in the sidewalk. Very cool. But, where are the people?

Oh look! Here comes someone now! One lone shopper making her way to the fancy new Target probably expecting to find something she couldn't get at the Target by her house...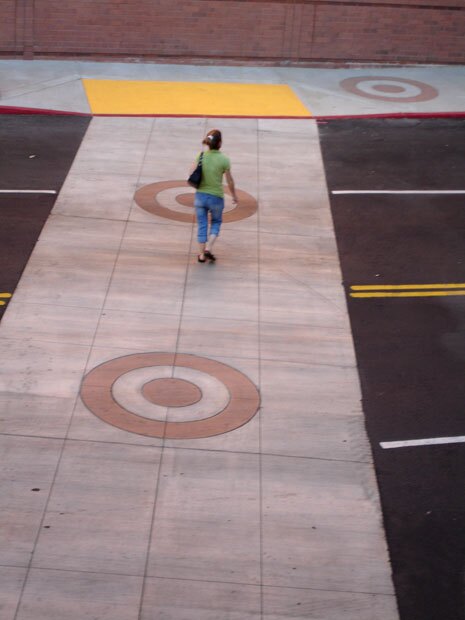 Lovely 2nd story bridge entrance. But, where are the shoppers?

Ahhhh -- three magical levels of supposed-shopping bliss.

The half-Target logo neon circles look sort of like smiley-faces don't they?

Up, up and away....to the 3rd floor Electronics section...

...which, sadly, looks like every Target electronics section.

The rumor of a Mac-only department was, well, a rumor. When we asked a Sales Associate if they had a Mac-only section he said Yes! and we couldn't believe it. Maybe there was something special about this three-story Target after all! But when he led us to the external hard drive aisle and pointed me towards the My Book external drive (we suspect he thought My Book was the same thing as Mac Book) and left us there, we realized we'd gotten all hot and bothered for nothing.

One thing we thought would definitely be different at a spanking-new Target was the food. Maybe something healthy? Organic? Nope. Same 'ol Starbucks and Pizza Hut. True to form in any Target, the cafe had the most shoppers. We suspect they were really just sneaking in from shopping at The Glendale Galleria, since the cafe opens right into the mall.

The chocolate aisle even looks the same!

It was also rumored that there might be an environmentally-friendly cleaning products section. Maybe Target really is going green, we thought. That would be great! Can you imagine it? Big Box Goes Green? We were very excited. Yet, among rows and rows of harmful chemicals...

...we only found one teeny tiny space for Seventh Generation dishwashing soap. A crying shame.

But the escalators are so shiny. So pretty. Let them distract you from the big box that didn't go green.

And hey, the 3rd floor escalator was broken for a half hour or so and required the few shoppers to walk up and down - so we got our exercise! We must also admit it was funny watching shoppers try to figure out how to get their cart in the cart escalator-thingy.

Look at all this parking for all the shoppers that aren't here.

The good news: there's lots of parking for those who will no doubt storm the fancy Target store when it properly opens on Sunday.

So if it gets super-busy and you see lines winding out the door (we can't imagine it, but maybe!) this weekend, you can always hang out on the parking lot perimiter, spy on the shoppers below, and stare at the pretty ivy-covered bridge. At least that's green!

2195 Glendale Galleria
Glendale, CA 91210
818.334.1400
All photos (taken covert-style in terrible light without a flash - there were a lot of security guards and no shoppers to distract them!) by Callie Miller for LAist