The Neighborhood Project: Northridge
Stories like these are only possible with your help!
You have the power to keep local news strong for the coming months. Your financial support today keeps our reporters ready to meet the needs of our city. Thank you for investing in your community.
Northridge has become famous for Cal State University Northridge, and infamous for the Northridge quake. In reality, the earthquake's epicenter was beneath Reseda. Although the San Fernando Valley is very particular about each neighborhood's boundaries, the history of one area sometimes bleeds over into the next. It would be easy to paint the Valley with a single brush. But that would be a gross oversimplification.
What makes Northridge stand out from its neighbors? Its resiliency. To become the neighborhood it is today, Northridge has survived over 100 years of growing pains. When there was no water, the people of Northridge grew wheat. With the arrival of the aqueduct, the people grew citrus. When the rows of orange trees turned to rows of houses, they adapted. Through hardships, strife, and natural disasters, Northridge has and will continue not only to adapt, but to flourish.
The boundaries of Northridge are a little hard to follow:
The 118 to the North.
Corbin to the West, until you hit Nordoff, where it becomes Tampa.
Nordoff to the South until Lindley, at which point the Southern border becomes Roscoe.
Bull Creek On the East, until you hit Lassen, where it becomes Balboa. Then at Devonshire it becomes Zelzah.
The listing of streets starting at the South West corner is as follows: E on Parthenia S - Corbin E on Roscoe - N on Tampa - E on Parthenia N on Aliso Creek - E on Nordhoff - S on Lindley - E on Roscoe- S on White Oak - E on Saticoy - N on Encino - E on Roscoe - N on Bull Creek - W on Lassen - N on Balboa - W on Devonshire - N on Zelzah - W on Hiawatha - N on Lindley - W on 118 freeway - S on Corbin - W on Nordhoff - S on Winnetka to Parthenia. (Northridge Neighborhood Council)
City Council DISTRICT 12 GREIG SMITH
County Supervisor DISTRICT 3 ZEV YAROSLAVSKY
State Senate DISTRICT 20 ALEX PADILLA
State Assembly DISTRICT 40 LLOYD E. LEVINE
US Congress DISTRICT 27 BRAD SHERMAN
Honorary Mayor: Nancy Cartwright, the voice of Bart Simpson
Freeway Access: 118 Ronald Reagan Freeway, 405
Street that confuses people: At Tampa, Nordoff splits into Nordoff Street to the right, which passes the mall and dwindles off after a few car dealerships and restaurants. Nordoff Way turns into a short overpass and then continues through the valley.
Weather: Temperatures often hit the high 90s and low 100s during the summer. During the warm rainy season, this area of the valley gets spectacular thunderstorms, and sometimes in the winter it can hail. It is purported to have even snowed a few times.
Also known as: CSUN
People who front say: Front? What on earth does front mean?
Little Known Fact:
Northridge is where Richard Pryor set himself on fire. At this house:
Cool Stuff in Northridge:
Melodyland was built in 1992 and given its name by Elvis impersonator Danny Uwnawich. At one point the home was opened up for a tourto mark the anniversary of Elvis' death. When Uwnawich decided to retire, he announced that he would be raffling off the property. Since that time, I have been unable to find out any more information. The gates have fallen into disrepair, and I have never seen any sign of life on the property.
This is where ice cream trucks go to sleep at night.
These people keep a stagecoach in their backyard behind the Cupid's
The Bob's Big Boy mailbox
The Jolly Jug Liquor Sign
Winner of the most unappealing donut sign in the world
I don't know what it used to be, but I like it
History:
As with many towns before it, the development of Northridge began with the arrival of the Southern Pacific Railroad in 1874. The Southern Pacific ran a railroad track "diagonally across the Valley floor from Burbank to Chatsworth that became the coastal route up California". (Valley Observed). Coinciding with a valley-wide drought, stations were set up along the way to provide water for the cattle (Roderick).
In 1914, water from William Mulholland's aqueduct system was diverted to the San Fernando Valley, where he owned a ranch between Chatsworth and Northridge (then known as Zelzah). The story of land grabs and the leeching of water from Owen's Valley through the San Francisquito Canyon was to become infamous, with accusations of a conspiracy leveled in the film Chinatown. But for the valley, it meant a reliable supply of water and and the main crop of Northridge changed from grains such as wheat to citrus and walnuts (Davis, 120). To partake of the bounty most of the towns in the Valley voted in 1915 to join the city of Los Angeles. The vote for annexation was a lopsided 681-25 By 1920 the San Fernando Valley's population had grown to 21,000 residents (Valley Observed).
On Nov. 1, 1938 the community of North Los Angeles, once known as Zelzah, changed its name once again to Northridge (Valley Observed).
Northridge was known as "the horse capitol of the West" and became a popular place for movie stars to build their ranches. The area surrounding and including Northridge was known for a time as Valleywood. (Roderick).
The Devonshire House in Northridge Park at 8300 LeMarsh originally belonged to Clark Gable. It is rented out for events and weddings, but apparently suffered some damage in the Northridge quake, according to the agenda for a recent community council meeting.
People really get married here?
With the advent of World War II and Japanese Internment, approximately 3,177 farmers of Japanese descent were taken from their homes. So many Valley Japanese were at Manzanar that the camp had a baseball team called the San Fernando Aces. German POWs from Camp Griffith Park were brought in to farm the land. A truck carrying the POWs overturned at the corner of Zelzah and Devonshire. Thirty men were thrown from the truck, and at least two lost their lives. (Roderick)
The landscape of Northridge as we know it today began with the end of World War II. Returning veterans were looking for the suburban dream, and land developers were determined to provide it. Tract housing began replacing orange groves, in "...what was to be the longest continuous real estate boom in L.A's history." (Kaplan) Following the lead of the East coast's Levittown, builders applied the assembly-line method to building single-family homes. The population doubled by 1950, and again by 1960 (Valley Observed).
By 1960, the population had grown to 850,000 (Caughey, 403). Inadequate streets, sewers, public transportation and other basics such as telephones and grocery stores could not keep up with the expansion. The loss of the Pacific Rail (Red Car) line added to the traffic congestion.
In 2002, an initiative was placed on the ballot as to whether or not the Valley should secede from the rest of Los Angeles. The vote failed, but passed by a narrow margin in the Valley itself. Republican Keith Richman, a Republican state Assemblyman, was chosen as the mayor of the Valley, had the vote passed.
(There are some excellent historical photos on The Valley Observed.)
Going, Going, Gone
Next to the Lowe's at the corner of Nordoff and Shirley stands one of the last remaining citrus groves. But there are only four trees on one end, and about ten on the other. The rest of the land is being cleared for development.
Another disappearing landmark is the Oakridge estate. Oakridge was built by by architect Paul R. Williams for actress, Barbara Stanwyck. An English manor stands on the 9-acre estate, just half a block from the busy corner of Reseda and Devonshire. Known locally as the "Oakie" estate, it was bequeathed to USC's School of Cinematic Arts in 1991 in order to preserve the home. However, the school is in the process of selling the house to raise money. The grounds stand abandoned and locked up tight. At least until the old sycamores are torn down to build even more McMansions (Pool).
I wonder who's feeding the dogs?
The gas man couldn't get in either
Devonshire Downs
Devonshire Downs was originally a track for training racehorses. In 1946, they began holding harness racing and quarterhorse racing. In 1948 California bought the land to use as fairgrounds (Roderick). Joyce Linden, a longtime Northridge resident, remembers, "Devonshire Downs had the San Fernando Valley Fair every year since I can remember. My dad used to enter his oranges (it was a very agricultural fair). He won many ribbons over the years. I don't remember rodeos - never went to anything else other than the fairs. In later years, they held 4th of July fireworks there. Then CSUN sold off the property to [Minimed] and turned the Southern portion into a parking lot." (Linden)
Just months before Woodstock, tens of thousands of people descended on Devonshire Downs for the 3-day Newport '69 festival. I had heard of Newport '69 and always assumed it had taken place in Newport Beach. At one point crowds got out of hand and knocked down the fences, bringing in the police.
Here is Jimi raging:
Here is a quote from J Donnellan of Love:
I can't remember the actual order, but it was just one great act after another. I believe they split the stage so one act could set up while the other played. I remember Credence Clearwater and Joe Cocker and who knows who else as it all became a blur. It does something to your head, this kind of crowd...you kind of leave the body behind.
Now it's night and the crowd is getting out of hand. Helicopters are circling directly overhead with spot lights aimed down and someone on the P.A. is trying to settle down a large group of people who have scaled the chain link fencing and as he does, the fencing collapses on top of the paying crowd. Someone shoots a flare at the helicopters...potential mayhem and nobody's in control. The party crashers who couldn't get in were breaking down the perimeter fencing and the police (who were dumber than a bag of hammers), thought it a great idea to keep stirring things up with their helicopters and force presence.
Well, somehow the music prevailed and as the acts continued the audience got more into the music and less interested in the other situations, which of course just ran out of steam, became more or less peaceful and joined the party. I think the promoters just gave up trying to keep people out..why not...they had sold all their tickets anyway.
All of a sudden, there's a call for us and up we go onto the dark stage. Plugging and tuning and switching, smoking and warming up nervous hands.Then the last song for the band before and a short introduction...and....there off and running...out of the gate and into "Little Red Book".
Still blinded by the lights, the first thing I noticed was this sound like the ocean getting louder than we were! Then as the lights shifted I looked out on to a real sea of people... 300,000 heads stretched as far as one could see...moving and dancing and smiling. The roar was deafening.....
It was actually hard to hear the beat over that energy. I know my eyes teared and it was almost hard to play for a minute while we all adjusted.
Then it moved into that great performance dream state where you just kind of watch it all happen in slow motion... next song...next song...out of the fog and into solo mode....next song...then the encore "Singing Cowboy".... and then........bang...it's over.
It feels like one brief and powerful sprint. Only later at Arthur's, when we were listening to a boot tape from that gig, could we relate to the intensity of the moment. We actually could hear the cheering and roar overtake us to where we just followed and they led.
We got out of there pretty quick, as most of the other bands were doing, due to the instability of both crowd and law enforcement.It took weeks to decipher all that had happened so quickly and to really feel that whole moment. I believe that gig was one of the last of an era.......What a rush!
In the 80s, Devonshire Downs hosted punk gigs in a large hangar discovered by Frank Reed of Godzilla's. The Stern Brothers of BYOB handled most of the booking (Godzillas). As I recall, there were never any hassles with cops there, and it was only around 4 dollars to get in. I remember standing at the side of the stage at one show where the bill was: Anti, Fear and the Vandals.
Now it is the site of Minimed's huge office building
Architecture:
Churches:
St. Nicholas Church holds a large Greek Festival every summer.
Faith Bible Church is a Los Angeles cultural monument (No. 152). Built in 1917, it reflects Early Gothic Revival architecture. Built of wood in the basilican style, with the steeple at the entrance, this church's Early Gothic style is differentiated from the High Victorian Gothic by the thinness of moldings and generally monochromatic appearance (Whiffer, 53). 18531 Gresham St Northridge, CA 91324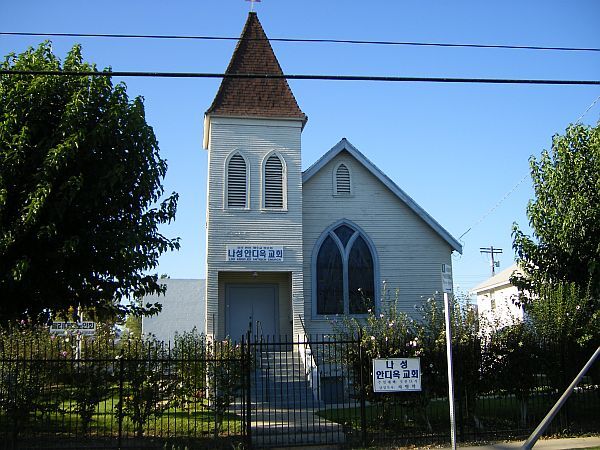 Ranch Houses
In the late 1930s, Cliff May was one of the early developers of the California Ranch house style, an American combination of traditionalist and Modernist styles. Most tract homes combined the California ranch with a more modern style featuring clean lines, or a more traditional style featuring cottage touches such as shutters and gingerbread detailing. The houses often featured large patios with sliding glass doors to take advantage of the warm weather.
"The ranch house is noted for its long, low to the ground profile, and minimal use of exterior and interior decoration. The houses fuse modernist ideas and styles with notions of the American Western period working ranches to create a very informal and casual living style. Their popularity waned in the late 20th century as neo-eclectic house styles, a return to using historical and traditional decoration, became popular." (Wikipedia)
Now the row housing is given over to McMansions
A ranch house in the process of being McMansionized
There are still some cool apartment buildings, like this tropical tiki-inspired apartment
According to author Lori Cadena, this "is a copy of a well known Minoan fresco/stucco relief from the ancient "palace" of Knossos on Crete. It is sometimes called "Prince with Plumed Headdress," and its dated to around the 16th century BC. The civilization of that time was called Minoan and is often conflated with the myth of Atlantis."
And of course, nearby apt building of renown, Das Bauhaus.
The Northridge Quake
This video tells the story with an emotional impact stronger than words:
Just the facts, from John Martin, engineer (JAMA)
At 4:31 A.M. (local time) on Monday, January 17, 1994, a magnitude 6.8 earthquake woke nearly everyone in southern California. The earthquake epicenter was beneath the San Fernando Valley, 20 miles (32 km) west-northwest of downtown Los Angeles, near the community of Northridge (34° 13' N, 118°32'W). The main shock occurred on a shallowly-dipping, previously unknown thrust fault. The rupture started at a depth of about 12 miles (19 km) and, during the course of the main shock, traveled upward and northward, spreading both eastward and westward. The focal mechanism of the main shock from both first motions and teleseisms shows a N 60° W striking and 35° to 45° south dipping plane. Rock on the south side of the fault surged upward and over the rock on the north side. As a result of the quake, the Earth's crust south of the San Fernando Valley moved slightly closer to the Earth's crust north of the valley, and the mountains just north of the valley are slightly higher.

Damage was most extensive in the San Fernando Valley, the Simi Valley, and in the northern part of the Los Angeles Basin. After the earthquake, a total of 24,000 dwellings were vacated. The death toll from the quake was 57. The total cost of the earthquake was estimated to be at least $10 billion. The Northridge earthquake is significant since it was the most expensive earthquake and one of the most expensive natural disasters in United States history, yet it occurred on a previously unknown fault.

Northridge Meadows Apartment Complex: Not far from the Northridge Fashion Mall, sixteen people were killed when the 164-unit Northridge Meadows Apartment collapsed. In an area of several square miles, intense damage occurred to apartments built in the 1960s and early 1970s (prior to the latest revisions in the building codes for multi-family housing). Many of these apartment buildings had "soft" first stories.


To read the first-hand experience of a Northridge Meadows survivor
click here.
These are pictures I took in 1994. Northridge Meadows used to be a 3-story.
The side view gives a clearer picture of what happened.
There was a lot of controversy as to the future of the site. Some people wanted the area to be left as open space with a monument. Others felt like there was no reason not to rebuild. An investigation into the building's integrity (and who could be sued over its collapse) had to be completed before anything could be done. Local restauranteurs began having problems with vermin as a result of the ruins before it was finally torn down.
Now another apartment building stands on the site. It opened November 12, 1998, only four years later.
A common apartment design in the valley is the "dingbat" with "tuck-under" parking - a carport on the first floor, with the apartments directly above. Many of them just dropped right down onto the cars.
Some buildings split right in half.
Others were opened up like dollhouses
The place where I used to park was the most damaged structure on the Cal State Northridge campus. And the one I found most interesting. I didn't realize concrete could bend like that.
CSUN left the site of the original structure as an open field. They rebuilt new parking structures recently on the other side of campus. And it looks like they have reinforced the hell out of them.
As a result of the earthquake, the science building caught on fire
The iconic Oviatt Library had a few chunks missing
The Arts Building, designed by Richard Neutra, architect of the Sternberg House, was condemned and had to be demolished.
The decision was made to open the CSUN campus for the Spring semester barely a month after the quake. In retrospect, I admire the can-do attitude, and we did get through it all somehow. I don't imagine the financial impact of the temporary accomodations could not have been greater than if they had pushed back opening another month and cancelled one of the three sessions of summer school. Maybe they were worried that the students wouldn't return. There are probably a number of issues, like international student visas, that I don't understand. But they were not really prepared, as you can see from this excerpt from my journal:
Wednesday, February 16, 1994
Blenda Wilson, the president of our university, was out of her mind when she looked at our campus and thought, "Oh yeah, we can work around this." Every single building is unusable! Arts: Unusable, Library: Unusable, Science: Burned and contaminated, Engineering: Asbestos, Sierra Halls North and South: Off Limits, Speech: Off limits! Every single building is yellow-taped.
The campus is a series of makeshift trailer parks set up in every empty field they could find. They are still building the modules around us as we occupy them. Sawdust fills the air as we dodge forklifts and sidestep rubble. One guy told me it reminded him of Saigan. At night, the rickety trailers are freezing cold, lit only by spotlights that are individually powered by generators. It's bizarre beyond words, alternately comic and tragic. Some of the trailers have burned down.
Classes are held under trees or in front of dumpsters. Everyone is lost and classes move about seemingly at random. This environment is not exactly conducive for learning.
What next? Locusts? Frogs? No. They are predicting "the worst storm of the season" for tomorrow. These trailers are set up in dirt fields. Everything is going to turn to mud. It is going to be hellish. But I have to just laugh at this farce. What else can I do?
Professor Mel Carter knew that when everything becomes chaos, all you can do is laugh.
This is a monument honoring all of the CSUN employees who worked through the devastation of the earthquake. It is made from one of the remaining pilings from the parking structure.
It is kind of cool because I have my name on a monument and I didn't have to fight in a war or anything:
CSUN
The CSUN sign is what is known as an "impossible object." It is an optical illusion where a figure appears to represent an object that is not actually geometrically possible. Think M.C. Escher. (Wikipedia).
According to the CSUN website, "California State University Northridge was established in 1958 as San Fernando Valley State College and adopted its current name in 1972. It has become one of the largest universities in California." CSUN serves approximately 34,000 students and employs more than 4,000 faculty and staff. It is primarily a commuter college, with just a handful of Greek houses and the University Park Apartments, which are dorms built in the style of condominiums.
CSUN has often been a hotbed of politics, which also has made it an agent of change.
From the website of the Chicano Studies Department:
CSUN in 1967 had a student population of over twenty thousand with less than fifty of these students from the Chicana/o community. In 1968 African American and Chicana/o students demanded that the university recruit more minority faculty, establish programs that would meet the needs of these students, [took control of] the Administration Building, took hostages, were arrested, and presented a series of demands to the President of the university. Subsequently, Chicano Studies and Pan African Studies Departments were established.
CSUN is now a diverse campus, with a very active chapter of MECHA, as well as majors in Chicano Studies, Pan African Studies, Women's Studies, and Asian American Studies. This Fall 2007 the Central-American Studies major is being offered for the first time. CSUN also offers a minor in American Indian Studies. For more on Valley diversity, read this article by Rachel Uranga.
Mecha has painted a really cool mural outside of their office in Sierra Hall North designed by O'Jay T Vanegas.
"The National Leadership Training Program at CSUN (NLTP) was a government grant supported program from the Rehab Services Administration to train administrators for education programs for Deaf and Hard-of-hearing K - 12. It began in 1963. In 1964, it admitted the first two Deaf and Hard-of-Hearing students to that program and hired the first interpreter." The school opened all classes to deaf students in 1970, and established the Center on Deafness in 1972. "The NCOD began providing Workshops for interpreters in the mid- '60s. They began training teachers of the Deaf in the late '60s and then about 1970 when Lou Fant was hired, they began offering ASL classes and training interpreters." (Linden) In 1978 the name was changed to the National Center on Deafness. In 1989, the NCOD moved into its current home, Jeanne M. Chisholm Hall.
CSUN's campus size is deceptive; it is actually comprised of 356-acres. No one ever gains the "freshman 15" because everything is a really long walk.
a really long walk
The art school can always be relied upon to exhibit some cool student work as well as cast-off artworks.
Kids today!
The Botanical Garden
One of my favorite things about CSUN is the botanical garden. Very few people even knew about it until it was recently threatened by the planned erection of Science Building 4. The school has attempted to reassure students that only a small corner of the garden will be impacted.
The orange grove at CSUN is a historical reminder of the groves that once blanketed the valley. The oranges are really sour, and the trees always appear sickly.
Which has always surprised me because the rest of the plants on campus thrive, especially their roses
Althought the facade of the Oviatt Library suffered some earthquake damage, I was immensely pleased that these lights were unharmed.
There is one corner of a parking lot where maintanance always unloads stuff they are ready to throw out. I am always struck with an almost irresistible urge to fill the back of my truck with furniture. I certainly don't need any broken desks, but for some reason this sight is so tempting it turns me into a borderline criminal
And if all that weren't enough, CSUN also has performing arts, live concerts, a steel drum band, a hip-hop think tank and acool radio station:
Where to Eat
The San Fernando Valley rivals the Westside and the Fairfax District in the deli department. In Northridge alone, there are three competing delis: Brent's, Abe's and Weiler's. Each one has its own fans.
Brents 19565 Parthenia St. Northridge (818) 886-5679
For a long time I was strictly into Brents, a local institution since 1967. They are definitely considered the frontrunner by most people. My friend insists their matzoh balls are the best, and that they are "the size of my head." Their pastrami and corned beef sandwich, pictured above, has to be eaten with a fork before it can be made small enough to fit it in your mouth. They open at 6am, and serve most menu items early. They are famous for their catering, and have just opened a location in Westlake.
Abe's 19626 Nordhoff St Northridge 91324 (818) 701-5563
Abe's is open until 11pm on Friday and Saturday nights, which is convenient. They used to be a Solley's, until Solley's twin brother Abe took over. Which makes this delivery truck an obvious prop. Their cream puffs are freakishly large, the deli guys are friendly, and their pastrami is spectacular. And who can resist free pickles while you wait? But even the people I met there said they chose Abe's because it was easy to get into on a Sunday morning.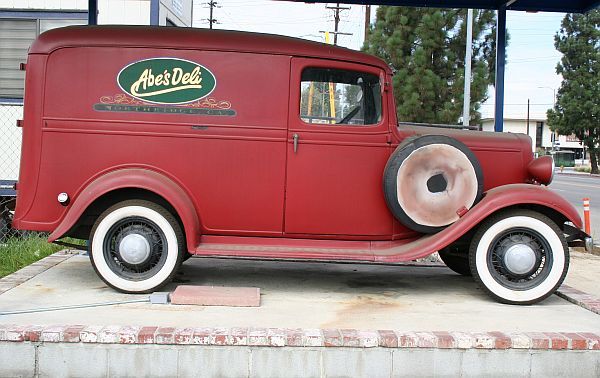 Weiler's 9046 Balboa Boulevard Northridge 91325
818-892-8663
Lately Weiler's on the corner of Nordoff and Balboa has started to win me over. They opened in 1962, although they have changed locations. In spite of their un-deli-ish "country charm" decor, they do have some excellent pastrami and a definite neighborhood vibe. Servers greet customers by name and hardly anybody needs a menu. Plus they have these scary cookies that remind me of an unforgettable episode of Gumby:
Really, I am just into the sign. But admit it, you love mojo potatoes. 10340 Reseda Blvd, Northridge (818) 360-2151
A&W Seafood 9306 Reseda Blvd. Northridge 91324
A&W Seafood is known for its Hong Kong-style dim sum lunches. It may not be Monterey Park, but it's pretty darn good. The hostess alternates between being kind of angry and sugary-sweet, which I find a scary combination. Otherwise, the service is friendly, and the ambiance is refreshingly cool and elegant on a hot day.
Colleges always attract good, cheap eats and CSUN is no exception
Cupids 9039 Lindley Av, Northridge
Cupid's hot dogs can be a little bland, so I recommend you go heavy on the toppings. But the snap of the skin and the fat content are in perfect balance. The bun is soft and fresh, and the price can't be beat.
My Hero 9514 Reseda Blvd # 15 Northridge (818) 349-4255
I once walked into a classroom on the first day of class at CSUN and the instructor had written on the board:
How to survive CSUN:
1. Attend class
2. Study
3. My Hero
Their subs are first-rate, but the secret is the tomato salad. Even when I was vegan, I would just get a tomato salad sandwich. The Italian-style dressing is not overpoweringly vinegary, and the the crunch of the celery is just right.
Falafel Palace 9255 Reseda Blvd. Northridge (818) 993-0734
This is the place for vegans. They even have vegan baklava. But carnivores can feast on shwarma with all the trimmings, and it wouldn't kill you to have a falafel once in awhile. In fact, this is the place where even the most avowed meat-lover should have a falafel.
Mongolian King 9545 Reseda Blvd # 20 Northridge 91324 (818) 886-9711
Before every mall in the world had a Mongolian BBQ, I used to love the novelty of this place. Now I go there because the sauce is a million times better than the sauce at the place in the mall. They also have big, bread puffs that will burn the bejeesus out of your hands, so be careful.
Las Hadas 9048 Balboa Blvd Northridge 91325 (818) 892-7271
I always thought Las Hadas just looked like an an Acapulco's kind of office-lunch place until Frank Black told me it was his favorite Mexican place in Northridge. It turned out they have fantastic enchiladas and huge, dangerous margaritas that make the girls from the office tell you all of their secrets.
Bakeries
Delicious Bakery 9147 Reseda Blvd. Northridge (818) 349-5700
Delicious Bakery, hidden in the corner of the Vons parking lot is a secret, so don't tell anyone. This is where all of the delis get their baked goods. Go straight to the source and get your black-and-white cookies fresh out of the oven. Just look at the size of that hamantashen!
Weinie Bakery 9250 Reseda Blvd. (818) 886-7331
Hidden in the corner of a strip mall, the Weinie Bakery is the place for all things bao. They offer all types of Chinese buns and baked goods. Buns come will fillings like barbecued chicken, vegetarian tofu, and yes, they even have a roll with sliced hot dogs baked into it.
24-hour Party People
El Indio 17019 Roscoe Northridge (818) 765-9259
El Indio On Roscoe just west of Balboa, is a late-night mecca for cops and cars full of drunk partiers. Good tacos make for strange bedfellows. After the bars close down, the place fills with drunk guys nursing sour grapes about how the chicks who wouldn't go home with them "weren't that hot anyways." 24-hours a day, El Indio has killer carnitas tacos and the best chile relleno burritos I've ever had.
Yummy Donuts 7555 Balboa Blvd Northridge (818) 780-2204
Yummy Donuts has acceptable donuts, but the pan quesedilla is killer. So are the little twisty cream puffs. Plus they have sandwiches and ice cream. Where else can you get an ice cream cone at 4am?
Good Clean Fun
Skateland is celebrating its 50 year anniversary. 18140 Parthenia Street, Northridge. (818) 885-7655.
The Matador Bowl 9118 Balboa Blvd., Northridge, CA 91324 818 892-8677
Where to Shop
The main shopping areas of Northridge are anchored by Marshall's and Ross stores. The Northridge Fashion Center is kind of a community gathering place, with movies, restaurants and a farmer's market on Wednesdays.
I took a photo of these mannequins because I thought it was funny the way they mixed a fauxhawk with hippie chic. But the more I look at it, the more it looks like a same-sex couple. Very progressive of you, Fashion Mall!
There is not much in the way of cute little independently-owned boutiques in suburbia. There is a Golden Apple Comics at 8967 Reseda Blvd. If you are still shooting with film, the Darkroom is the place to go. 9227 Reseda Blvd. Northridge, Ca. 91324 (818) 885-0123
Where to Drink
The Stovepiper 19563 Parthenia St Northridge 91324 (818) 886-2526
Imagine one of those 70s liquor ads portraying a guy wearing a turtleneck in a ski chalet. Now add beer and make it really dark, and you have the decor of the Stovepiper. Compared to the the more sterile watering holes of places like Acapulco's, it is your coolest choice. They have good beers on tap – Fat Tire, Summer Ale, and Blue moon. Mondays and Wednesdays are college nights. Tuesdays feature acoustic entertainment, Thursdays are comedy nights and Fridays the over-40 crowd takes over.
Northridge's bar scene suffered a huge loss with the closing of The Classroom. Most of those musicians have moved over to the Sunday night blues jam at the Canby in Reseda.
The Dark Side
Northridge may be the suburbs, but suburban kids take drugs too. That means they need a place to buy and sell. And that place is usually Park Parthenia, Section 8 housing that is home to the Bryant Street gang. There used to be signs up saying, "You are on camera. If you buy drugs, you are being videotaped." The signs are gone now. I asked a police officer what happened to the cameras and he said, "They were probably stolen." A person who works in the office at the police department said, "There were never any cameras. Those signs were just to scare people away."
Current Affairs in Northridge:
Northridge joins with Granada Hills neighbors to protest the development of a giant Kohl's store on Zelzah.
There is one Northridge Neighborhood Council too many.
A new "Public Safety" facility opens on the CSUN campus.
Finally, my favorite thing about Northridge is the skies that seem to go on forever.
I love YouTube. This awful promotional video was made by Tom Poehlmann in 1997 for the Northridge Chamber of Commerce about establishing a Business Improvement District. Just what do you mean by poorly developed tenent mix??? His voice is kind of soothing, though. In fact, it makes...me...so...relaxed......zzzzzzzzz
(All photographs taken by Elise Thompson, except for the Faith Bible Church, by Bob Lee, and the punk rock gig at Devonshire Downs, which was taken by a photographer I knew only as "Gak")
Sources:
Cadena, Lori, interview
CSUN website
The Freedomman
Godzilla's Myspace page
LA City Nerd, interview
Linden, Joyce, interview
Martin, John The Northridge Quake of 1994 Part I
Northridge Parks and Recreation
Valley Observed
Wikipedia
Caughey, John and LaRee. Los Angeles: Biography of a City. University of California Press: Berkeley and Los Angeles, 1976.
Davis, Margaret Leslie. Rivers in the Desert. Harper Collins: New York, 1993.
Kaplan, Sam Hall. Los Angeles Lost an Found . Hennessy and Ingalls: Santa Monica, 1987
O'Flaherty, Joseph S. Those Powerful Years. Exposition Perss: Hicksville, 1978.
Pool, Bob. "A Relic of Hollywood's Golden Era Gives Up the Ghost" Los Angeles Times. August 2, 2007
Roderick, Kevin. The San Fernando Valley: America's Suburb. Los Angeles Times: Los Angeles, 2001.
Starr, Kevin. Material Dreams: Southern California Through the 1920s. Oxford University Press: USA, 1991.
Whiffer, Marcus. American Architecture Since 1780. MIT Press: Cambridge, 1969.