The Latest on the Porter Ranch Murder-Suicide
LAist relies on your reader support.
Your tax-deductible gift today powers our reporters and keeps us independent. We rely on you, our reader, not paywalls to stay funded because we believe important news and information should be freely accessible to all.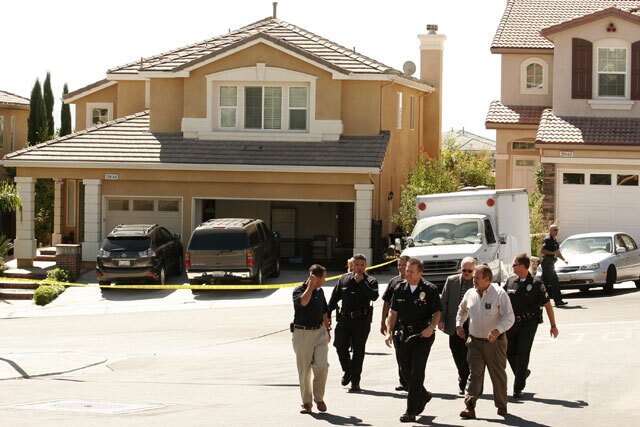 LA Police investigators walk to a news conference in front of the home where six bodies were found, left, in a gated community in the San Fernando Valley neighborhood of Porter Ranch. (AP Photo/Damian Dovarganes)
Yesterday morning police discovered a home in Porter Ranch--an LA neighborhood tucked above the 118 Freeway--with all six members of the family dead with three suicide notes from the father and killer, one of them to police citing financial problems. The story of Karthik Rajaram has unfolded quickly telling of a man who made it big in the markets, at one point earning $1.2 milion, but as the economy took a turn for the worse, so did the family's pockets.
And although the economy may have been looking to go in a positive direction after Friday's bailout vote, Rajaram may have already been planning his actions as police discovered he bought a gun on September 16. One of his letters left behind, addressed to the LAPD, talked about two options: killing himself, or killing himself and the entire family.
People who worked with Rajaram in Los Angeles said he was extremely bright, but intense and high-strung. "He had some behavioral problems," a co worker told to the LA Times. "He wasn't reliable. . . . He was not an emotionally stable person. It was a real problem and would affect any business he was involved in." Another said "the man was never relaxed."