This is an archival story that predates current editorial management.
This archival content was written, edited, and published prior to LAist's acquisition by its current owner, Southern California Public Radio ("SCPR"). Content, such as language choice and subject matter, in archival articles therefore may not align with SCPR's current editorial standards. To learn more about those standards and why we make this distinction, please click here.
Whoops! Surf City Riot Suspect Arrested After 'Liking' His Own Photo On Police Facebook Page
Support your source for local news!
The local news you read here every day is crafted for you, but right now, we need your help to keep it going. In these uncertain times, your support is even more important. Today, put a dollar value on the trustworthy reporting you rely on all year long. We can't hold those in power accountable and uplift voices from the community without your partnership. Thank you.
It turned out to be pretty easy to track down some of the suspects in last month's riots in Huntington Beach: some couldn't resist bragging about what happened after the U.S. Open of Surfing.
One suspect in particular made it really easy. Last week the Huntington Beach Police Department posted photos of 25 suspects on Facebook and asked for the public's help identifying them. Two days after the photos were posted, a friend of Luis Enrique Rodriguez, 18, of Anaheim tagged him in the comments of the photo above. Rodriguez responded by liking the post and sharing it on Facebook. Police say that made it pretty easy to track him down.
Yesterday the Anaheim Police Department arrested Rodriguez who is being charged with vandalism, according to Huntington Beach PD's Facebook page. He's accused of writing "fuck the pigs" on police squad cars that responded to the scene of the riot. There's another photo of him on his Facebook profile that features him sitting on top of a squad car that same day—or at least in the same clothes. (Eds. note: a previous post included the a photo that was not Rodriguez but we've swapped in the correct one at right.)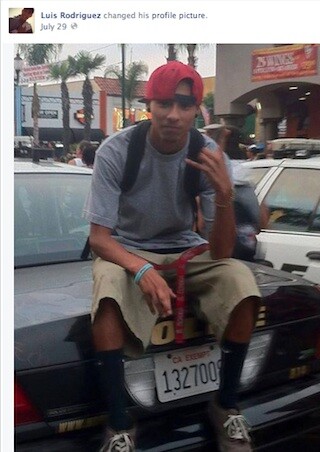 via Facebook
Rodriguez wasn't the only one who couldn't resist sharing his exploits on social media. West Covina resident Niko Johnson, 18, bragged on Twitter about being Huntington Beach's Most Wanted and was later arrested for participating in the riots.
In the days since posting the pictures, Huntington Beach police arrested two other suspects. On August 11, they arrested Anthony Abadier, 20, of Huntington Beach at his home. He's accused of using his skateboard to smash up newspaper stands. On August 11, an unnamed 17-year-old from West Covina turned himself in after detectives contacted his family. He's accused of damaging porta-potties and attempting to tip over a public works truck.
Related:
Huntington Beach Police Post Surf City Rioters' Photos On Facebook
Photo Of Man Who Smashed Store Window During Huntington Beach Riots Goes Viral
Photos, Video: Riots Break Out In Huntington Beach After U.S. Open Of Surfing
Cruise off the highway and hit locally-known spots for some tasty bites.

Fentanyl and other drugs fuel record deaths among people experiencing homelessness in L.A. County. From 2019 to 2021, deaths jumped 70% to more than 2,200 in a single year.

This fungi isn't a "fun guy." Here's what to do if you spot or suspect mold in your home.

Donald Trump was a fading TV presence when the WGA strike put a dent in network schedules.

Edward Bronstein died in March 2020 while officers were forcibly taking a blood sample after his detention.

A hike can be a beautiful backdrop as you build your connection with someone.