Whoops! Surf City Riot Suspect Arrested After 'Liking' His Own Photo On Police Facebook Page
Stories like these are only possible with your help!
Your donation today keeps LAist independent, ready to meet the needs of our city, and paywall free. Thank you for your partnership, we can't do this without you.
It turned out to be pretty easy to track down some of the suspects in last month's riots in Huntington Beach: some couldn't resist bragging about what happened after the U.S. Open of Surfing.
One suspect in particular made it really easy. Last week the Huntington Beach Police Department posted photos of 25 suspects on Facebook and asked for the public's help identifying them. Two days after the photos were posted, a friend of Luis Enrique Rodriguez, 18, of Anaheim tagged him in the comments of the photo above. Rodriguez responded by liking the post and sharing it on Facebook. Police say that made it pretty easy to track him down.
Yesterday the Anaheim Police Department arrested Rodriguez who is being charged with vandalism, according to Huntington Beach PD's Facebook page. He's accused of writing "fuck the pigs" on police squad cars that responded to the scene of the riot. There's another photo of him on his Facebook profile that features him sitting on top of a squad car that same day—or at least in the same clothes. (Eds. note: a previous post included the a photo that was not Rodriguez but we've swapped in the correct one at right.)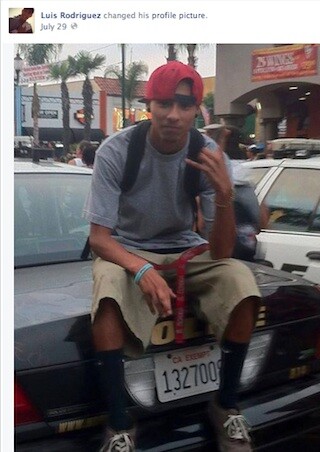 via Facebook
Rodriguez wasn't the only one who couldn't resist sharing his exploits on social media. West Covina resident Niko Johnson, 18, bragged on Twitter about being Huntington Beach's Most Wanted and was later arrested for participating in the riots.
In the days since posting the pictures, Huntington Beach police arrested two other suspects. On August 11, they arrested Anthony Abadier, 20, of Huntington Beach at his home. He's accused of using his skateboard to smash up newspaper stands. On August 11, an unnamed 17-year-old from West Covina turned himself in after detectives contacted his family. He's accused of damaging porta-potties and attempting to tip over a public works truck.
Related:
Huntington Beach Police Post Surf City Rioters' Photos On Facebook
Photo Of Man Who Smashed Store Window During Huntington Beach Riots Goes Viral
Photos, Video: Riots Break Out In Huntington Beach After U.S. Open Of Surfing