Sierra Madre Fire 23% Contained, 1000 Evacuated
Stories like these are only possible with your help!
You have the power to keep local news strong for the coming months. Your financial support today keeps our reporters ready to meet the needs of our city. Thank you for investing in your community.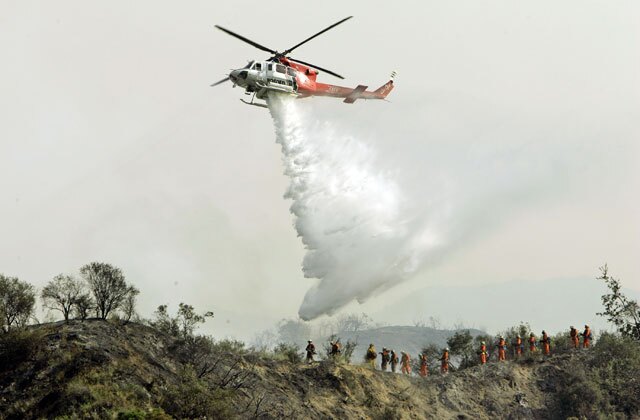 A firefighting helicopter makes a drop on a slope Sunday, April 27, 2008, in Sierra Madre, Calif. A wildfire burning on the steep slopes of the foothills near Pasadena forced a fresh round of mandatory home evacuations Sunday, authorities said. (AP Photo/Ric Francis)
A total of 1000 people have been evacuated out of 400 homes in the foothills of Sierra Madre as firefighters battle a blaze in the Santa Anita Canyon area that began Saturday afternoon. Down 7% from last night, the fire is now 23% contained. No homes have burned down, but the dwellings are still threatened and one outbuilding did burn. The fire has also prompted all Sierra Madre schools to close for the day.
The Foothills Cities Blog has been keeping up on all the press coverage, live blogging and updating constantly, and the LA Times has a great Google Map, which can be seen below.