Police Release 911 Audio from Covina Shooting
Stories like these are only possible with your help!
Your donation today keeps LAist independent, ready to meet the needs of our city, and paywall free. Thank you for your partnership, we can't do this without you.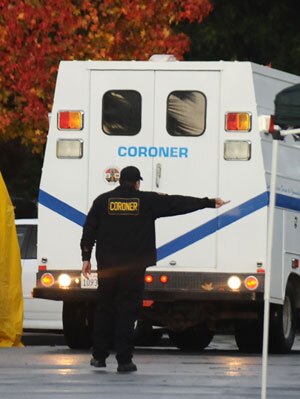 At the family Christmas Eve party, the ex-sister-in-law of Santa shooter Bruce Jeffrey Pardo made it out of her parents' Covina house alive with her injured daughter who was shot in the head--luckily with a non life-threatening injury.
She then called police (audio below) in one of the most saddening phone calls.
She didn't know the exact details at the time, but nine family members were reportedly killed--apparently two of her sisters (one being Pardo's ex-wife), her parents, two brothers and their wives and a nephew.
The deadly Christmas Eve shooting was a story a long time in the making and was carefully planned. He was set to fly out of the country, but being badly burnt from the fire he started after the shooting rampage, Pardo killed himself in Sylmar after setting a boobie trap in his car for investigators.
AP Photo/Gene Blevins