This is an archival story that predates current editorial management.
This archival content was written, edited, and published prior to LAist's acquisition by its current owner, Southern California Public Radio ("SCPR"). Content, such as language choice and subject matter, in archival articles therefore may not align with SCPR's current editorial standards. To learn more about those standards and why we make this distinction, please click here.
While Ferguson Erupts, LAPD Officer Writes 'Just Do What I Tell You' So You Don't Get Hurt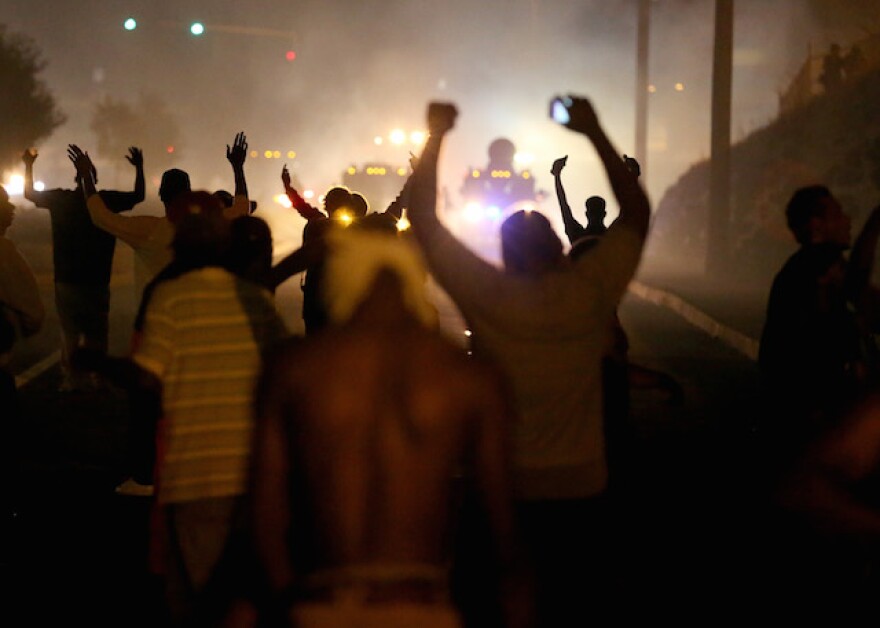 Today on Giving Tuesday, we need you.
Dear reader, we're asking you to help us keep local news available for all today on Giving Tuesday. Your financial support keeps our stories free to read, instead of hidden behind paywalls AND will be matched dollar-for-dollar! Let your support for reliable local reporting be amplified by this special matching opportunity. Thank you for investing in your neighborhood.
This week has been unbelievable: police in Ferguson, Missouri doing a terrible impersonation of soldiers in Afghanistan have reportedly fired tear gas at a crowd with children without warning and arrested a Holocaust survivor as well as 11 journalists trying to gather details about the violent protests over Michael Brown's death.
An LAPD Officer decided that the same week that police's actions in Ferguson have attracted the attention of Amnesty International was a good time to remind us that cops are basically good guys and people who get hurt by cops usually have it coming. Or in his words: "...in the overwhelming majority of cases it is not the cops, but the people they stop, who can prevent detentions from turning into tragedies." Sunil Dutta, who's been with the LAPD 17 years, wrote these words in an op-ed in the Washington Post with the ominous headline: "I'm a cop. If you don't want to get hurt, don't challenge me."
Calling it tone-deaf is probably too generous. His piece masquerades as a rational guide to dealing with police—it's like that Chris Rock skit "How not to get your ass kicked by the police" drained of all its dark humor. Half of the things that Dutta writes aren't so far from what black parents teach their children about dealing with the cops. He writes:
"Don't argue with me, don't call me names, don't tell me that I can't stop you, don't say I'm a racist pig, don't threaten that you'll sue me and take away my badge. Don't scream at me that you pay my salary, and don't even think of aggressively walking towards me."
But anyone paying attention to what's going on in Ferguson and who believes police are in his words "bloodthirsty, trigger-happy murderers" doesn't need to hear this. Nor do they need to hear that "people who work in law enforcement know they are legally vested with the authority to detain suspects — an authority that must sometimes be enforced." Nor do they need to hear that challenging an officer's authority is a deadly game: "Even though it might sound harsh and impolitic, here is the bottom line: if you don't want to get shot, tased, pepper-sprayed, struck with a baton or thrown to the ground, just do what I tell you." Nor do they need to hear the definition of excessive force, which is a key question in the Brown case: "The moment a suspect submits and stops resisting, the officers must cease use of force."
The people protesting in Ferguson know that police are given permission to use deadly force—police have told some of them at gunpoint, "I will fucking kill you." It's the abuses of that authority (if not that authority itself) that they take issue with.
Dutta acknowledges "corrupt and bully cops exist" but he has an awfully rosy view about what happens should you end up facing one of them:
Save your anger for later, and channel it appropriately. Do what the officer tells you to and it will end safely for both of you. We have a justice system in which you are presumed innocent; if a cop can do his or her job unmolested, that system can run its course. Later, you can ask for a supervisor, lodge a complaint or contact civil rights organizations if you believe your rights were violated. Feel free to sue the police! Just don't challenge a cop during a stop.
That approach didn't work out too well for Henry Davis, a man mistakenly arrested in Ferguson in 2009 who was then held for no reason, beaten up by police in a jail cell and then charged for "property destruction" since his blood had the nerve to end up on police uniforms.
Dutta explains the rules of engagement between citizen and cop, but without acknowledging protestors' concerns that police haven't held up their end of the bargain in Ferguson and elsewhere. It's a pitiful #NotAllCops defense. His piece ends with a tin-eared if not outright offensive plea for respect from citizens—at a point in the news cycle when respect for law enforcement is rightfully at an ebb:
"Community members deserve courtesy, respect and professionalism from their officers. Every person stopped by a cop should feel safe instead of feeling that their wellbeing is in jeopardy. Shouldn't the community members extend the same courtesy to their officers and project that the officer's safety is not threatened by their actions?"