This is an archival story that predates current editorial management.
This archival content was written, edited, and published prior to LAist's acquisition by its current owner, Southern California Public Radio ("SCPR"). Content, such as language choice and subject matter, in archival articles therefore may not align with SCPR's current editorial standards. To learn more about those standards and why we make this distinction, please click here.
Report Released on Fatal Pasadena Police Shooting
Before you read more...
Dear reader, we're asking you to help us keep local news available for all. Your tax-deductible financial support keeps our stories free to read, instead of hidden behind paywalls. We believe when reliable local reporting is widely available, the entire community benefits. Thank you for investing in your neighborhood.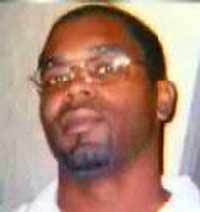 Leroy Barnes
It was February 19th when 38-year-old Pasadena resident Leroy Barnes was sitting in the passenger seat of a car that was pulled over. As officers approached the car, Barnes put his hands into his backpack, which led to a series of events ending in his death, after 11 bullets, seven in his back, reports the Pasadena Star News.The county Office of Independent Review report (.pdf) made no ruling on the use of force by the two officers, but did fault them for their decisions--if they approached the situation differently, the struggle with Barnes may have never happened.
Instead of calling for backup once they noted suspicious behavior, they approached the car. When an officer saw Barnes' hands in his backpack, he immediately grabbed it, fearing for his life. The officer said he saw a gun and shot Barnes once. Then Barnes either got out of the car or was pulled by the officer and fell to the ground on his stomach. Still fearing that he had a gun, the officers shot him 10 more times. From the first shot to the last shot, it happened in a 7-second time frame, according to the report, based on a video taken from the police cruiser's dashboard.
In addition to calling for backup before approaching the car, the report says the officers should have reassessed the situation before continuing to fire. But the report also countered that statement with: "Many times instinct, adrenaline and fear affect perception and overcome training when officers are initially faced with a deadly force situation."
The NAACP called it the "most thorough and complete reports" they've seen in Los Angeles county. The FBI is still investigating.
Anthony Lowe was shot and killed by Huntington Park police on Jan. 26. 'Thank goodness that we're in the era of videos,' said the family attorney as they file a federal civil rights lawsuit

In a memo, Chief Michel Moore said "extremist groups have hijacked the use of the 'Thin Blue Line Flag' to symbolize their undemocratic, racist, and bigoted views."

LAPD Chief Moore also questioned officers' actions in the fatal shooting of Takar Smith, although not in two other fatal incidents.

In a conversation with LAist, the new sheriff acknowledges that, as an outsider, "I have my work cut out for me" in winning the support of the department's rank-and-file.

He was elected in 2018 after running as a progressive Democrat who would reform the department. He ended up fiercely resisting oversight and clashing with watchdogs and the rest of the county's political establishment.

Sheriff's officials said the 22-year-old man was released "due to the extreme complexity of the investigation."