This is an archival story that predates current editorial management.
This archival content was written, edited, and published prior to LAist's acquisition by its current owner, Southern California Public Radio ("SCPR"). Content, such as language choice and subject matter, in archival articles therefore may not align with SCPR's current editorial standards. To learn more about those standards and why we make this distinction, please click here.
Photos: Vice President Biden Pays A Visit To Chinatown's Homegirl Cafe
Before you read more...
Dear reader, we're asking you to help us keep local news available for all. Your tax-deductible financial support keeps our stories free to read, instead of hidden behind paywalls. We believe when reliable local reporting is widely available, the entire community benefits. Thank you for investing in your neighborhood.

As part of his short trip to Los Angeles, Vice President Joe Biden made an impromptu visit to Chinatown's Homegirl Cafe for some cookies on Friday. Biden was joined by local leaders and officials and touted the state's effort in enrolling people in the Affordable Care Act a.k.a. Obamacare by the February 15 deadline. When asked if information gathered from enrollment would be shared with other government agencies, Biden replied "There is nothing, nothing, nothing that can be used by authorities for deportation," according to the LA Times.Biden had a tray of cookies and pastries placed before him, and asked "Is this a test?" before noshing down on a cookie (and a brownie and pastry). Sometimes Uncle Joe can't help himself.
Homegirl Cafe is run by Homeboy Industries, founded in 2001 by Father Gregory Boyle to reduce recidivism among those recently jailed for gang-related activities, and to keep at-risk youth from joining gangs. President Obama paid Homeboy Industries a visit when he visited the Southland in July.

"I was told there'd be cookies here." (via Homeboy Industries)


"Whoa, hey ladies! There's plenty of Joe Biden for all of you!" (Photo by Marcus Yam - Pool/Getty Images)


"Alright, alright, alright." (via Homeboy Industries)


"Alright which one of you guys forgot to order the snickerdoodles. Who screwed that up?" (via Homeboy Industries)


"Look I promised myself I'd only eat TWO, OK?" (via Homeboy Industries)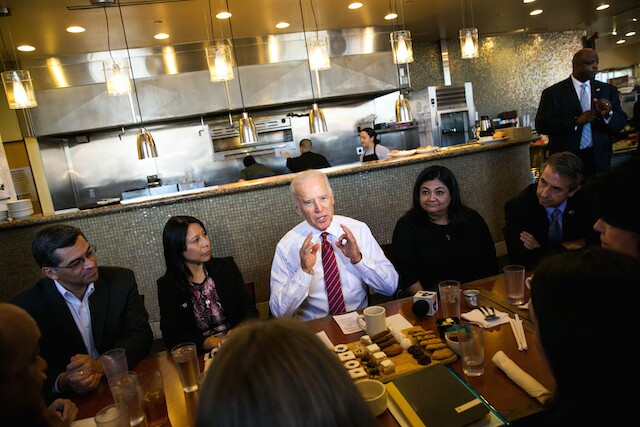 "My God, those were delicious." (Photo by Marcus Yam - Pool/Getty Images)


"I can't stop thinking about those cookies." (via Homeboy Industries)


"Are you the homegirl the cafe is named after?" (via Homeboy Industries)


"Heh heh heh I have no idea who this guy is." (via Homeboy Industries)


Joe Biden: honorary Homeboy (via Homeboy Industries)