This is an archival story that predates current editorial management.
This archival content was written, edited, and published prior to LAist's acquisition by its current owner, Southern California Public Radio ("SCPR"). Content, such as language choice and subject matter, in archival articles therefore may not align with SCPR's current editorial standards. To learn more about those standards and why we make this distinction, please click here.
Photos: The Miniature Island Foxes Of Catalina Saved From Extinction
Stories like these are only possible with your help!
You have the power to keep local news strong for the coming months. Your financial support today keeps our reporters ready to meet the needs of our city. Thank you for investing in your community.
In what looks like a success story for conservation, four subspecies of the totes adorbs island fox could eventually be downgraded on the endangered species list.On Wednesday the Fish and Wildlife Service announced (pdf) that they would consider removing the "endangered" designation from the San Miguel Island fox, Santa Rosa Island fox, Santa Cruz Island fox, and the Santa Catalina Island fox, making it the fastest recovery of an endangered mammal on the list. The foxes are all unique to each of the islands they are found, all in the Channel Islands off the Southern California coast.
The island foxes are all descendants of the mainland gray fox, but are about the size of a housecat as a result of insular dwarfism. In total, there are six subspecies. Their numbers sharply declined as a result of human presence on the islands, predation by golden eagles, and disease. The National Park Service, Nature Conservancy, and Catalina Island Conservancy all teamed up to rescue the island fox and so far it has been a success.
On Catalina Island the fox population has rebounded so well that their biggest threats now are the threats posed by humans—mainly their cars. "With no natural predators, this little fox is king of beasts on Catalina—and that can get it into trouble," Dave Garcelon, president of the Institute for Wildlife Studies told the L.A. Times.
But enough words. Look at how adorable they are!

Santa Cruz island fox (USFWS Pacific Southwest Region)


(USFWS Pacific Southwest Region)


Santa Cruz island fox (USFWS Pacific Southwest Region)


(USFWS Pacific Southwest Region)


Santa Catalina island fox (USFWS Pacific Southwest Region)


Santa Catalina island fox (USFWS Pacific Southwest Region)


(USFWS Pacific Southwest Region)


Santa Catalina island fox with pup (USFWS Pacific Southwest Region)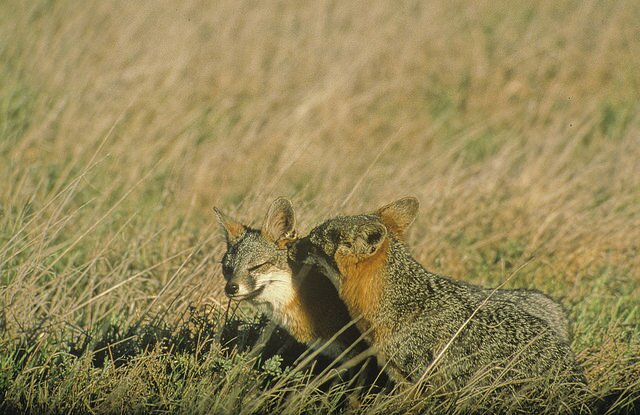 Two Santa Cruz island foxes groom each other. Aww. (USFWS Pacific Southwest Region)