Partial List of Train Crash Victims Released
Stories like these are only possible with your help!
You have the power to keep local news strong for the coming months. Your financial support today keeps our reporters ready to meet the needs of our city. Thank you for investing in your community.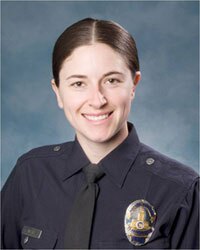 The LA County Coroner's Office has released a partial list of the victim's names from Friday's train collision between a Metrolink commuter train and a Union Pacific freight train. It does not include Robert Sanchez, the speculated engineer, or Paul Long who later died at a hospital.
But it does list LAPD Officer Spree Desha (pictured here). Spree spent most of her last three years at the North Hollywood Station on patrol and training new officers and was most recently assigned to the Office of Operations as a Staff Researcher/Writer. Over her seven years on the force, Desha received thirty-four commendations and was said to be an "extremely effective officer," by one of her supervisors.
Here is the list, via LA Observed:
Christopher Aiken, 38
Dennis Arnold, 75
Dean Lafoy Brower, 51
Alan Lloyd Buckley, 59
Spree Desha, 35, of Simi Valley, LAPD officer
Walter Arney Fuller, 54
Michael Hammersly, 45
Jacob Hefter, 18, of Palmdale, a student at California State Long Beach
Kari Hsieh, no age given
Ernest Stephen Kish II, 47
Gregory Lintner, 48
Manuel Macias, 31
Aida Magdeleno, 19
Charles Peck, 58
Howard Barry Pompel, 69
Donna Remata, 49, of Simi Valley
Doyle Jay Souser, 56
Atul Vyas, 20
Maria Elena Villalobos, 18, of North Park, a student at the Fashion Institute of Design & Merchandising
Yi Chao, 71