This is an archival story that predates current editorial management.
This archival content was written, edited, and published prior to LAist's acquisition by its current owner, Southern California Public Radio ("SCPR"). Content, such as language choice and subject matter, in archival articles therefore may not align with SCPR's current editorial standards. To learn more about those standards and why we make this distinction, please click here.
LAist Interview: G4TV's Olivia Munn
Stories like these are only possible with your help!
You have the power to keep local news strong for the coming months. Your financial support today keeps our reporters ready to meet the needs of our city. Thank you for investing in your community.
I'm happy to report that Olivia Munn is every bit the kick-ass chick that every nerd across America hopes she is -- and a heck of a lot more. First of all, yes, she's gorgeous even without makeup. Two, yes, she's just as sarcastic and funny and down-to-earth in person as she is on camera, and admits that part of what makes her job at G4TV so fun is that she gets to act like herself – every day. Oh, and you know that appearance at the Star Wars Convention where she hosted the show dressed as Princess Leia, fulfilling the deepest fantasies of legions of nerds? Girl didn't even work out beforehand. I mean COME ON!
I got to spend an afternoon hanging on the G4 set, where Munn and co-host Kevin Pereira were rehearsing for the live taping of their daily video game/tech/culture/news round-up, Attack of the Show. The broadcast is everything you would expect from a show aimed at the 12-34 year old male American demographic, but so much more – yeah, there's lots of time devoted to playing Youtube videos of fat kids falling, hot chicks fighting, and weird animal stunts, but there's also a lot of great journalism on games, technology, film, comic books, and pretty much every move Steve Jobs makes. The show has a loose, fun feeling, thanks in large part to the chemistry between the hosts, who seem to revel in bouncing up against each other in all sorts of improvisational ways. Pereira is a knock-out interviewer, a less-frilly gear-head version of Ryan Seacrest, and Munn is – well, let's just say she could probably eat Brooke Burke alive.
Munn's not just the smart, pretty, and sarcastic co-host of one of the coolest shows on TV, but she's also a budding actress and successful model -- you can check her out next year in Rob Schneider's Big Stan, as well as the horror movie Insanitarium. And if you don't already have her (SFW) Playboy shoot bookmarked, well, you will as soon as you're done Googling it. Which is what you're going to do now, so go on. Do it. We'll be here.
Anyway! Now that you've got your Munn on, read our exclusive LAist interview below to find out how she feels about playing Gay Chicken with Kevin Pereira, living in Los Angeles, and making out with her spray-tan lady. Oh, but first watch this video. No, trust me. No really, TRUST ME.
Olivia and Kevin Pereira taping live at G4TV
LAist: So Kevin Pereira is the only guy my boyfriend would ever consider making out with. Why is that, you think?
Munn: Well, Kevin's very heterosexual, but he loves to play Gay Chicken. Do you know what Gay Chicken is? Well, if we were playing Gay Chicken I would come up and put my hand on your leg, and then you would put your hand on my shoulder, and then who ever pulls away first loses. Kevin and Wil O'Neal, our gadget expert – they full-on tongued one time. Cause Will's kinda dirty too. But yeah, somebody made a joke the other day about Kevin & I hooking up. But Kevin's like a brother to me – it's disgusting!
LAist: When I did a Google video search for Olivia Munn, the first things that pop up are 1) Olivia Munn deepthroats hot dog, 2) Olivia Munn Princess Leia, 3) Olivia Munn Lesbionic Woman. How do you do all of this and not lose your dignity?
Munn: That's a good question – because you have to have dignity to maintain it. Let's talk about the hot dog for a second – I had no idea this would be up on the front of all these big sites, like Defamer, Perez Hilton, not just G4 techie sites. I came into the office to do our read-through and we're all going over it: "hot dog falls in mustard, Olivia puts it in her mouth –" I was like whoa whoa whoa -- can we reverse a bit? What makes you think I'd do this? And they said, 'well, Olivia, you're always game!' And it's true! I don't take myself that seriously at all, so when something comes down, if it can be remotely funny, I'm gonna do it! They great thing is it's a daily show, so the next day, I always have the opportunity to adopt an orphan from Ethiopia or something to regain my dignity. I always have the next day to make it up.
The thing about Princess Leia, I did not realize how big the Star Wars convention was– if I knew that I probably would have been throwing up like weeks before, cause I didn't work out or anything before that. And I hate seeing those pictures, I absolutely dread it, there's only one picture I'm okay with, cause the light's hitting a certain way and I'm positioned a certain way, but I hate seeing those pictures.
Going to the Star Wars convention is like going to the mother ship, all our fans are there, and they're really great. But we actually got in trouble because the head of the convention came to the G4TV event organizer and asked them, 'hey, can you make sure tomorrow when Olivia comes in for the live show she's not dressed like Leia again? The other vendors are getting mad cause nobody's coming to their booths, and everybody's following her around.' And it was a big compliment but also a big embarrassment to me! so I'll never do Leia again.
LAist: Well I have to say, as a chick myself, I never feel condescended to or objectified by what you guys do on the show. There are a lot of cool chick hosts on G4 who are clearly into what they're doing.
Munn: There's one fan in particular on the boards who gets on me for putting down women or making insensitive jokes – but the thing is, I just find it funny, it's my sense of humor. I don't take it seriously, if anyone's gonna take our show that seriously – I mean, yes, there are a lot of times when we are debating something rather seriously, but in general, if something's going to get a laugh, I'm gonna do it.
LAist: But you weren't into video games before you started the show?
Munn: Not at first, and I didn't want to come on to be that person who just pretends to be into it. When I'm acting, then I'm an actress, and I'm playing a role. But when I'm here every day I'm myself – I'm a heightened version of myself, obviously, I make a lot more jokes, and I'm pretty energetic. Otherwise I'm pretty tired all the time! I save it for 4-5 and let out all my energy then. But I didn't think there was anything wrong with saying I want to learn about games and I'm very interested. Growing up in Japan and having brothers I do have a lot of respect for cars and for gaming and for technology, and I do take my computer apart – although now I have a Mac, so I don't have to do that -- but I'm very familiar with the tech side of the world.
When you're here, you can't help but see that there is so much intelligence and thought that goes into video games. So now I request every game and go home every night and play, and I'm not very good at it -- I still have to play Guitar Hero on easy, but I enjoy it. I'm not a hardcore gamer but I do have a deeper respect – and a lot of girls play now! You look at something like Assassin's Creed and it's just ridiculous how cool it is and how it can appeal to so many. We get these people [game creators] on and you hear about the art and the backstory, and it's just amazing.
LAist: What's the coolest interview you've gotten to do?
Munn: Jon Favreau. I'm a huge fan of his, only after my interview did I realize that I have every movie he's ever done, even movies like Love and Sex that nobody's ever heard of. He's just so brilliant – and I get what he's doing. The coolest thing is when he came on to the set he said, "by the way, I love all your skits" -- and I thought he might just be saying that, but he knew them! So even during the interview, he was asking "where's Leia? where's Wonder Woman?" Afterwards he sent a note saying how awesome it was and he liked the interview a lot, and that meant a lot to me, because one, I was a fan, but we had such great chemistry together. And two, he respected what I was doing, which is very important to me – as much as I like doing what I do for a laugh, when you also get the respect from people and they know that you're not taking yourself seriously when you joke around – that was definitely the top. The best.
LAist: What's a typical day like for you around here?
Munn: For me, it's pretty standard – although today I had to cancel auditions because my allergies were so bad. But usually I have auditions and meetings for theatrical stuff in the morning, then I get in to G4 around one. I come down to my room, go through scripts, emails, business stuff, then I'm in hair & makeup, out by three, then we're in rehearsal. I shoot the show live from 4-5, from 5-5:15 I do our podcast "Around the Net," then I'm out – four to five days a week.

Really Funny Teleprompter Blooper - Watch more free videos
Olivia's "McHammer" Moment
LAist: Live? That's how you get all your casual moments, like the McHammer thing?
Munn: Yes! I was just reading the teleprompter, and after I read it, the thought went through my head– is it McHammer? Is that wrong? And I thought – well, there's so many different gamer tags, people have so many different weird names, so it didn't really register. People seemed to really get a kick out of it, though – it was definitely my Ron Burgundy moment! That kind of stuff, well, it is live, and by that time, it's the last five minutes of the show and I could care less, I just want to get through it. But could you tell I was trying to sell it? I was like "is he dead??" It was my cold read moment. I don't want to take it back – I think it's awesome! We brought an MC Hammer look-alike in for the show, and it was this funny thing, and somebody says – Olivia, you created a person! A meme!
LAist: How long have you lived in LA? Do you like it?
Munn: I've lived in LA for three years now. I love LA! I absolutely love it – anybody who hates LA, I tell them to fuck off. When people come to LA looking for opportunity and success, and then they bitch about it so much, usually they're from the East Coast, it's like, well get out! I'm on the 405 every day in traffic, and it's packed, and I bet there's a lot of haters out there, and I want them to just leave. If you're here, enjoy it. It's sunny, it's beautiful, yes there's traffic, there's shallow people, but that's everywhere – I've moved around a lot, and as long as you know who you are and you're comfortable with it, you don't have to associate yourself with all those other idiots out there, and people who hate LA can get out of here. Suck it. That's what I say, suck it.
LAist: What do you like to do around here?
Munn: I like going to movies, and I love the Arclight cause you can pick your seat. And I love surfing so I get down to the beach a lot. I like restaurants, like going to Firefly for drinks. I don't get out that much, actually. The thing I like about LA is you can find a suburban area but still be close to the city, so I stay home a lot, and I read, and I go on the internet, and I watch TV.
LAist: Sounds like my life!
Munn: Yeah! There's not much going on in my life cause I'm a workaholic and I'm just working working working. But I like going to Crustacean – it's one of my favorite restaurants. I don't shop. I hate shopping with a passion. In general what I like to do in LA is surf, go out every so often, maybe once a month? And hang out at home and just relax.

The Lesbionic Woman
LAist: So I wanted to ask you about the skit "The Lesbionic Woman". I remember a few months back you were talking to Anna David, and she brought up the question, "well would you ever be with a girl?" And you were absolutely just like "no. Ew. Yucky. Yucky." But then this skit happens, and – you did it, you went for it!
Munn: Here's what happened. Blair Butler – we write a lot of skits together – came to me and asked me: here's great this idea, but you would have to kiss a girl, would you do it? And me just being me, I'm up for it, right, it's cool. So she said, well, find someone you'd feel comfortable with. So – my spray tan lady sees me naked all the time, and she wants to be an actress, and I asked her. And she was like "oh yeah I've totally made out with girls before!" and I'm like "oh man!" but she was totally into it. And it was like lip gloss on lip gloss – and in one take, you can see my hand just come up and swat her away. I was not into it. And I have all my skits up on my Myspace, but I gotta say -- no offense to anyone who loves kissing people of the same sex -- but I just can't watch it. I was not into it. But I went for it! We did three or four takes. I had to call all my guy friends, and say "I have something really disappointing to tell you. I don't enjoy kissing other women." Maybe if she wasn't wearing gloss.
LAist: What did you do for Thanksgiving?
Munn: I am going home for Thanksgiving! To visit my baby niece Ripley Olivia, who was named for the Sigourney Weaver character. She's very advanced. At three days old she was holding her own bottle and teaching Windsor Pilates.
I just found out that I got a big magazine cover, though -- I was so looking forward to gorging myself, but now I can't, cause it's a big shoot and it's coming up in a few weeks! So I can't eat – but I'm allowing myself to eat one day. And then half of Friday, eating the leftovers. And then laxatives and throwing up. Gotta stay thin!
LAist: So I know you posed for Playboy, but not in the nude. Would you ever?
Munn: No. Not unless I needed it. I don't have problems doing nudity if it's part of the role – and I don't look down on anybody else who's doing gratuitous nudity, I don't think they should be judged. But for me if it applies to the role, and makes sense to the movie, then I would do it. But if they need to put in a shower scene because "you came back from the gym and it makes sense that you would take a shower and we would watch that!" Well, no. Not that there's anything wrong with doing a nude, and basically I was wearing a thong in [my photo shoot], which is really revealing, but no, I wouldn't do it.
Until I really need it. Which might be in a month.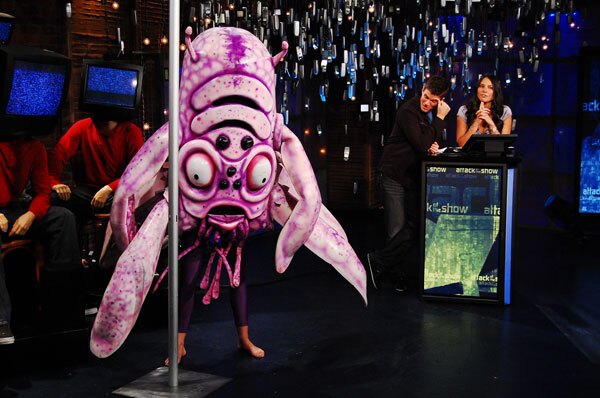 Just another day on the Attack of the Show set, hanging out with a pole-dancing purple squid.
LAist: So how is it having one of the best jobs on TV?
Munn: When I came on to the network, I didn't know anything about the network. Then I called my brother, and I asked him "do you know G4TV" and he was like, of course! He's an Asian kid in his 20's, of course he knows.
We've got amazing writers -- okay, actually, they're script consultants, so they're not on strike. We call them script consultants because they give us a general direction, and then we banter back and forth, and improv a lot of it, so it's like, we just work off of an outline. We have amazing producers. And Kevin and I – I can insult Kevin, and he knows how to take it, and roll with it. I've worked with some people where you insult them and they don't know how to take it, they just want to bash you back down. Sometimes you get those people whose only objective is to one-up you, and be the star – but Kevin and I know how to go back and forth. And so it makes that one hour of the day so easy, and it's just us being us. When I first started, I wasn't nervous, but I wasn't as comfortable being myself as I am now.
I'm friends with Masi Oka -- yes Masi Oka, he is awesome! We were at dinner one night, and he said to me "you're a lot smarter than I thought you were, cause you play dumb sometimes on the show," and I thought about it, and I guess I do have those "oh huh!" moments but only because I think it's funny. It's my choice. But because people think it's really me instead of a heightened version of myself – but I embrace that side of my sense of humor. It's such a great easy job.
My family's obsessed with the show. We're getting more and more fans every where we go. People's mothers will be like "are you Olivia??" I mean, totally not my demographic! A sixty-year-old woman comes up to me and says "oh my sons love watching it, they make me watch it with them at home" then I start to remember stuff I've said, like my jokes about fatties, cougars, you know, abortion jokes. But I don't censor myself.
LAist: You guys interact a lot with your fans.
Munn: Oh yeah! I'm gonna start doing a fan weblog every day, probably just 60 seconds of BS. I'm really trying to get a stalker. That's when I'll be a celebrity. I'm really excited about that. And with the writer's strike, Kevin and I have declared ourselves the new kings of late night. Where else are you going to go? But nobody's calling yet. Brad and Angelina haven't called.
LAist: Well, you know, I've been watching reruns of the Colbert Report, and he had Sean Penn on to do a "Metaphor-Off."
Munn: We don't really have room for Sean Penn here. He's not big enough of a star. We make up our own stars! Like McHammer.
LAist: Do you get a lot of cool stuff through the show?
I ask for video games – I have to ask for things, they don't just naturally come. We get it cause it's part of what we do, we have to do research and play games so we know what we're talking about. We want to be those people who get free stuff all the time!
LAist: I expected this place to be awash in gadgets!
Munn: I know, you shouldn't be able to walk in the door! I do get free phone service. That was my best free perk. I guess Natalie Portman asked for it and she didn't get it.
LAist: But she just did that nude scene!
Munn: Yeah, maybe she shoulda kept her clothes on.
All photos by Osmany Rodriguez exclusive to LAist.