Metro Adventures: What To Do On The Gold Line (Part 1)
Stories like these are only possible with your help!
Your donation today keeps LAist independent, ready to meet the needs of our city, and paywall free. Thank you for your partnership, we can't do this without you.
L.A. Metro's Gold Line covers a diverse swath of Los Angeles on its 20-mile stretch from East L.A. to Pasadena. It's a long line, and consequently, I've chosen to break documenting it into two posts. This post covers some of the sights and activities along the Gold Line between Union Station and Pasadena. Next week's installment will detail the Gold Line Eastside extension, running between Downtown and the East L.A. Civic Center.
Getting to the Gold Line isn't difficult, but it will likely require some transfers. The easiest access point for most who don't live in the San Gabriel Valley or on the Eastside is via Union Station, where the Gold Line has a stop and connects with the Metro Red and Purple lines. Westsiders can take the Metro Expo Line into Downtown, where they will connect with a Red or Purple Line train to Union Station. Valleyites, Hollywooders, and others along the Red or Purple lines can ride those trains directly to Union Station. Once at Union Station, the Gold Line occupies tracks one and two, closer to the Alameda side of the station. Grab a $5 dollar Day Pass ($6 if you don't have a TAP card yet) to ease the transfers from train to train.
Metro has a useful map of its rail network on its website, including information on parking locations throughout its transit network and station locations.
Bicycles, as I recommend you bring along for some of the stops, can easily be accommodated on Metro trains. Metro provides a guide, but it really just boils down to looking for the yellow bicycle sticker on the train. The Red and Purple Line bike zones are near the yellow safety rods you'll see in the underground stations.
Scroll down to see some sights near eight of the Gold Line's 13 stations between Downtown and Sierra Madre. Happy riding!

Philippe the Original and Olvera Street (Photos by Matthew Tinoco)
UNION STATION
Olvera Street:
Although it's not quite a secret, Olvera Street always makes for an enjoyable visit. Whether it's the rich Los Angeles history surrounding El Pueblo de Los Angeles, the caramel filled churros from Mr. Churro, or the dozens of small stands selling Mexican curios, one can find a multitude of interesting things to see/do around the street itself.
The street is a part of a larger historical district known as Los Angeles Plaza. In addition to Calle Olvera, the district is also the home to many of L.A.'s oldest buildings like the Sepulveda House, which houses the district's visitor center, The Church of Our Lady the Queen of the Angels, and the Avila Adobe, the oldest surviving building in Los Angeles City (1818!).
Be on the look out, too, for the David Siqueiros mural, América Tropical, which recently finished undergoing restoration after 70 years of neglect and controversy.
Directions: Exit Union Station on the Alameda side and walk directly across Alameda Street. El Pueblo de Los Angeles starts right away, with Olvera Street being slightly to the north of the intersection of Alameda and Los Angeles streets.
Philippe's:
Similar to Olvera Street, it's hard to know anyone in Los Angeles who has never been to Philippe the Original. That being said, the restaurant's proximity to Union Station demands a mention. Simply put, Philippe's is home to a delicious French Dip sandwich.
The restaurant, which competes with the similarly historic Cole's Pacific Electric Buffet in DTLA's Gallery Row neighborhood for the title, claims to be the originator of the French Dip sandwich. Although history generally gives this award to Cole's, Philippe's sandwich is, in my opinion, the tastier option. The restaurant's atmosphere cannot be beat either. Upon stepping inside you enter a time capsule of old Los Angeles, complete with telephone booths, black and white pictures, and a sawdust floor.
This restaurant wasn't one of Huell Howser's favorites for nothing!
Directions: Exit Union Station on the Alameda Side and cross over Alameda Street. Walk north towards, and cross, Caesar Chavez Avenue. Keep going until you reach the intersection of Alameda and Ord Street, where the restaurant is in plain view. Address: 1001 N. Alameda St. Los Angeles, CA. 90012

Homegirl Cafe and Chinatown Plaza (Photos by Matthew Tinoco)
CHINATOWN STATION
Chinatown:
To be entirely honest, before I wrote this article I had not visited L.A.'s Chinatown in at least five years. Since then, however, the neighborhood has cleaned up significantly. Although it still retains some levels of corniness, Chinatown has grown into an option for culture, cuisine, and shopping.
Take a visit to the Chinatown Swap Meet or dine in some of the best Chinese restaurants in Los Angeles, such as Yang Chow and CBS Seafood. It's worth mentioning that Phoenix Bakery makes some amazingly good cakes (which you can order by the piece!).
The Chinatown Business Improvement district also includes a calendar on their website, good for figuring out what cultural events are happening when and where. Don't forget the Dim Sum or Chinatown Summer Nights!
Directions: Exit at the Chinatown Station. Walk down the multitude of stairs, where you'll find yourself at the intersection of Spring and College. Broadway, Chinatown's main drag, is one block north of Spring. The district is highly walkable.
Homegirl Café:
Homegirl Café is a part of the larger Los Angeles-based Homeboy Industries, an organization dedicated to providing free resources to former gang members looking to escape gang life. Among other services, Homeboy Industries offers job training, mental health services, and tattoo removal.
Homegirl Café is one of those services that helps those who were formerly gang-involved to help better their chances of long-term security. The café, located in the same building as the organization's headquarters, has both delicious food and great service, not forgetting that the Homeboy Bakery also finds its home inside, too!
Directions: Exit at Chinatown and turn left after reaching street level. Turn right on the first street (it's ambiguous as to whether it's Spring or Alameda) you come to, where the modern Homeboy building should be visible. The building is located at 130 Bruno St. Los Angeles, CA. 90012

Lincoln Heights Murals (Photos by Matthew Tinoco
LINCOLN HEIGHTS/CYPRESS STATION
Lincoln Heights Murals:
As one of Los Angeles' oldest neighborhoods, Lincoln Heights is teeming with reminders of L.A's rich Mexican history. As well as hosting some of L.A.'s oldest buildings, Lincoln Heights is also home to a slew of inspiring and beautiful murals throughout its boundaries.
The Mural Conservancy of Los Angeles does a good job of providing some background information on various murals throughout the Los Angeles area, dubbing them L.A.'s most prominent form of public art.
There are no real directions to be offered here other than just to get out and explore the district on your own. The best way to do this is, as with several other east and northeast Los Angeles districts, is on a bicycle. Cycling in these districts offers a unique perspective of a streets level vantage point with the convenience of wheels.
Directions: Exit at the Lincoln Heights Station and head southeast on Avenue 26, away from the 110 Freeway and in the direction of the newly developed apartment complex next to the station. Avenue 26 takes a slight right onto Daly Street. Continue on Daly Street to its intersection with Broadway, where you'll find yourself in the heart of Lincoln Heights. There are several murals throughout the main and residential streets and alleyways throughout the vicinity.

Southwest Museum Pedestrian Entrance (Photo by Matthew Tinoco)
SOUTHWEST MUSEUM STATION
Southwest Museum:
Although the museum is small and only open for a small window on Saturdays, the Southwest Museum of the American Indian is still worth a visit if you're exploring along the Gold Line. The museum operates as a satellite campus in Mt. Washington of the Autry Center in Griffith Park.
The museum's exhibits feature "archaeological materials from museum-sponsored excavations, [and] an extraordinary array of ceramics from the southwestern United States and California," according to the museum's website. Additionally, the museum's building offers a relaxing vista of northeast Los Angeles and the terrain surrounding Mt. Washington. There are also a couple of hiking trails that lead out from behind the museum as well, including one that goes up to a neighborhood-curated garden that has volunteers every Saturday.
It's worth mentioning that the Mt. Washington neighborhood itself offers a great chance to "hike" in an urbanized environment. The streets are steep and lend beautiful views of Los Angeles if you walk up high enough.
Directions: Make sure it's Saturday between 10 a.m. and 4 p.m. and exit the train at the Southwest Museum Station. Cross over Marmion Way and walk onto Museum Drive, where you'll see a sign indicating the pedestrian entrance to the museum is to the left. Follow the sign along Museum Drive to an unimpressive doorway that announces the museum's presence. There's a full museum behind here and up a couple levels, I promise. Address: 234 Museum Dr. Los Angeles, CA, 90065.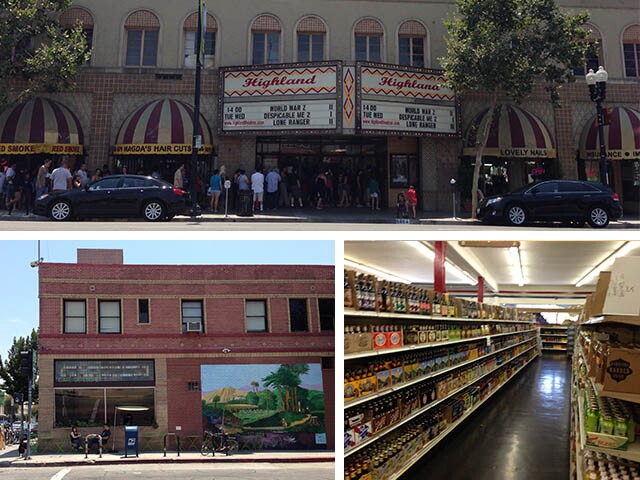 Highland Theatre, Cafe de Leche, and Galco's Soda Pop Shop (Photos by Matthew Tinoco)
HIGHLAND PARK STATION
Highland Theatre:
It may not look like much on the outside, but then again it doesn't on the inside either. Nevertheless, Highland Theatre is a great place to go on a hot summer day for $4 movies. Unlike most other low-cost theaters, the Highland Theatre shows current movies. Yelpers rave about the fact that the theater is so cheap, though also cautioning visitors that the theater is by no means a luxury theater like the Regal Flagship at L.A. Live (accessible by Expo Line!).
Regardless, when a movie theater offers $5 matinee showings and $4 dollar shows all day on Tuesday and Wednesday, there really isn't all that much to complain about.
Shows, times, and pricing can be found at the theater's website. There's also a Dollar Tree two blocks south of the theater to make your bargain movie day complete with snacks.
Directions: Exit at the Highland Park Station and head one block southeast to Figueroa. The theatre is visible, owing to its large rooftop sign and the line for tickets. Highland Theatre is located at 5604 N. Figueroa St. Highland Park, Ca. The Dollar Tree is located at 5817 Figueroa.
Highland Park:
Although it's not quite the gentrified hipster havens that are Silver Lake and Echo Park, Highland Park holds its own when it comes to urban renewal. The neighborhood, one of L.A.'s oldest, makes for a curious case study of how a neighborhood transitions from working class to a more wealthy demographic. This being the lens, Highland Park provides for an interesting and eclectic mix of stores and shops for your own perusal.
The district is also highly bike-friendly, which is why I encourage you to take your bike along on the Gold Line and check out Highland Park's two worlds.
For example, Café de Leche provides café goers a relaxing, if not slightly European, atmosphere for them to enjoy their (delicious!) drinks. Outside the café lies L.A.'s first bicycle corral, making it even easier for you to enjoy the district on two wheels. And Café de Leche is only one of a multitude of shop, cafes, and boutiques that you can easily spend all day exploring.
Highland Park also features classic gems too, like Galco's Old World Grocery Store, a store specializing in selling old-name soda brands almost exclusively in glass bottles. It should be mentioned that, in addition to old sodas, Galco's also has several vats of classic candy on display too, making it easy to get caught up in nostalgia for a day when trans fats were legal.
Timeout.com includes a great guide to the thriving district, which includes more details and stops.
Directions: Exit the train at the Highland Park Station, and make the trek over to York Boulevard. If you're on a bicycle, as I encourage you to be, follow Figueroa Boulevard north (same direction as the trains to Pasadena) to York Boulevard, at which point you'll turn left and follow the street into the heart of Highland Park. Café de Leche is located at the intersection of Ave. 50 and York, and Galco's is located at York and Avenue 57. York Boulevard has bike lanes, and both streets are relatively flat compared to others in the region.

Buster's and Battery Books (Photos by Matthew Tinoco)
MISSION/SOUTH PASADENA STATION
South Pasadena:
Despite its location in practically the center of the Los Angeles metropolitan area, South Pasadena might just be the most "small town" neighborhood in all of L.A. County. You can easily forget that you're just a few miles from the beating heart of the second largest city in the United States.
Like other northeast Los Angeles neighborhoods, South Pasadena makes sure that barista unemployment numbers are kept low. Check out Buster's Coffee, which tags itself as "The Coffee Stop by the Tracks." The coffee is good, but even better are the milkshakes and ice cream treats. Buster's uses Fosselman's Ice Cream, which, for anybody who grew up in the San Gabriel Valley, means simply the best ice cream ever created (and also easy biking distance from the South-Pas station).
If you've exhausted your ability to drink/eat ice cream, head across the street to Battery Books, a small and endearing bookstore with a fantastic collection of volumes. Adjacent the bookstore, also under the Battery name, is an antique store overwhelming with vintage products and vinyl records.
There are countless other, similarly themed, boutiques and stores throughout the area around the South Pasadena stop. Make a point to explore them all.
Directions: Exit the train at the South Pasadena/Mission Street Station. Walk north towards Mission Street, where you'll find South Pasadena's charm in excess. Battery Books is located at 1005 Mission. Buster's is right across the street at 1006.

The Norton Simon Museum and Old Town Pasadena (Photos by Matthew Tinoco)
MEMORIAL PARK STATION
Old Town Pasadena:
Although it isn't necessarily that old, Old Town Pasadena provides one of the best day experiences in Southern California. This highly walkable district in the heart of Pasadena is chock full of shopping and dining opportunities for everyone.
The Old Town website provides lists of which retailers are where throughout the district. They do the same for food. Take a visit without a plan, and remember that you don't have to worry about feeding the meter.
Directions: Get off at the Memorial Park Station and walk south (opposite the trains to Sierra Madre) toward Holly Street. There's a pedestrian walkway built above the Gold Line tunnel, which goes straight down to Colorado Boulevard.
Norton Simon Museum:
Pasadena's Norton Simon Museum houses one of the best collections of visual art in the Los Angeles area. The museum's permanent collections feature a slew of art and sculpture from Southeast Asia as well as European art dating back to the 14th century. The museum's contemporary collection includes works by Vasily Kandinsky and Paul Klee, not to forget the dozens of other works that make the contemporary exhibit easy to spend hours in. Of special mention is the Norton Simon's Edgar Degas collection. The collection has more than 100 works by Degas, second only to the Met in New York City.
Admission is $10 for adults and $7 for seniors (62+). Children (<18) and students with I.D. may enter the museum for free at any time.
Directions: Exit at the Memorial Park Station and walk south toward Colorado Boulevard. There's a pedestrian pathway that makes this easy. Once you've reached Colorado, turn right without crossing the street and walk west. The museum is located about a 10-minute walk from the station at 411 W. Colorado Blvd. Pasadena, CA 91105.

Pasadena Playhouse courtyard (Photo by Benjamin Page via the LAist Featured Photos pool on Flickr)
LAKE STATION
Pasadena Playhouse:
As California's official state theatre, the Pasadena Playhouse brings a number of quality productions to the Los Angeles area each year. The theatre, which was established in 1917, is a true gem of Art Deco styling on the inside, not to forget the quality of service provided.
Shows range from dance and other movement-based shows—like Cirque-A-Palooza running later this month—to other more classically styled theatre productions to even the occasional comic. The Pasadena Playhouse has a slew of different options to fulfill any (kid friendly, raunchy, or romantic) mood.
Information on the theatre's mainstage productions may be found on the Playhouse's website. Ticket prices vary, but generally start around $30 per person.
Directions: Exit the Gold Line at Lake Station. Walk south toward and across Colorado. Once you've crossed the street, turn right. The Playhouse is located at 39 South El Molino Ave. Pasadena, CA 91101.
Vroman's:
Vroman's is the largest and oldest independent bookstore in Los Angeles. Their inventory includes the usual books one would find at a Barnes & Noble, but with special emphasis on local history. Entire sections are dedicated to books on Los Angeles and Pasadena. Vroman's also has a number of shelves dedicated to local independently published authors.
There is a small cafe in the front of its store on Colorado, adjacent a newsstand, where you can sit and relax for cup of joe with a book. Adjacent the bookstore, and also under the Vroman's name, is a large stationary store for those still versed in the art of letter writing.
A big name in Southern California literary culture, Vroman's frequently hosts authors on tour for conversations and book signing events. More information about the store's events may be found on their website.
Directions: Exit the Gold Line at the Lake Station. Walk south (downhill) away from the station towards Colorado Blvd. Turn right at Colorado and walk about two blocks. Vroman's is located at 695 E. Colorado Blvd. Pasadena, CA. 91101.