This is an archival story that predates current editorial management.
This archival content was written, edited, and published prior to LAist's acquisition by its current owner, Southern California Public Radio ("SCPR"). Content, such as language choice and subject matter, in archival articles therefore may not align with SCPR's current editorial standards. To learn more about those standards and why we make this distinction, please click here.
Living in the City: Black Hole Version
We need to hear from you.
Today, put a dollar value on the trustworthy reporting you rely on all year long. The local news you read here every day is crafted for you, but right now, we need your help to keep it going. In these uncertain times, your support is even more important. We can't hold those in power accountable and uplift voices from the community without your partnership. Thank you.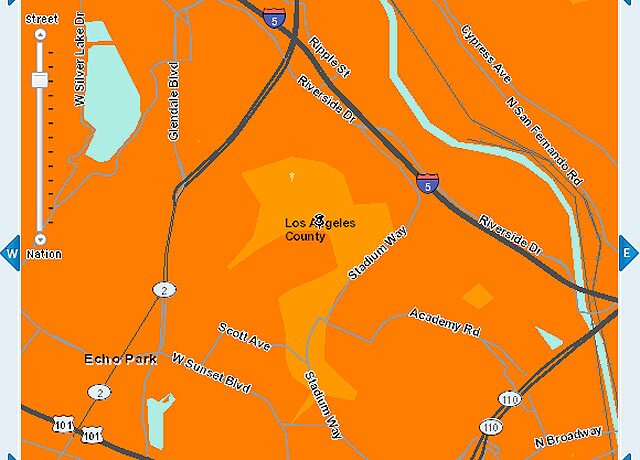 That orange question mark on AT&T's coverage map is asking WHY?!? Why does your wireless voice service still suck so bad?!?
When I moved into this neighborhood four years ago after driving out from Chicago, one of my first objectives was to test the various cellular phone (that's what we called them back then) providers.
I tried each and every carrier available. There may have been five options at the time. Each mobile service had me walking up and down the street saying "what, sorry, what, can't hear you" until inevitably losing calls. Text me. No really, text me -- it's not you, it's not me, it's just this black hole I live in.

Sprint hates Eastside hipsters!
I live one mile from Dodger Stadium and 3 miles from the heart of downtown Los Angeles. Don't EVDO me or even try that 3g crap -- even today in 2010 my Google Voice for Blackberry app won't work purely via Wi-Fi or a 3g data connection. My "land line," an Ooma box, is only marginally better than wireless voice thanks to Time-Warner Cable's tendency to throttle its bandwidth after shoving content down your throat and leaving you with but a whisper to speak back. (One recent speedtest revealed 20 megabits per second downstream and barely 100 kbps up).

T-Mobile only slightly underestimates its poor coverage in NE LA
Oh yeah, the data coverage is fine. I've been spoiled by AT&T's 3g data coverage since 2006 and never turned back. Did it bother me to only have nine keys and #0* on my LG CU500 and a small screen? No. It was 3g. Did I at least use T9 predictive text or would I actually make 10 entries on the keypad just to spell "s-h-i-t?" Hell no, I became the fastest texter in town. Why? Because no matter how hard I tried I couldn't hear more than scratchy sounds and broken words coming from the other end of the handset. Didn't matter where or how I stood in the house or on the block. I was in a black hole. AT&T, Verizon, Sprint, T-Mobile. You can't NOT lose. Even in 2010. Half a decade of bickering over who's got the bigger wireless balls and how many times you can call your five friends for free while sprawled out on your bed twirling your hair and I'm still in a black hole. Try keeping those five friends once they realize that to call you means to inevitably be hung up on over and over again. I find myself going to the mall just so I can have a coherent conversation with Mom.

Verizon's map is all red. But that means absolutely nothing
"But Verizon really does have the best coverage in LA," say the few people I know who don't have iPhones or just can't stand Luke Wilson. And it appears that way when you see the big red map*. But come on over and, lo, you too while find yourself in the black hole in the hills of Echo Park and Elysian Heights. Text when you're close it's really easy to get lost.
* Verizon is pulling shenanigans on us here -- their map details Digital (red), Analog (orange), and No Coverage (brown). Why is there no orange on this map? The FCC flipped the switch on analog cellular networks nearly TWO YEARS AGO! Meanwhile the competition is more honest (and colorful) with grades of Best, Good, Fair, None (T-Mobile); Best, Good, Moderate, None (AT&T); Best, Good Fair (Sprint).
It's been many, many years since we saw this much snow in our mountains. Going up there right now isn't safe, but here are some places where you can enjoy the view and snap a pic.

April Valentine died at Centinela Hospital. Her daughter was born by emergency C-section. She'd gone into the pregnancy with a plan, knowing Black mothers like herself were at higher risk.

A look at years past when snows creeped into our citified neighborhoods, away from the mountains and foothills.

In the face of a drier future, that iconic piece of Americana is on its way out in Southern California.

Bob Gregory, 62, went missing the same day as Sands. His body was recovered near Mount Islip.