Living in the City: Black Hole Version
LAist relies on your reader support, not paywalls.
Freely accessible local news is vital. Please power our reporters and help keep us independent with a donation today.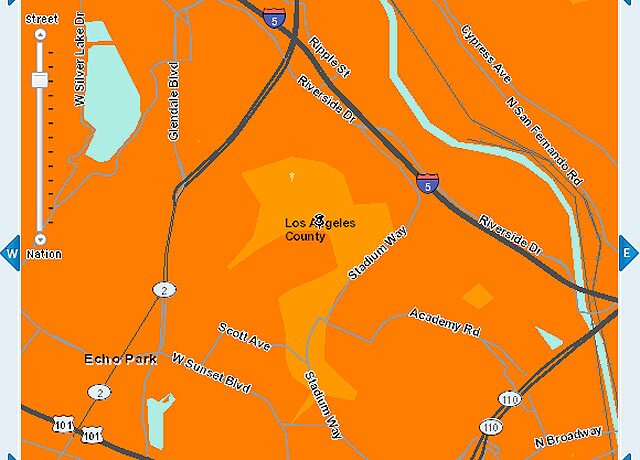 That orange question mark on AT&T's coverage map is asking WHY?!? Why does your wireless voice service still suck so bad?!?
When I moved into this neighborhood four years ago after driving out from Chicago, one of my first objectives was to test the various cellular phone (that's what we called them back then) providers.
I tried each and every carrier available. There may have been five options at the time. Each mobile service had me walking up and down the street saying "what, sorry, what, can't hear you" until inevitably losing calls. Text me. No really, text me -- it's not you, it's not me, it's just this black hole I live in.

Sprint hates Eastside hipsters!
I live one mile from Dodger Stadium and 3 miles from the heart of downtown Los Angeles. Don't EVDO me or even try that 3g crap -- even today in 2010 my Google Voice for Blackberry app won't work purely via Wi-Fi or a 3g data connection. My "land line," an Ooma box, is only marginally better than wireless voice thanks to Time-Warner Cable's tendency to throttle its bandwidth after shoving content down your throat and leaving you with but a whisper to speak back. (One recent speedtest revealed 20 megabits per second downstream and barely 100 kbps up).