This is an archival story that predates current editorial management.
This archival content was written, edited, and published prior to LAist's acquisition by its current owner, Southern California Public Radio ("SCPR"). Content, such as language choice and subject matter, in archival articles therefore may not align with SCPR's current editorial standards. To learn more about those standards and why we make this distinction, please click here.
Living in Sin: what's up with condoms? (and more)
Stories like these are only possible with your help!
You have the power to keep local news strong for the coming months. Your financial support today keeps our reporters ready to meet the needs of our city. Thank you for investing in your community.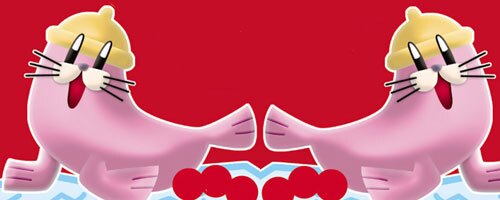 Dear Jen,
I've been happily attached to the same gal for over 15 years now, so my understanding of what goes on out there in humpity-bumpity land is limited to what I see from time to time on the internet. And what I see makes me wonder about a coupla things: what's up with condom use and pubic hair?
OK, condoms first. From what I see, everyone is slurping each other from top to bottom and poking about with tongues and fingers with no condom in sight. When it's finally time for the red meats to meet, on comes the latex raincoat--bang, bang, bang, for however long--and then off it comes just in time for the fella to splatter the chick with the seeds of life (...or death, as the case may be) over every curved inch of her body, within scant millimeters of where the worst damage can be done. Can you tell me what, exactly, is being protected against by this practice? Are not all the dangerous pitfalls of sexual conduct being flirted herewith, except for during the actual act Itself? I don't get it.
And pubic hair: is it comin' or goin' these days? For the longest time, pubes were few and far between on the little screen. Now I'm starting to see 5-o'clock shadows, if not virtual forests, showing up again in
the nether regions. I gotta say, I really missed the stuff and am delighted to see it making a comeback. Why would you say it disappeared in the first place? Do you think it's back, and will it stick around for awhile?
-No sé José
Jen's answers after the jump
Dear José,
Condoms first: I'm sorry to say that you are indeed correct - using a condom only during sexual penetration is like wearing a bib while eating a whale - you're gonna get stuff on you. But since the scariest cooties are passed on through things like cuts and mucus membranes, unless semen or blood or herpes sores or whatever makes contact with either of these, you're in fairly good shape. Doing porn is risky mostly because you have so many different opportunities to catch things from so many different partners. Who also have so many different partners. And so on, and so on....but maybe that's all just part of having a dangerous job, like working in a sawmill or being in the army. The main difference being that no one ever sees any workman's comp or federal aid for contracting a touch of the HIV's.
And pubic hair: According to Wikipedia, the Brazilian Bikini Wax came to the U.S. in 1987 when a group of Brazilian sisters opened up a salon in lower Manhattan. Eventually, celebrities such as Paula Yates and Gwyneth Paltrow began gushing about the joys of having no hair down there, and suddenly, pubes across the country were fearing for their lives. As to whether or not the bush is back, Wikipedia and I have no idea. But if it is, and if I had to guess as to why (which I do since I have no fricken idea), I'd say it's because some celebrity was out sunning in the nude, got busted with a big muff, and now the Brazilian sisters are out looking for new jobs.