LAist Road Trip: Inauguration 2009, Part II
LAist relies on your reader support.
Your tax-deductible gift today powers our reporters and keeps us independent. We rely on you, our reader, not paywalls to stay funded because we believe important news and information should be freely accessible to all.
View Larger Map
LAist contributor Jeremy Oberstein is traveling east this weekend for the 2009 Inauguration of President-elect Barack Obama. What makes this trip different from the estimated two million slated to converge on the National Mall? He and two other Angelenos are making the trip by car, driving a total of 5,724 miles in a week. Follow his journey on Twitter and each day on LAist.
We left Los Angeles at 6:20 p.m. Friday, just minutes after our self imposed start-time. As life-long Angelenos, we knew the glut of cars on the city's arterial roads and highways stood in our way. Fine, whatever. We would deal. But the extent to which rush-hour delayed our departure from Los Angeles was vastly under-estimated and highly depressing.
We averaged about 16 mph for two and a half hours, gaining only 28 miles in that span and fearing the worst: we would be severely delayed, miss the window for picking up tickets and miss the inauguration after having trekked across some very beautiful and shitty very parts of this nation.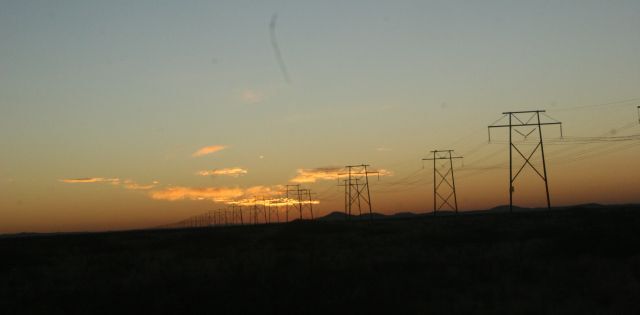 Somewhere near the Arizona/New Mexico border. Photo by Jeremy Oberstein, for LAist.