This is an archival story that predates current editorial management.
This archival content was written, edited, and published prior to LAist's acquisition by its current owner, Southern California Public Radio ("SCPR"). Content, such as language choice and subject matter, in archival articles therefore may not align with SCPR's current editorial standards. To learn more about those standards and why we make this distinction, please click here.
LAist Road Trip: Inauguration 2009, Part II
Support your source for local news!
The local news you read here every day is crafted for you, but right now, we need your help to keep it going. In these uncertain times, your support is even more important. Today, put a dollar value on the trustworthy reporting you rely on all year long. We can't hold those in power accountable and uplift voices from the community without your partnership. Thank you.
View Larger Map
LAist contributor Jeremy Oberstein is traveling east this weekend for the 2009 Inauguration of President-elect Barack Obama. What makes this trip different from the estimated two million slated to converge on the National Mall? He and two other Angelenos are making the trip by car, driving a total of 5,724 miles in a week. Follow his journey on Twitter and each day on LAist.
We left Los Angeles at 6:20 p.m. Friday, just minutes after our self imposed start-time. As life-long Angelenos, we knew the glut of cars on the city's arterial roads and highways stood in our way. Fine, whatever. We would deal. But the extent to which rush-hour delayed our departure from Los Angeles was vastly under-estimated and highly depressing.
We averaged about 16 mph for two and a half hours, gaining only 28 miles in that span and fearing the worst: we would be severely delayed, miss the window for picking up tickets and miss the inauguration after having trekked across some very beautiful and shitty very parts of this nation.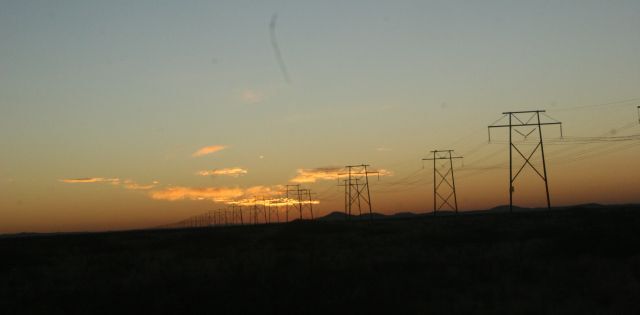 Somewhere near the Arizona/New Mexico border. Photo by Jeremy Oberstein, for LAist.
Finally, though, the jam relented and we busted out from the city limits toward Riverside via the 10 Freeway.
From there, we cruised through the night with the wind of Inauguration adrenaline in our sails. We sped through Indio, Coachella and Blythe, where the 95 Freeway and 10 bisect. It was pitch black for hours with just the glare of oncoming traffic and our own beams to shine the path. It was spotless and simple until we happened upon the green fire in the sky.
At first it seemed more than extraordinary. At about 11 p.m., having just crossed into Arizona territory, three columns of forest green light shot up from the bushes immediately to our right. They formed perfect angles against the dark night and thoroughly spooked the road trippers. We debated, contemplated and conspiracy theorized faster than you can say UFO.
We instantly sympathized with those crazies, who swear they saw Something out there but could not explain its mystery. But here's the thing about the unexplained: there's always a rational explanation and ours came in the form of a teenage punk with a predilection for shining shininess on the highway in the mid of night.
As sporadic flashes of green light danced off road signs and on the backs of big-rigs, we saw the guilty party in a grey Chevy Astro minivan, which explained so much.
Angry truckers and annoyed drivers honked and waived. It was entertaining, but we had more pressing matters and could not be slowed by the side show.

60 miles east of Las Cruces. Photo by Jeremy Oberstein, for LAist.
Upwards and onwards toward our destination: El Paso, Texas. We were flying without worry, making great time despite the maddening start to our voyage. It was about 6 a.m. when, into New Mexico daybreak slid across the sky. The sun slowly rose over the eastern mountains and we pulled into a Cracker Barrel, sticking to Southern tradition that stretches back years. By 9 a.m., we camped out in a dank motel along the route and slept until 4 p.m., when we set off once more for our next destination: Shreveport, LA.
By the numbers:
Miles driven, Day 1/Total: 822/822
Times filled tank with gas: 3
Money spent on gas: $49.92
Speeding tickets received: 0
Times contemplated turning back and buying plane tickets to D.C.: 2
Days left until the Inauguration: 3
Temperature low: 25 degrees, 15 miles outside of Tuscon
High 61 in El Paso
See also: Part I
Cruise off the highway and hit locally-known spots for some tasty bites.

Fentanyl and other drugs fuel record deaths among people experiencing homelessness in L.A. County. From 2019 to 2021, deaths jumped 70% to more than 2,200 in a single year.

This fungi isn't a "fun guy." Here's what to do if you spot or suspect mold in your home.

Donald Trump was a fading TV presence when the WGA strike put a dent in network schedules.

Edward Bronstein died in March 2020 while officers were forcibly taking a blood sample after his detention.

A hike can be a beautiful backdrop as you build your connection with someone.