This is an archival story that predates current editorial management.
This archival content was written, edited, and published prior to LAist's acquisition by its current owner, Southern California Public Radio ("SCPR"). Content, such as language choice and subject matter, in archival articles therefore may not align with SCPR's current editorial standards. To learn more about those standards and why we make this distinction, please click here.
Parts Of L.A., Orange County Could Face Chronic Flooding By 2035, Says Report
Our June member drive is live: protect this resource!
Right now, we need your help during our short June member drive to keep the local news you read here every day going. This has been a challenging year, but with your help, we can get one step closer to closing our budget gap. Today, put a dollar value on the trustworthy reporting you rely on all year long. We can't hold those in power accountable and uplift voices from the community without your partnership.
Rising sea levels will be a threat to California's coastal areas; a number of recent reports have warned of this scenario. In March, the U.S. Geological Survey said that as much as 67% of Southern California beaches will be gone by the next century. Another study released in April said that areas like La Jolla could see a one-foot increase in sea level by 2050.
The non-profit Union of Concerned Scientists also released a report (along with an interactive tool) on Wednesday describing the effects of rising oceans. But this one came with something new: researchers say that the U.S.'s coastal areas may feel the effects as soon as 2035, decades earlier than what other models have projected. In Southern California, parts of Long Beach, Huntington Beach, Seal Beach, and Newport Beach may see "chronic flooding" in 18 years (the study describes "chronic flooding" as 26 days or more of flooding in a single year). In Huntington Beach, the area may see more than 10% of its land becoming prone to chronic flooding, notes KPCC.
The study used two projection models:
1. A prediction of "moderate" rise in sea levels, in which there's a global four-foot increase by 2100.
2. A prediction of a "higher" rise in sea levels, in which there's a global six-foot increase by 2100.
The interactive tool also projects the affected areas in the years 2035, 2060, 2080, and 2100. "To my knowledge this is the first that explicitly does it by time increments and drills down by community level to see how much land is at risk," Kristina Dahl, a climate scientist with the group who co-authored the report, told the OC Register. "We wanted to develop a tool to give communities an idea of how much time they have."
As for the interactive tool's projections for Southern California, here's the region in 2035 under the "moderate" model (the darker blue signifies spaces that may see chronic flooding, and the green signifies areas that are protected by federal levees):
And here's the same region (under "moderate" conditions again) in 2100:
In the "higher" model, here's that region in 2035 (the red denotes areas of chronic flooding, while green signifies areas protected by federal levees):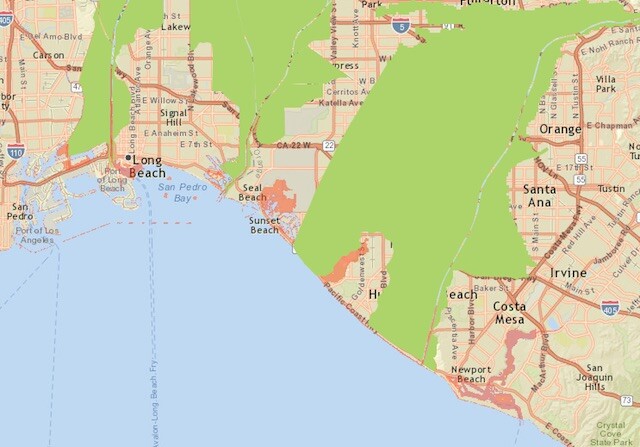 And here it is again in 2100:
The UCS says that, in the U.S., the number of communities facing chronic flooding will increase by 83%—amounting to a total of 167 communities— by 2035. They expect that number to spike to 500 communities by 2100.
As the study notes, the consequences are far reaching. "As sea level rises, more coastal communities will begin to see increasingly frequent tidal flooding that is both expansive enough to preclude normal daily life in certain areas (hindering work and school transportation, impeding commerce, damaging property, etc.) and frequent enough to make adjusting to this disruption costly—in some cases prohibitively so—or untenable," said the study authors. They also note that the effects are exponentially bigger for underserved communities. "While the causes of socioeconomic vulnerability are complex and can encompass a wide range of variables—including income, race, education, and health insurance coverage—communities with high socioeconomic vulnerability are traditionally more impacted when faced with environmental hazards such as flooding and have fewer resources to cope and adapt."
Some experts warned that UCS's study doesn't take into account certain precautions that cities have taken (it does, however, note areas that are protected by federal levees). "The fact is the developed world lives behind flood protection systems. What's missing from a lot of these analyses is the role the infrastructure is going to play," Brett Sanders, a professor of civil engineering at UC Irvine, told the OC Register. As KPCC notes, Huntington Beach drafted a "Coastal Resiliency Program" last year to denote areas that are most vulnerable, but it may be a few years before the city implements features to protect those areas.
Check out the UCS's tool here:
Cruise off the highway and hit locally-known spots for some tasty bites.

Fentanyl and other drugs fuel record deaths among people experiencing homelessness in L.A. County. From 2019 to 2021, deaths jumped 70% to more than 2,200 in a single year.

This fungi isn't a "fun guy." Here's what to do if you spot or suspect mold in your home.

Donald Trump was a fading TV presence when the WGA strike put a dent in network schedules.

Edward Bronstein died in March 2020 while officers were forcibly taking a blood sample after his detention.

A hike can be a beautiful backdrop as you build your connection with someone.