This is an archival story that predates current editorial management.
This archival content was written, edited, and published prior to LAist's acquisition by its current owner, Southern California Public Radio ("SCPR"). Content, such as language choice and subject matter, in archival articles therefore may not align with SCPR's current editorial standards. To learn more about those standards and why we make this distinction, please click here.
L.A. Could Be Next To Ban Feeding The Homeless In Public Spaces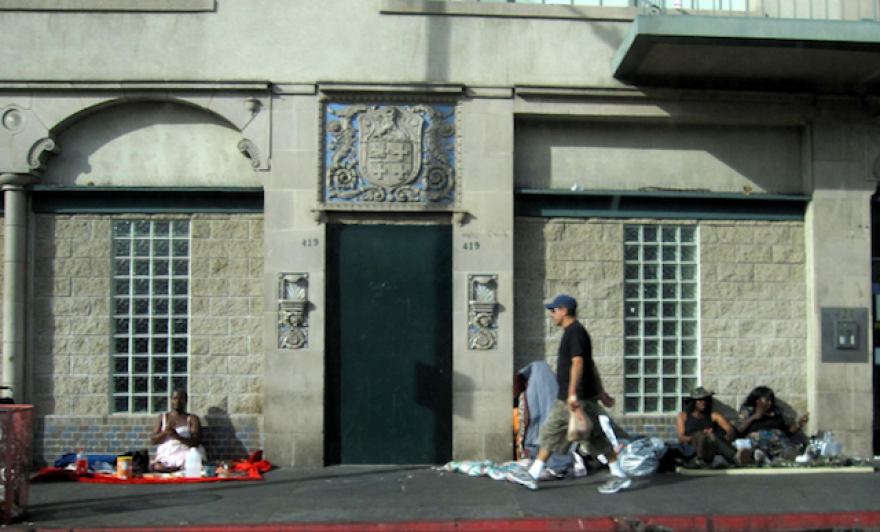 Before you read more...
Dear reader, we're asking you to help us keep local news available for all. Your tax-deductible financial support keeps our stories free to read, instead of hidden behind paywalls. We believe when reliable local reporting is widely available, the entire community benefits. Thank you for investing in your neighborhood.
Just in time for the season of giving, two City Councilmen have proposed a ban on feeding homeless people in public spaces in L.A. such as city parks and streets.
As a direct response to the angry homeowners who are battling the Greater West Hollywood Food Coalition charity for feeding the homeless, Councilmen Tom LaBonge and Mitch O'Farrell have led the charge in launching an ordinance that would restrict giving food to the disadvantaged, only allowing it to happen in areas like homeless shelters and soup kitchens, according to the New York Times. Local residents complained about increased instances of loitering, public defecation, and petty crime.
"There are well-intentioned people on both sides," LaBonge told the New York Times. "This has overwhelmed what is a residential neighborhood. When dinner is served, everybody comes and it's kind of a free-for-all."
This comes on the heels of the L.A. City Council unanimously voting in September to write a new ordinance that would ban encampments in the San Fernando Valley's Tujunga Wash, reported Los Angeles Daily News.
If the proposed anti-food-sharing ordinance were to pass, L.A. would be joining other cities across the nation in similar laws. USA Today reported on the "homeless crackdown" throughout the nation back in June 2012:
"We're seeing these types of laws being proposed and passed all over the country," said Heather Johnson, a civil rights attorney at the homeless and poverty law center, which opposes many of the measures. "We think that criminalization measures such as these are counterproductive. Rather than address the root cause of homelessness, they perpetuate homelessness."
L.A. County has the second highest homeless population in the country, coming in after New York, with about 53,800 transients, according to the 2013 Annual Homeless Assessment Report.