This is an archival story that predates current editorial management.
This archival content was written, edited, and published prior to LAist's acquisition by its current owner, Southern California Public Radio ("SCPR"). Content, such as language choice and subject matter, in archival articles therefore may not align with SCPR's current editorial standards. To learn more about those standards and why we make this distinction, please click here.
It's About To Get Hot 🔥 🔥 🔥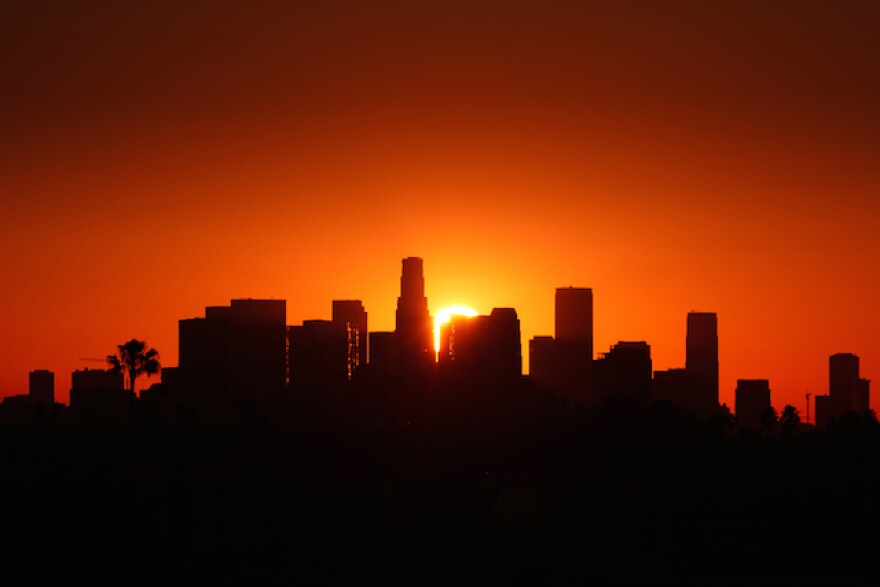 Support your source for local news!
Today, put a dollar value on the trustworthy reporting you rely on all year long. The local news you read here every day is crafted for you, but right now, we need your help to keep it going. In these uncertain times, your support is even more important. We can't hold those in power accountable and uplift voices from the community without your partnership. Thank you.
Sure. Right now, as you're reading this, it's probably kind of gloomy outside. The June gloom has certainly been making a particularly pronounced appearance this season (I'm not complaining), but L.A.'s weather is about to get real summer, real fast.
As Accuweather points out, average temperatures in the basin during the first week of June are typically somewhere around 75 degrees. While the weather will be close to that mark on Wednesday, temperatures will start increasing into the weekend.
Temperatures in the L.A. Basin will break 90 degrees by Friday, and will remain that way up through the beginning of the next work week. The Valley will be roasting—Woodland Hills will hit 97—and the SGV will be similarly toasty. There's no rain in sight, and humidity levels will be very, very low, somewhere around 6 and 12 percent, according to KCBS.
Taking the train to the beach might not be such a bad idea if you're looking to cool off. If you choose to pay the coast a visit, however, you should know that a southern swell will be developing some modestly powerful waves along the coast. While the waves are only predicted to be 4-6 feet, the National Weather Service warns that the swell will likely develop a strong rip current. Be aware and, as LA Weekly mentions, swim near the lifeguards.
Why is this happening? Well, aside from just the change of the seasons, this specific heat wave is due to a particularly powerful high pressure area that's settled itself over much of the American West. L.A., however, is actually getting off pretty easy. Temperatures in Phoenix are predicted to hit 117(!) degrees on Saturday. Much of the Central Valley will be baking in triple-digit heat through the weekend, and even Portland (in Oregon!) is predicted to hit 100 degrees on Sunday.
Just keep your hydration levels up. You've survived worse.
It's been many, many years since we saw this much snow in our mountains. Going up there right now isn't safe, but here are some places where you can enjoy the view and snap a pic.

April Valentine died at Centinela Hospital. Her daughter was born by emergency C-section. She'd gone into the pregnancy with a plan, knowing Black mothers like herself were at higher risk.

A look at years past when snows creeped into our citified neighborhoods, away from the mountains and foothills.

In the face of a drier future, that iconic piece of Americana is on its way out in Southern California.

Bob Gregory, 62, went missing the same day as Sands. His body was recovered near Mount Islip.