How To Become A Felon In 2 Easy Steps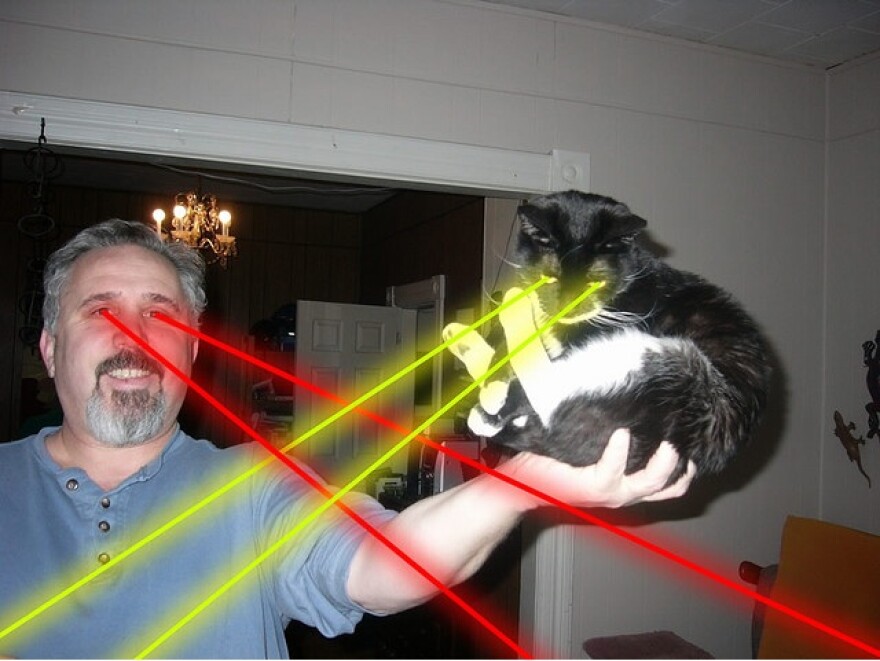 Stories like these are only possible with your help!
Your donation today keeps LAist independent, ready to meet the needs of our city, and paywall free. Thank you for your partnership, we can't do this without you.
Step 1) Get a laser pointer. Step 2) Point it at an aircraft. Voila!
See, they're in the sky. And if you point something at them, it's not that difficult, once they've recovered from the temporary blindness, for them to find and arrest you. We've said it once and we'll keep saying it, laser pointers were designed to make swirly devil nipples on the Baroness during public screenings of The Sound of Music. They were not designed to harass pilots.
In addition to last month's North Hollywood laser showdown four more people around the southland have been arrested on suspicion of pointing lasers at L.A. County sheriff's helicopters, "imperiling the aircraft and their crews," in similar incidents, said the Sheriff's Department on Sunday, reports the Daily Breeze.
"In the past seven months, helicopter pilots and Aero Bureau aircraft from the Los Angeles County Sheriff's Department had lasers pointed at them six times while in flight," said Captain Mike Parker of the Sheriff's Headquarters Bureau.
A Los Alamitos 16-year-old was arrested Tuesday, a 15-year-old Pico Rivera boy was arrested recently for an incident in December, and two 25-year-olds from Maywood were also recently arrested for incidents in December and September, reports the Daily Breeze.
Said Parker, "pointing a laser at an aircraft is a felony punishable by up to three years in state prison and a $2,000 fine. The crime can also be a federal offense punishable by 20 years in federal prison," notes the Daily Breeze.
"When the laser hits the Plexiglas windshield it refracts the light and fills the cockpit with laser light, causing disorientation or temporary blindness. It has caused long-term damage to some pilots," Sgt. Morrie Zager, a helicopter pilot assigned to the sheriff's Aero Bureau, said in a statement.