How Did Your Congress Rep Vote This Time on the Bailout?
LAist relies on your reader support.
Your tax-deductible gift today powers our reporters and keeps us independent. We rely on you, our reader, not paywalls to stay funded because we believe important news and information should be freely accessible to all.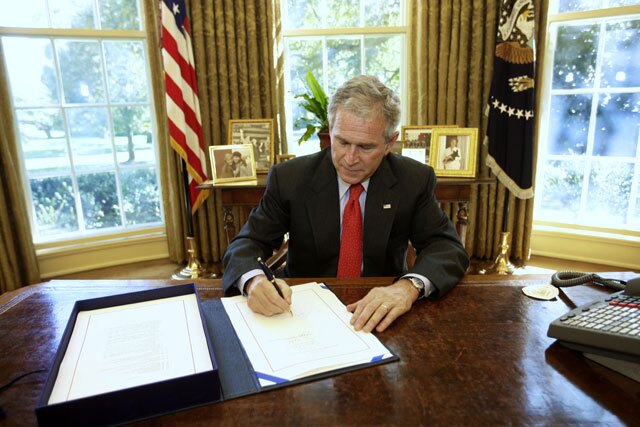 President Bush signs the Emergency Economic Stabilization Act of 2008 in the Oval Office at the White House in Washington after the House passed the $700 billion financial bailout bill, Friday, Oct. 3, 2008. (AP Photo/Charles Dharapak)
The House voted Monday and didn't pass the bailout, but today was another day. Most Los Angeles area representatives didn't change their vote from Monday, but four democrats went from a no vote to a yes vote, ultimately helping the bailout plan pass today and sending the bill over to President Bush to sign it into law. Those who had a change of heart were Adam Schiff from Pasadena/SGV, Hilda Solis of El Monte/East LA, Diane Watson of Los Angeles, and Joe Baca of San Bernardino all switched from No to Yes today. And the rest of the list, thanks to ABC7, who has complete info on the reps:
David Dreier (R) Yes, unchanged from Monday
Brad Sherman (D) No, unchanged from Monday
Howard Berman (D) Yes, unchanged from Monday
Adam Schiff (D) Yes, changed from No vote Monday
Henry Waxman (D) Yes, unchanged from Monday
Xavier Becerra (D) No, unchanged from Monday
Hilda Solis (D) Yes, changed from No vote Monday
Diane Watson (D) Yes, changed from No vote Monday