This is an archival story that predates current editorial management.
This archival content was written, edited, and published prior to LAist's acquisition by its current owner, Southern California Public Radio ("SCPR"). Content, such as language choice and subject matter, in archival articles therefore may not align with SCPR's current editorial standards. To learn more about those standards and why we make this distinction, please click here.
Harvard-Westlake Students Expelled for Cheating
Support your source for local news!
Today, put a dollar value on the trustworthy reporting you rely on all year long. The local news you read here every day is crafted for you, but right now, we need your help to keep it going. In these uncertain times, your support is even more important. We can't hold those in power accountable and uplift voices from the community without your partnership. Thank you.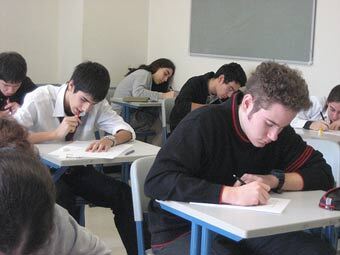 An academic and ethical scandal has jarred the staff and students at Harvard-Westlake school, as the consequences of cheating reverberate on the school's campus.
Six tenth-graders were expelled from the prestigious Valley private high school yesterday when administrators discovered they had enacted a plot to "steal Spanish and history tests by distracting teachers in their classrooms. The tests were then shown to several other students before midterm exams last month," reports KTLA.
Other students who may have had a part in the cheating by viewing the tests prior to the tests being administered face suspension. School officials were clued in to the cheating via an anonymous tip earlier this month.
With the pressure to perform at the top-rung level of academics and to go on to top tier colleges, today's high school student often finds themselves overburdened, and cheating might seem like the easiest solution.
But the implications of this action has its consequences, not only in the immediacy of expulsion, but also in both the long-run for the students' academic futures, and the harm they've caused to the campus' climate of trust. Students at Harvard-Westlake are required to sign an "honor code" when they begin their schooling there, and the campus operates like a closely-knit community wherein students feel at ease leaving personal belongings laying about and form close bonds with the staff.
As a result of the announcement concerning the cheating, the school's President Thomas Hudnut has declared the incident a "breach of trust" and in an opinion piece published online on the Chronicle, the school's paper, a writer "referred to the school's reputation for 'superior academics' and said the cheating incident had 'tainted the most precious and valued aspect of the school.'"
There is now room to doubt the originality of previously submitted work, and the possibility that more episodes of cheating will be discovered. Harvard-Westlake has a national reputation for its students attaining high scores on standardized tests and continuing on to prestigious post-secondary institutions. Now six of their students face an uncertain road ahead of them as a result of their choice to take what may have seemed like an easy way out.
Photo by ccarlstead via Flickr
It's been many, many years since we saw this much snow in our mountains. Going up there right now isn't safe, but here are some places where you can enjoy the view and snap a pic.

April Valentine died at Centinela Hospital. Her daughter was born by emergency C-section. She'd gone into the pregnancy with a plan, knowing Black mothers like herself were at higher risk.

A look at years past when snows creeped into our citified neighborhoods, away from the mountains and foothills.

In the face of a drier future, that iconic piece of Americana is on its way out in Southern California.

Bob Gregory, 62, went missing the same day as Sands. His body was recovered near Mount Islip.