Stories like these are only possible with your help!
You have the power to keep local news strong for the coming months. Your financial support today keeps our reporters ready to meet the needs of our city. Thank you for investing in your community.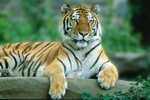 Today, Apple's website has the first meaningful details on its newest operating system. LAist drools as he watches Apple answer his never-verbalized computing desires with frighteningly useful new features such as the Dashboard. This new version marks yet another triumph of California computing over Washington computing, as Windows seems more decrepit every day. Evenutally, PC users are going to find these new features to be irresistible.
With Angelenos in mind, Apple has already made its first foray into the automotive world with the new BMW-iPod adapter. Hey Jobs! Why not take this a little further and add a dashboard touch-screen computer with iTunes and a navigation system? Not that we'd want anyone to plow into a K-rail while they're making an iMix.