This is an archival story that predates current editorial management.
This archival content was written, edited, and published prior to LAist's acquisition by its current owner, Southern California Public Radio ("SCPR"). Content, such as language choice and subject matter, in archival articles therefore may not align with SCPR's current editorial standards. To learn more about those standards and why we make this distinction, please click here.
Goodbye Dutton's: Thanks Beverly Hills!
Support your source for local news!
The local news you read here every day is crafted for you, but right now, we need your help to keep it going. In these uncertain times, your support is even more important. Today, put a dollar value on the trustworthy reporting you rely on all year long. We can't hold those in power accountable and uplift voices from the community without your partnership. Thank you.
My first memory of Dutton's is of the one in the valley, hot on those unairconditioned summer afternoons, the faintly sour smell of the paper. It was crowded, a little uncomfortable, and yet it was a place that was full of treasures. A place where a kid could wander -- completely by accident, into the Literature section and discover something magical.
After my family moved to the Westside in the early nineties, Dutton's became a must. With its sunny courtyard, its three disconnected stores, and its coffee shop, it's a bastion of normalcy in fancy-boutique oriented Brentwood. My mom still raves about how great their mystery section used to be (and how once it stopped being so good, she knew there was a problem.)
Though they have a solid, varied collection, and they could order anything you needed, Dutton's isn't a place you went because of their encyclopedic selection. It is a place you go to look around, to find something -- you're not even sure what you're looking for. You go because it's a place where people really care about books, and it's not just stocked, it's curated.
After hearing the bad news, I headed over to Dutton's. The place was already looking picked over...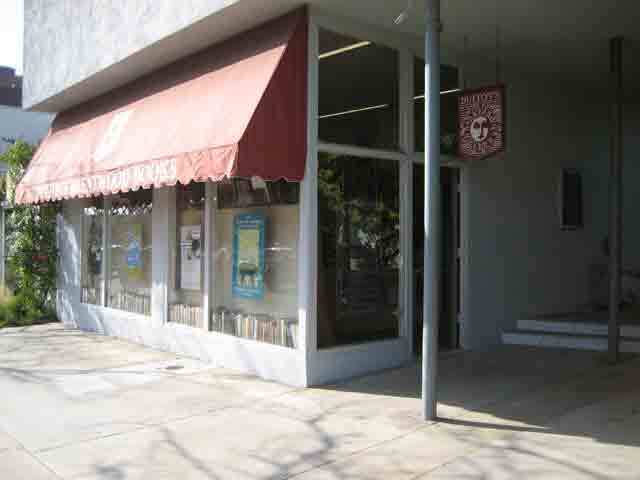 While ringing me up, I got the skinny on why they were closing. Beverly Hills promised that if they opened a store there, they would support them -- buy their computers, help with the rent until the store could break even, and even channel their schools' book buying through them. When Dutton's moved there and opened up, Steve Webb stepped in and prevented the city from making good on its promises. Dutton's is closing because they are $550K in the hole due to the BH debacle. They've been trying to get help for the debt for the last two years, but it's a lot of money. I understand Steve Webb's no longer mayor of Beverly Hills, maybe even because of this, but I think people who work hard to destroy things that make the world beautiful deserve worse. We'll leave it at that.
And those of you thinking that at least the Barry Building will be saved are in for a serious disappointment. Though it received a historical designation of some kind, the word on the street is that it's temporary, so the expectation is that it will very shortly be condos, though PreserveLA declares it a "rare example of a commercial building in West Los Angeles that still exemplifies California mid-century modern architecture."
What will I do without Dutton's? Where will I get my Christmas cards and my calendars? To sit in the courtyard with a fresh book on my lap? To see the pictures of the kids (and adults) who came in at midnight last summer to get their Harry Potter books dressed as their favorite characters? To study what was going on in the world of writing and art, displayed on the windows in the back?
Okay, I have one more story. In her post, Callie (who wrote this beautiful paeon to Dutton's last year) characterized Brentwood by mentioning Jennifer Garner. And you know what that means, that celebrities and a few paparazzi are zooming around. It's part of life in Los Angeles, and not necessarily the part that makes it great. And to me, (and most of us who've been here for awhile) it's pretty incidental. We pride ourselves on not really caring.
But one day I was at Dutton's and I found myself listening to an employee explain a new hardcover to someone. It sounded so interesting that I turned around. The employee had been talking to Ben Affleck and Jennifer Garner. My eyes lingered on her too long because she was so beautiful. Our eyes met and I turned away, a little ashamed that I hadn't maintained. Sure, Jennifer Garner is great looking, but I'd like to think that the fact that she was at Dutton's, hearing about this incredible book (which I bought that day, btw, and it was one of my best reads of 2006 -- Suite Francaise by Irene Nemirovsky, a stunning illustration of France during World War II. It's unfinished because its author was dragged off to a concentration camp while she was writing it.) is what made her exceptional. Books make loose the soul, the imagination -- they make everyone more beautiful, I think.
So. Know any rich people? It's time to call them up and talk to them about a very special investment, in culture, in literature, in LA. But barring that (and a miracle), we're losing Dutton's. Brentwood will still be there, with Jennifer Garner, Vicente Foods, Pinkberry, Trellis, but none of it (and none of us) will be quite as beautiful as we once were, when Dutton's was a place that brought us all together.
Thanks Beverly Hills!

Dutton's Brentwood Books
11975 San Vicente Blvd. Los Angeles, CA 90049
310.476.6263
Photos by Jacy Young/LAist
Cruise off the highway and hit locally-known spots for some tasty bites.

Fentanyl and other drugs fuel record deaths among people experiencing homelessness in L.A. County. From 2019 to 2021, deaths jumped 70% to more than 2,200 in a single year.

This fungi isn't a "fun guy." Here's what to do if you spot or suspect mold in your home.

Donald Trump was a fading TV presence when the WGA strike put a dent in network schedules.

Edward Bronstein died in March 2020 while officers were forcibly taking a blood sample after his detention.

A hike can be a beautiful backdrop as you build your connection with someone.