This is an archival story that predates current editorial management.
This archival content was written, edited, and published prior to LAist's acquisition by its current owner, Southern California Public Radio ("SCPR"). Content, such as language choice and subject matter, in archival articles therefore may not align with SCPR's current editorial standards. To learn more about those standards and why we make this distinction, please click here.
Golden Gals Gone Wild Art Opening @ WOW, 8/11/07
Stories like these are only possible with your help!
You have the power to keep local news strong for the coming months. Your financial support today keeps our reporters ready to meet the needs of our city. Thank you for investing in your community.
There were cross dressers, women in fishnets, a little person, celebs, frat boy authors, tattooed artists, and musicians dressed as nurses. Just another night on Hollywood Blvd? Perhaps. But mix in the opening night of an art show totally dedicated to erotic, unusual, and sometimes disturbing images of tv legends, The Golden Girls, and you get something very different, even for Hollywood.
Curator Lenora Claire was glowing as she worked her way out of the hot and happy gallery to chat with those waiting in line outside trying to get in. Inside, the walls were lined with dozens of Golden Girl-inspired art work in a wide variety of styles, and the work inspired a packed gallery full of smiles and laughter from pretty much everyone who was lucky enough to be there.
Join us after the jump for a very NSFW photo essay documenting the magical night.
The Golden Gals Gone Wild art exhibit was so much fun. The mood was so lighthearted.
There was art for pretty much everyone.
And everyone pretty much loved it
There were spiritual Golden Girls
Happy Golden Girls
Super Hero Golden Girls
And explicit Golden Girls - which inspired some interesting impulses
Most people just sort of looked at the colorful work, some of which was tame.
The reason to actually go to the show would be so you can see the details of some of the work, like this one.
And this one, which our flash makes it look like she has warts on her face - she doesnt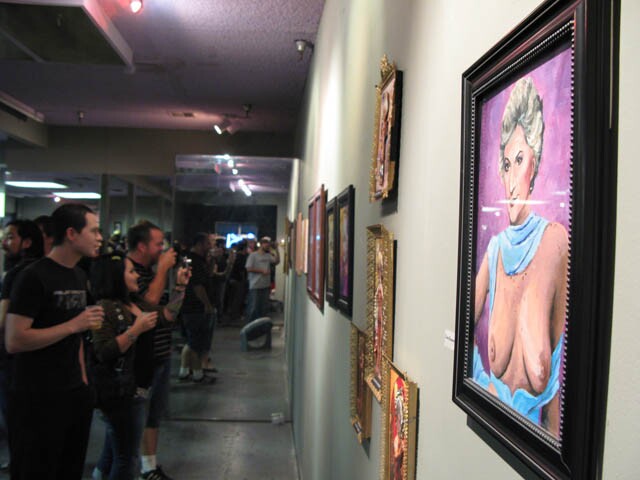 Were there celebs? Yes, duh. It's Hollywood and this is awesome.
Were there dudes who were getting more chicks than us, but of course.
Did Tucker Max appear to support his bro the Gay Bigfoot? Yup, and he even had fans there waiting for him.
But the best was around 11pm when we discovered what the four fuzzy boxes were spread out on the floor of the gallery. They were little platforms for the huge-headed Golden Girl go-go dancers.
Despite his glare at our photographer, Mr. Ribisi seemed happy with the show, as he was spotted outside of the show congratulating Lenora Claire.
Golden Gals Gone Wild
World of Wonder Storefront Gallery
6650 Hollywood Blvd., Hollywood
thru next month
photos by Sonny I. LaVista for LAist