This is an archival story that predates current editorial management.
This archival content was written, edited, and published prior to LAist's acquisition by its current owner, Southern California Public Radio ("SCPR"). Content, such as language choice and subject matter, in archival articles therefore may not align with SCPR's current editorial standards. To learn more about those standards and why we make this distinction, please click here.
The Best Nachos In Los Angeles
Support your source for local news!
Today, put a dollar value on the trustworthy reporting you rely on all year long. The local news you read here every day is crafted for you, but right now, we need your help to keep it going. In these uncertain times, your support is even more important. We can't hold those in power accountable and uplift voices from the community without your partnership. Thank you.
Los Angeles may not be the birthplace of nachos, but we've embraced this dish with open arms. Nothing quite says comfort food like house-fried tortilla chips smothered in shredded cheese (or ooey gooey cheese) and a bevy of toppings. We've got all our favorites from straightforward, traditional nachos to more modern takes on the appetizer—from pulled pork to lobster nachos. Here are our favorite nachos in town, and as always, leave yours in the comments.

Nachos from Tinga (Photo via Facebook)
Tinga
This hip eatery, which has since expanded from La Brea Avenue in Hancock Park to Santa Monica, makes fusion-y and artisanal Latin American fare. Their Cochinita Pibil Nachos has braised pork that's marinated with orange and achiote; it's topped with habanero salsa, pickled onions, shredded monterey jack, guacamole and queso fresco. It's a beautiful Yucatan-inspired dish with beautiful hues of pink, green, yellow and white.
Tinga is located at 142 S La Brea Ave., Hancock Park, (323) 954-9566, and 522 Wilshire Blvd., Santa Monica, (310) 451-9341
Carnitas Michoacan
We're not going to lie—we're fans of nachos covered in ooey gooey processed cheese. It's the stuff that reminds you of your childhood, like the nachos you used to get from the multiplex. Over at Carnitas Michoacan, you top your nachos with a variety of meats from carne asada to carnitas and al pastor. It's a basic meat and cheese type of nachos dish, so make sure you top the dish with some peppers and carrots for some extra tang and spice. If you're planning on taking your nachos to go, ask for the liquid cheese on the side so your chips won't get all soggy. And the best thing about this place? It's open 24 hours, so you can get your nachos fix any time of the day.
Carnitas Michoacan is located at 1901 N Broadway, Lincoln Heights, (323) 225-2729; 741 S Soto St., Boyle Heights, (323) 266-7188; 15039 Roscoe Blvd., Panorama City, (818) 830-1196

Nachos from Pepe's (Photo via Facebook)
Pepe's Mexican Food
Pepe's loads it up when it comes to their nachos; they aren't ones to skimp on the toppings. This SGV joint makes theirs with fresh guacamole, some of the creamiest refried beans you'll ever have, and a huge heap of shredded cheese that covers the entire surface of the plate. Add carne asada on top as a treat. (You can also get fries instead of chips if you're in that type of mood.) It's a little stand with a drive-thru, so you can ride on by late into the night (midnight on all days except Fridays and Saturdays, where the spot is open until 3 a.m.). The best part—it won't put a dent in your wallet.
Pepe's Mexican Food is located at 511 W Valley Blvd., Alhambra, (626) 289-8618

Gus's BBQ's Pulled Pork Nachos (Photo via Facebook)
Gus's BBQ
Sometimes we like to step out of the box a little when it comes to our nachos, and that's where Gus's BBQ comes in. The old school BBQ joint, which has been open since 1946, is not only known for their tasty, grilled meats, but also for their pulled pork nachos. This dish is a hefty order even though it's listed under their menu as an appetizer, so plan to share or wear some loose-fitting pants. Their thick and crispy house-made tortilla chips are smothered with their flavorful pulled pork, BBQ baked beans, a four-cheese sauce, smoked mozzarella, jack cheese, and all the other toppings you'd normally find in Mexican nachos—like tomatoes, red onions, guacamole, and pickled jalapeno. But this one's covered with BBQ sauce, and baked in a cast iron skillet. The portions are generous, and you can wash it all down with a nice pint of beer there.
Gus's BBQ is located at 808 Fair Oaks Ave., South Pasadena, (626) 799-3251

Shrimp nachos from Sky's Gourmet Tacos (Photo via Facebook)
Sky's Gourmet Tacos
Sky's Gourmet Tacos may be well-known for their killer tortas, but they've got other tricks up their sleeves, too. The restaurant, which expertly melds together flavors from Mexico and Louisiana, bring Cajun spices to their nachos as well. While you can get your normal chicken or beef toppings for your nachos, what makes them stand out is that you also have the choice of putting lobster or crawfish on that mound of chips. Yes—lobster freakin' nachos. The chips are freshly fried in-house and topped with cheese, pinto beans or black beans, tomato and cilantro. If you want to add guacamole or sour cream, feel free to request that. And for the vegetarians out there, they offer vegan "meat" as a topping.
Sky's Gourmet Tacos is located at 5408 W Pico Blvd., Mid-City, (323) 932-6253
El Cholo
A nachos list wouldn't be right without mentioning the historic El Cholo, which opened its first location here in 1923. The restaurant claims that their longtime waitress Carmen Rocha introduced nachos to Los Angeles, bringing an old recipe from back home in Texas. It's a simple and flavorful dish, with fried tortilla chips swimming under melted, shredded cheese, and topped with salsa, sour cream and jalapenos. Even on the menu, they're still honoring Carmen, who passed away in 2009, with "Carmen's Original Nachos (1959)." And if patrons get seated at their famous "Nachos Table" at the restaurant, then they'll get a free plate of Carmen's Nachos. El Cholo also whips up "Sonora Style Nachos (1983)" that come with beans. Oh, and don't forget to pair that with one of their margaritas.
El Cholo is located 1121 S Western Ave., Harvard Heights, (323) 734-2773; 1037 S. Flower St., downtown, (213) 746-7750; and 1025 Wilshire Blvd., Santa Monica, (310) 899-1106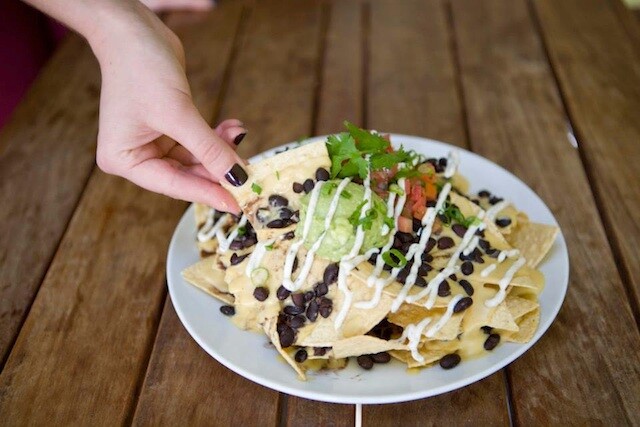 Real Food Daily's Not-Chos (Photo via Facebook)
Real Food Daily
Vegans need some nacho love, too! The folks over at Real Food Daily have their organic and plant-based "Not-Chos," which is a pretty large order for being an appetizer. It's made of creamy cashew cheese, black beans, pico de gallo, tofu sour cream and guacamole. Pro-tip: ask your waiter to add fake taco meat mix into your nachos.
Real Food Daily has locations in Santa Monica, Pasadena, West Hollywood and LAX.
King Torta
This El Sereno joint may be popular for their tortas, but let's talk about their loaded nachos. There's all the guacamole, sour cream, beans and cheese you could ask for—the chips are hidden under all the toppings. Add carne asada, al pastor or whatever tickles your fancy onto your chips. You might have some leftover toppings that you can use on the torta you're bound to order.
King Torta is located at 4521 Valley Blvd., Ste. 102, El Sereno, (323) 222-7006

Loteria! Grill's nachos (Photo via Facebook)
Lotería! Grill
We've had a love affair with Lotería! Grill before they expanded and were just a little stand at their casual Original Farmers Market location. Chef Jimmy Shaw's nachos are simple and fresh, made with crispy tortilla chips, black beans, pico de gallo, tomatillo salsa, jack cheese, onions and cilantro. We're fans of their flavorful salsas and the meat options are always succulent and full of complex flavors. Just a fair warning, the large nachos option is huge, so you might want to take it down a notch with a half order. And while you're at their sit-down locations, you might as well go for a cocktail, too.
Loteria Grill has locations in Studio City, Hollywood, Santa Monica, downtown, Westlake Village and Beverly Grove. More info here.

HomeState's Frito Pie (Photo via Facebook)
HomeState
Getting a Frito Pie, which we consider a dish in the nachos family, is like unwrapping a birthday present. At HomeState, they give you a mini-Frito bag sliced open from the side, and the pocket is filled with Frito chips, chili con carne (or black beans), cheddar, lettuce, sour cream, tomatoes, pickled jalapenos and pickled red onion. This restaurant brings Tex-Mex food over to SoCal, which we gladly welcome. And while you're there, you might as well get some breakfast tacos and migas.
HomeState is located at 4624 Hollywood Blvd., East Hollywood, (323) 906-1122
How to get the best eggs in town without leaving your yard.

Beautiful views aren't the only thing drawing Angelenos to the region

Gab Chabrán reflects on growing up in L.A. in a Latino home that doesn't celebrate Thanksgiving and the traditions they formed instead.

Oklahoma-style smash burgers and Georgian dumplings make for some excellent cheap bites in Glendale

Husband and wife Felix Agyei and Hazel Rojas combine food from their heritages, creating a marriage of West African and Filipino cooking

Baby Yoda cocktails. Boozy Dole Whips. Volcanic tiki drinks. If you can dream it, they're probably mixing it somewhere on property.