This is an archival story that predates current editorial management.
This archival content was written, edited, and published prior to LAist's acquisition by its current owner, Southern California Public Radio ("SCPR"). Content, such as language choice and subject matter, in archival articles therefore may not align with SCPR's current editorial standards. To learn more about those standards and why we make this distinction, please click here.
10 Japanese Restaurants You Need To Try In The San Gabriel Valley
We need to hear from you.
Today during our spring member drive, put a dollar value on the trustworthy reporting you rely on all year long. The local news you read here every day is crafted for you, but right now, we need your help to keep it going. In these uncertain times, your support is even more important. We can't hold those in power accountable and uplift voices from the community without your partnership. Thank you.
By Kristie Hang
When people think of the San Gabriel Valley, they usually think of Chinese food. It's easy to forget that the SGV has long been home to a sizeable Japanese-American population dating as far back as the early 20th century. So don't limit yourself just to Chinese food when you're in the area. Check out all the authentic and fusion Japanese eateries right here.

Yama Sushi (Photo by Kristie Hang/LAist)
YAMA SEAFOOD
A sushi addiction can be tough on your bank account, but at Yama Seafood, Mr. Yama serves up quality sashimi and sushi that is fresh and affordable. Yama Seafood is actually a small mom-and pop-supermarket. Mr. Yama wears many hats. He serves at the counter, slices the sashimi and makes rolls, and also runs the cash register. You can walk away with a beautiful array of sashimi for two for less than $20. They also have a fridge stocked with a selection of rolls available for those customers who don't want to wait for freshly cut sashimi. Don't come here if you are in a rush. Yama Seafood is not for the impatient. Bring your Zen!
Tip: Yama Seafood has Bento Box Wednesdays for $4.95. Come early as the bento lunch boxes go fast.
Yama Seafood is located at 911 West Las Tunas Drive in San Gabriel, (626) 281-8045

Akasaka (Photo by Xing Ming)
AKASAKA
At first glance, everything on Akasaka's menu is very pricey, but fear not, for their portions are proportional to their price. Akasaka is known for their gigantic chirashi bowls that are bigger than your head. The chirashi bowl will put you back $45, but it's also enough to easily feed two or more people. The same rule of thumb applies to their sushi rolls, which are about twice as big as rolls elsewhere. Hand rolls are also as wide as your arm!
Large cuts of uni, yellow tail, seared tuna, fish eggs, shrimp, salmon, scallop, and other varieties of fish are all jam-packed in the chirashi, then topped with tempura crumbs, small pieces of octopus, and green onions. The rice Akasaka uses for their chirashi contains rice vinegar, which will give your taste buds a sweet kick!
Your meal comes with complimentary miso soup, salad, and mochi ice cream. Beware though, the restaurant is small and severely understaffed. You may need your whole party's help to flag down a server!
Tip: Luckily, Akasaka accepts reservations, so unless you plan on getting here before they open to nab the first spot, calling in before is the best plan of attack.
Akasaka is located at 14926 Clark Avenue in Hacienda Heights, (626) 336-0871

Ducks (Photo by Kristie Hang/LAist)
DUCKS
When one sees the exterior of Ducks, one might assume it was a Chinese Restaurant that serves duck. 
But alas, there's no duck anywhere on the menu. Instead, Ducks is a Japanese mom-and-pop shop that has a very small and simple menu. The most popular dishes contain katsu (deep fried pork cutlet). The katsu at Ducks is crispy on the outside and juicy on the inside. They also have udon noodles hot and cold, as well as soba noodles, and curry options. The standout dishes are the delicious katsudon (pork and eggs over rice) and oyakudon (chicken and eggs over rice). The runny egg on top is the perfect touch!
Meals come with a small salad and white rice topped with sesame seeds. Prices are a tad on the high side for Japanese comfort food. Entrees are all $10+ and combination sets are about $17. But good food and supporting a local shop is worth it!
FYI: There is only one waitress working the entire restaurant, but she is on the ball, so no need to worry about waiting.
Ducks is located at 1381 East Las Tunas Drive in San Gabriel, (626) 287-8743

Hakata Shin-Sen-Gumi (Photo by Kristie Hang/LAist)
HAKATA SHIN-SEN-GUMI
Hakata Shin-Sen-Gumi is my favorite ramen joint in the San Gabriel Valley. I love the hakata-style ramen, which uses very thin cut noodles. Here, it's all about customization. There's a lot to decide. Hakata is always pretty busy, and it's easy to see why—they make an excellent bowl of ramen, and everything from the toppings to the chewiness of the noodles to the amount of oil in the soup. The regular bowl comes with ginger, green onion, and two slices of char siu BBQ pork. You can add other ingredients such as bamboo shoot, extra pork, spinach, eggs, corn, etc. which range from $1-$2 extra for each topping. For those big eaters, you can get an additional bowl of noodles for only $0.95! Ask for their fresh garlic mix. Mix it into any ramen broth for extra deliciousness!
Tip: Hakata Shin-Sen-Gumi always has some fun contests for their patrons. They once had a ramen-eating contest where the winner won a free trip to Japan!
Hakata Shin-Sen-Gumi is located at 8450 East Valley Boulevard in Rosemead, (626) 572-8646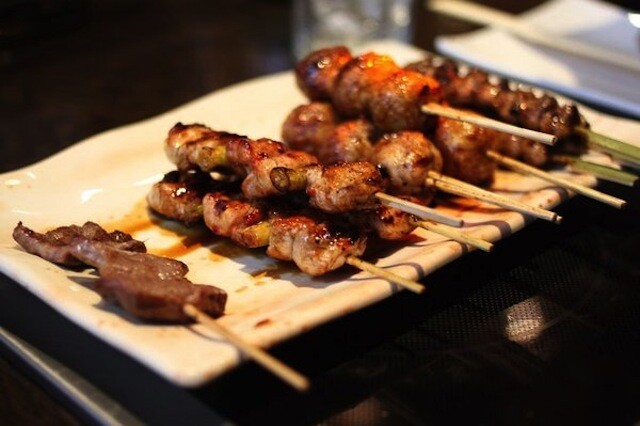 Shin Sen Gumi Yakitori And Shabu Shabu (Photo by Sally M.)
SHIN SEN GUMI YAKITORI AND SHABU SHABU
Despite shabu shabu being in their name, Shin Sen Gumi Yakitori and Shabu Shabu is known solely for their skewers AKA yakitoris. Shin Sen Gumi Yakitori and Shabu Shabu has a variety of skewers to choose from. Some of my personal favorites include: chicken cartilage, beef flap, bacon-wrapped quail eggs, intestine, beef tongue, bacon-wrapped mushrooms, pork with shiso, chicken breast with wasabi, chicken meatballs, chicken skin, pork belly, bacon-wrapped tomatoes, to name a few. Don't forget to dip your skewers in horseradish to bring out the flavor. They also have a yuzu pepper sauce that is very good.
Tip: Yakitori is half off during on Mondays and Wednesdays from 6-11 p.m. Each skewer is $1.50. They also have a shabu shabu specials on Tuesdays and Thursdays from 6-11 p.m. for $9.88.
Shin Sen Gumi Yakitori and Shabu Shabu is located at 111 North Atlantic Boulevard in Monterey Park, (626) 943-7956

Taihei (Photo by Kristie Hang/LAist)
TAIHEI
Word of advice: If you are looking for Japanese specialty rolls, don't come here! Taihei serves real Japanese food, none of that Philadelphia cream cheese roll mish-mash. Taihei is one of the few remaining restaurants in the area that is Japanese-owned and operated. Although it's a small restaurant with limited seating, the appeal of Taihei is in its simple, no-frills comfort food. The chirashi is one of their most popular dishes. For $17, the chirashi is filling and contains a variety of different types of fresh fish. Taihei's hand rolls are also different from the typical sushi restaurant. They look like open-ended cylindrical shaped hand rolls.
Tip: Taihei only has street parking available.
Taihei is located at 2195 South Garfield Avenue in Monterey Park, (323) 726-1787

Bachan's Takeout (Photo by Kristie Hang/LAist)
BACHAN'S TAKE OUT
Bachan's Take Out is made up of only four tables, so most customers get their food to go. Bachan's location is not in a very convenient place, but the food is well worth the extra trek. The food at Bachan's will remind you of a hole-in-the-wall in Hawaii with their teriyaki, mahi mahi and burger options. The most popular dish to order is their Furikake Ahi Tuna plate. The portion is generous and comes with pickled cabbage, small macaroni salad, and a small salad for $9.50. The Pepper Ribeye Steak with spicy sesame sauce is also a favorite. During lunch hours, your meal comes with a free drink.
Tip: Bachan's has a tasty Chinese Chicken Salad special available only on Fridays!
Bachan's Takeout is located at 1324 Potrero Grande Dr. in
Rosemead, (626) 307-1704
CURRY HOUSE
Known for their Japanese-style curry, Curry House is a Japanese chain that has locations throughout California. They have an extensive variety of curries and meats and a wide range of spiciness levels for you to choose from.
My must-order is their stone pot curries, which are similar to the Korean bibimbap stone pot rice, but with the addition of curry and a raw egg. First you choose between eel, pork katsu, chicken katsu or ribeye as your choice of meat. Then you choose your level of spiciness. A staff member will subsequently come and mix in a raw egg and cook it in front of you. The egg will cook as it is mixed in the sizzling rice and give the rice a nice char.
The meals also come with your choice of cream of corn soup, miso soup, or salad. Get the corn soup. It's amazing. Also, Curry House has vegetarian options, so non-meat eaters can rejoice!
Tip: Join their e-mail list for 20% off coupons.

Tokyo Fried Chicken Co. (Photo by Kristie Hang/LAist)
TOKYO FRIED CHICKEN CO.
As you may have guessed, the restaurant's namesake dish is their fried chicken. The chicken here is similar to Japanese karaage chicken, but marinated in soy sauce, garlic, ginger, and fried in rice bran oil. The dinner set for two is $12.50 per person and comes with two legs, two wings, two thighs, steamed chicken rice, pickled cabbage, and your choice of two sides. TFC also has premium sides that are also Japanese/Southern-themed like mac and cheese, truffle tater tots, truffle-butter edamame, shisito peppers, curry-creamed corn and collards braised in dashi. The chicken arrives with several different sauces designed to complement the chicken. There is the ponzu and spicy ponzu sauce, a yuzu sauce, and a sweet and sour sauce. 

Patrons are given a plastic glove for the chicken so that their hands don't get greasy.
Tip: For those that like eating the crispy skin off fried chicken, Tokyo Fried Chicken Co. also has fried chicken skin ready to order.
Tokyo Fried Chicken Co. is located at 122 South Atlantic Boulevard in Monterey Park, (626) 282-9829

Ocean Plus Fish Market (Photo by Kristie Hang/LAist)
OCEAN PLUS FISH MARKET
Ocean Plus Fish Market sells fish, seafood, and produce, but most patrons go for their sashimi platters that can feed 2-3 people for about $30. The sashimi is cut and sliced on the spot for you so be prepared to wait. They also carry uni, vegetables and Taiwanese fish balls and fish paste. The selection is always fresh.
FYI: This place is cash only.
Ocean Plus Fish Market is located at 7960 Garvey Avenue in Rosemead, (626) 307-1704
Born and raised in Los Angeles, California, Kristie Hang is an avid world traveler that spends 3 months a year in Asia. She has an affinity for bizarre foods and is also the co-founder of the 626 Foodettes Blog, a hyperlocal food blog highlighting culinary options in the San Gabriel Valley. You can follow her on Twitter, Instagram or Facebook.
Related:
The 10 Cutest Foods In The San Gabriel Valley
The Best Vietnamese Food In The San Gabriel Valley
The Best Pineapple Buns In The San Gabriel Valley
The 10 Best Hot Pots In The San Gabriel Valley
Your Guide To Vietnamese Banh Mi Sandwiches In The San Gabriel Valley
How to get the best eggs in town without leaving your yard.

Beautiful views aren't the only thing drawing Angelenos to the region

Gab Chabrán reflects on growing up in L.A. in a Latino home that doesn't celebrate Thanksgiving and the traditions they formed instead.

Oklahoma-style smash burgers and Georgian dumplings make for some excellent cheap bites in Glendale

Husband and wife Felix Agyei and Hazel Rojas combine food from their heritages, creating a marriage of West African and Filipino cooking

Baby Yoda cocktails. Boozy Dole Whips. Volcanic tiki drinks. If you can dream it, they're probably mixing it somewhere on property.