This is an archival story that predates current editorial management.
This archival content was written, edited, and published prior to LAist's acquisition by its current owner, Southern California Public Radio ("SCPR"). Content, such as language choice and subject matter, in archival articles therefore may not align with SCPR's current editorial standards. To learn more about those standards and why we make this distinction, please click here.
Srirachapocalypse, Now: California Stops Shipments Of Hot Sauce [UPDATE]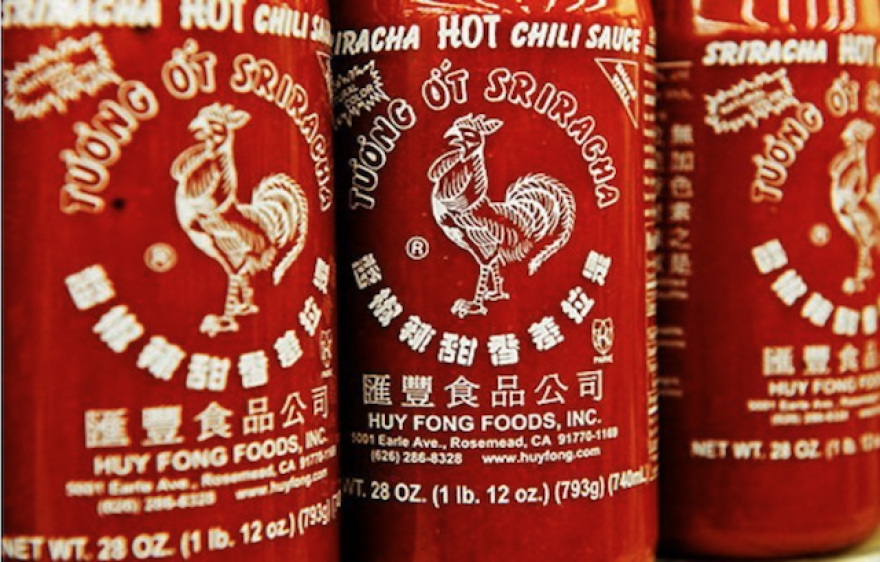 Support your source for local news!
The local news you read here every day is crafted for you, but right now, we need your help to keep it going. In these uncertain times, your support is even more important. Today, put a dollar value on the trustworthy reporting you rely on all year long. We can't hold those in power accountable and uplift voices from the community without your partnership.
An update is below

The great Srirachapocalypse of 2013 continues to get worse: now, the California Department of Public Health has issued a 30-day freeze on shipping out the popular hot sauce.
The department has required that Huy Fong Foods hold off on sending out their products until mid-January as part of tough new regulations placed on the company, the L.A. Times reports. As of right now, the CDPH has offered no official explanation as to why they halted Huy Fong's shipping. Already, wholesalers and restaurants that depend on the Sriracha supply are reeling from the CDPH's decision.
"We have already received more than 30 angry phone calls today," Damon Chu, president of Giant Union, a wholesaler of Asian foods, told the Times. "It drives me crazy because this is the first time we have been in this situation."
The mandate from the department comes amid a battle between the sauce makers and the City of Irwindale, who have complained about strong odors emanating from the factory and irritating eyes and causing other ailments. In November, a Los Angeles Superior Court judge ordered a partial shutdown of the factory in response to Irwindale's claims, and Huy Fong Foods erected a snarky banner proclaiming they don't make "tear gas," a literal sign of growing tension between the city and the factory.
UPDATE 12/15:KPCC is reporting that the California Department of Public Health stopped the shipment of Sriracha and other Huy Fong Foods products for 30 days due to a manufacturing change at the plant. The delay is a technical procedure for the state to see if the acid levels of the chilis crushed in the new process are able to destroy harmful microorganisms in the sauce. Huy Fong agreed to the delay, and there is no need for a recall of existing Sriracha products.
Related:
Neighbors Want Sriracha Hot Sauce Factory Shut Down Over 'Strong, Offensive Odor' [UPDATED]Sriracha Factory Ordered To Stop Odor-Causing OperationsSriracha Factory Protests Shutdown With Snarky Banner
Cruise off the highway and hit locally-known spots for some tasty bites.

Los Angeles-based restaurant owners rejoice as a new ordinance makes its way to the city council.

The new season of LAist Studios' WILD podcast is a fictional rom-com set in Southeast L.A. Diners play a big role in fostering conversation between the shows' two hosts this season. Here are host Erick Galindo's must-visit L.A. diners — whether you like breakfast or not.

The new season of LAist Studios' WILD podcast is a fictional rom-com set in Southeast L.A. Donuts play a big role in episode two of the show. Here are some of our favorite, wildly creative, and iconic donut shops in Los Angeles.

Cheap Fast Eats visits one of L.A.'s most distinctive neighborhoods for some nighttime bites.

How to get the best eggs in town without leaving your yard.