This is an archival story that predates current editorial management.
This archival content was written, edited, and published prior to LAist's acquisition by its current owner, Southern California Public Radio ("SCPR"). Content, such as language choice and subject matter, in archival articles therefore may not align with SCPR's current editorial standards. To learn more about those standards and why we make this distinction, please click here.
Sriracha Factory Ordered To Stop Odor-Causing Operations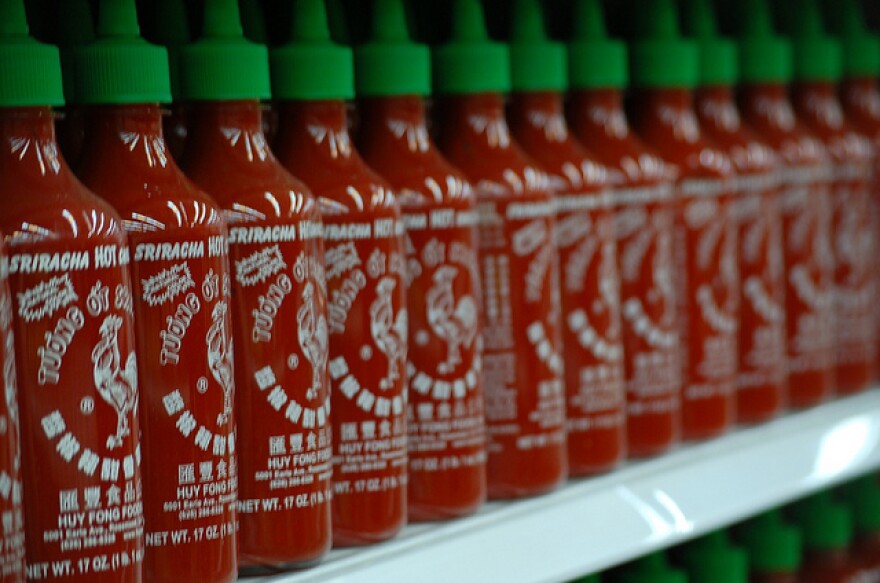 We need to hear from you.
Today during our spring member drive, put a dollar value on the trustworthy reporting you rely on all year long. The local news you read here every day is crafted for you, but right now, we need your help to keep it going. In these uncertain times, your support is even more important. We can't hold those in power accountable and uplift voices from the community without your partnership. Thank you.
Forget the Black Friday shopping. You should be spending your time this week stockpiling Sriracha, because a judge has orderedHuy Fong Foods Sriracha hot sauce plant to cease any operations causing the alleged foul stench in Irwindale, CA.
Says theL.A. Times:
It is unclear what the ruling means for next year's supply of Sriracha hot sauce. The factory harvests and grinds chilis for three months out of the year, and the grinding of this year's chilis has been completed.But the mixing and the bottling of the sauce occurs on an ongoing basis.
The city of Irwindale filed a lawsuit in Los Angeles Superior Court in late October asking a judge to stop production at the Huy Fong Foods factory, because of the "public nuisance" of the "strong, offensive chili odor."
Says Eater:
The injunction orders the factory to "cease any kind of operations that could be causing the odors" and that it "make immediate changes that would help mitigate them," it does not force a complete closure of the factory, nor does it specify what exact changes need to be made.
According to the initial complaint, residents began complaining to the city last month about the overwhelming chili smell from the 600,000-square-food facility, and the neighbors claimed it was causing heartburn, inflamed asthma and even nosebleeds.
The ruling will take effect as soon as the judge signs the injunction, which could be filed as early as Wednesday. One of the company's CEOs warned that if the factory closed, prices could go through the roof.
But it's possible this doesn't mean curtains for the cock sauce. The AP says that the former Rosemead plant produces some, but not all, of the beloved hot sauce. The bulk of it does come from the newer, larger Irwindale plant. The company had plans to eventually shift all production to Irwindale to scale up. But now those plans will have to be reconsidered as the case moves forward.
Perhaps making that deep fried Sriracha turkey for Thanksgiving is appropriate after all. It could be your last.
How to get the best eggs in town without leaving your yard.

Beautiful views aren't the only thing drawing Angelenos to the region

Gab Chabrán reflects on growing up in L.A. in a Latino home that doesn't celebrate Thanksgiving and the traditions they formed instead.

Oklahoma-style smash burgers and Georgian dumplings make for some excellent cheap bites in Glendale

Husband and wife Felix Agyei and Hazel Rojas combine food from their heritages, creating a marriage of West African and Filipino cooking

Baby Yoda cocktails. Boozy Dole Whips. Volcanic tiki drinks. If you can dream it, they're probably mixing it somewhere on property.