California's First Shake Shack Is Coming To West Hollywood In 2016
Stories like these are only possible with your help!
Your donation today keeps LAist independent, ready to meet the needs of our city, and paywall free. Thank you for your partnership, we can't do this without you.
For a long time, we've had a burger battle between the coasts: Californians with their In-N-Out and New Yorkers with Shake Shack. But now, West Coasters are getting the best of both worlds as Los Angeles is getting its first Shake Shack in 2016.
The classic burger chain will be opening up shop in West Hollywood on the corner of Santa Monica Boulevard and West Knoll Drive, just a block away from La Cienega Boulevard, according to a press release.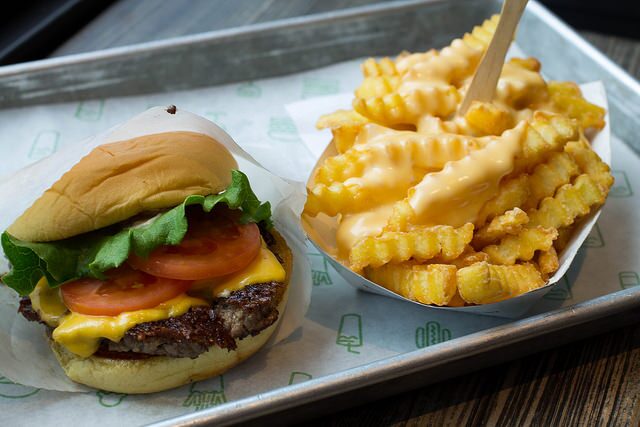 Shake Shack burger and cheese fries (Photo by LWYang via the Creative Commons on Flickr)
As for the menu, you can expect their all-natural burger patties, hot dogs, crinkle-cut fries and frozen custard. Oh, and they'll also have beer and wine.
They've taken over the old Koo Koo Roo and are turning the space into a roadside stand with an outdoor patio and parking lot. They're also going eco-friendly with their design and construction, which is helmed by Austin, Texas-based Michael Hsu Office of Architecture.
While Shake Shack been been a mostly East Coast venture, they've been expanding across the country recently. At the end of last year, they opened new locations in Chicago and Las Vegas. They also have locations worldwide in the Middle East, Russia, Turkey and the United Kingdom.