This is an archival story that predates current editorial management.
This archival content was written, edited, and published prior to LAist's acquisition by its current owner, Southern California Public Radio ("SCPR"). Content, such as language choice and subject matter, in archival articles therefore may not align with SCPR's current editorial standards. To learn more about those standards and why we make this distinction, please click here.
New Independent Coffeehouse in East Sherman Oaks
Our June member drive is live: protect this resource!
Right now, we need your help during our short June member drive to keep the local news you read here every day going. This has been a challenging year, but with your help, we can get one step closer to closing our budget gap. Today, put a dollar value on the trustworthy reporting you rely on all year long. We can't hold those in power accountable and uplift voices from the community without your partnership.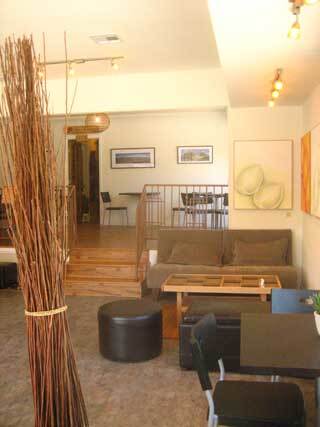 Near the Studio City-Sherman Oaks border on Moorpark Street at Longridge near Fulton is a new spacious and clean contemporary feeling coffeehouse. M Street Coffee opened about a month ago serving the regular fare of espresso, macchiato, americano, cappucino, and chai teas. Eco and vegan friendly, they have organic frappes, soy and organic milks and fruit smoothies with raw vitamin complex add-ons. All are served in eco-friendly containers.
According to a Chowhound review, Gene Liebenau, former owner of Jinkys, is behind M Street. Attached to the shop is the separately owned Two Tomatoes, a boutique gift shop owned by an interior designer. Very quaint, very cool.
Yelp user, Melissa A. was happy to find a new local coffeehouse. "Finally, after living in this 'hood for five years, do we have our local coffee joint. I'm not a coffee connoisseur by any means, but I enjoyed my latte," she yelped. "The place is comfortable, mostly tables and chairs but one big couch. Only one table outside, I suspect that would change when the weather is better." Andrew of Here in Van Nuys yelped that "this is a really attractive, quiet, artistic cafe... There seems to be quite a few writers or people emulating writing, sitting around with laptops" (yes, there is free WiFi with some wall plugs available). However, the Valley blogger was not impressed with the scone he ate (they don't carry it anymore). But like Sangay N. said, we're "really glad this place opened!"
M Street
13251 Moorpark Street
Sherman Oaks, CA 91423
Phone: 818 907 1400
Hours: M-F 7a to 6p // Sat & Sun 8a to 5p
Cruise off the highway and hit locally-known spots for some tasty bites.

Los Angeles-based restaurant owners rejoice as a new ordinance makes its way to the city council.

The new season of LAist Studios' WILD podcast is a fictional rom-com set in Southeast L.A. Diners play a big role in fostering conversation between the shows' two hosts this season. Here are host Erick Galindo's must-visit L.A. diners — whether you like breakfast or not.

The new season of LAist Studios' WILD podcast is a fictional rom-com set in Southeast L.A. Donuts play a big role in episode two of the show. Here are some of our favorite, wildly creative, and iconic donut shops in Los Angeles.

Cheap Fast Eats visits one of L.A.'s most distinctive neighborhoods for some nighttime bites.

How to get the best eggs in town without leaving your yard.