New Independent Coffeehouse in East Sherman Oaks
LAist relies on your reader support, not paywalls.
Freely accessible local news is vital. Please power our reporters and help keep us independent with a donation today during our fall member drive.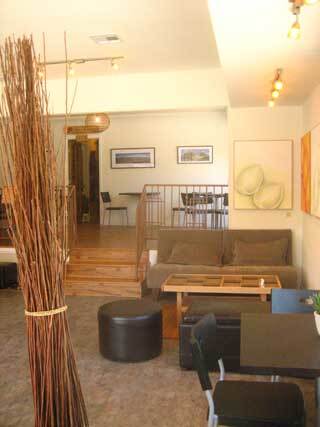 Near the Studio City-Sherman Oaks border on Moorpark Street at Longridge near Fulton is a new spacious and clean contemporary feeling coffeehouse. M Street Coffee opened about a month ago serving the regular fare of espresso, macchiato, americano, cappucino, and chai teas. Eco and vegan friendly, they have organic frappes, soy and organic milks and fruit smoothies with raw vitamin complex add-ons. All are served in eco-friendly containers.
According to a Chowhound review, Gene Liebenau, former owner of Jinkys, is behind M Street. Attached to the shop is the separately owned Two Tomatoes, a boutique gift shop owned by an interior designer. Very quaint, very cool.
Yelp user, Melissa A. was happy to find a new local coffeehouse. "Finally, after living in this 'hood for five years, do we have our local coffee joint. I'm not a coffee connoisseur by any means, but I enjoyed my latte," she yelped. "The place is comfortable, mostly tables and chairs but one big couch. Only one table outside, I suspect that would change when the weather is better." Andrew of Here in Van Nuys yelped that "this is a really attractive, quiet, artistic cafe... There seems to be quite a few writers or people emulating writing, sitting around with laptops" (yes, there is free WiFi with some wall plugs available). However, the Valley blogger was not impressed with the scone he ate (they don't carry it anymore). But like Sangay N. said, we're "really glad this place opened!"
M Street
13251 Moorpark Street
Sherman Oaks, CA 91423
Phone: 818 907 1400
Hours: M-F 7a to 6p // Sat & Sun 8a to 5p