Malo in Silver Lake Intros Mostly Vegan $1 Taco Nights
LAist relies on your reader support, not paywalls.
Freely accessible local news is vital. Please power our reporters and help keep us independent with a donation today.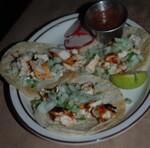 For a couple weeks, Malo has been serving up $1 tacos on Monday nights with mostly vegan choices including Eggplant & Potato, Grilled & Marinated Vegetable and Soy-Rizo (make sure to ask that the sour cream and cheese condiments are left off). A vegetarian Potato & Chipotle taco (has cheese mixed in) and Grilled Chicken soft taco is also available for the same price. For an extra 50-cents, you're looking at meaty taco truck favorites: carne asada, al pastor and carnitas. But if you're a seafood lover, the Grilled Fish and Lobster tacos are available, albeit not at the near Monday deal ($3 and $5, respectively). Malo, as much as people loved to hate it in its early days, has quickly become a Silver Lake mainstay, especially with their own mixologist on staff creating an excellent cocktail list.