Malo in Silver Lake Intros Mostly Vegan $1 Taco Nights
Stories like these are only possible with your help!
Your donation today keeps LAist independent, ready to meet the needs of our city, and paywall free. Thank you for your partnership, we can't do this without you.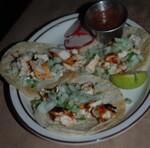 For a couple weeks, Malo has been serving up $1 tacos on Monday nights with mostly vegan choices including Eggplant & Potato, Grilled & Marinated Vegetable and Soy-Rizo (make sure to ask that the sour cream and cheese condiments are left off). A vegetarian Potato & Chipotle taco (has cheese mixed in) and Grilled Chicken soft taco is also available for the same price. For an extra 50-cents, you're looking at meaty taco truck favorites: carne asada, al pastor and carnitas. But if you're a seafood lover, the Grilled Fish and Lobster tacos are available, albeit not at the near Monday deal ($3 and $5, respectively). Malo, as much as people loved to hate it in its early days, has quickly become a Silver Lake mainstay, especially with their own mixologist on staff creating an excellent cocktail list.