Eye Nosh: Red Pozole from a Boyle Heights Food Stand
Stories like these are only possible with your help!
Your donation today keeps LAist independent, ready to meet the needs of our city, and paywall free. Thank you for your partnership, we can't do this without you.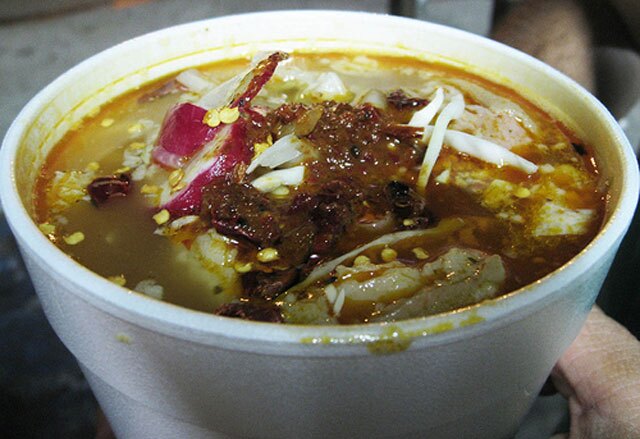 LAist Featured Photos contributor Tales of an LA Addict visited a stand in Boyle Heights last Fall and schools us on this fascinating dish:
Red Pozole - This soup starts off as white pozole which is chicken-based. The meats added to our particular soup included carnitas, pigs feet and pork skin. White pozole becomes red pozole when a sauce made from dried chiles is added to the soup. Our sauce had California chiles (either guajillo or ancho) that are soaked in hot water until softened.

These are mild and tasty.The chiles are then pureed with onion and garlic and cooked in oil. This is added to the white pozole after adding the meat. All the extra flavors are added after like chopped onion, radishes, chile de arbole, lime, etc.


As for taco trucks and other auto-driven stands in unincorporated parts of Los Angeles County (Boyle Heights is still LA city),
life goes on
, albeit a different with the
new laws
controlling their businesses.