Eye Nosh: Brunching at Silver Lake's Reservoir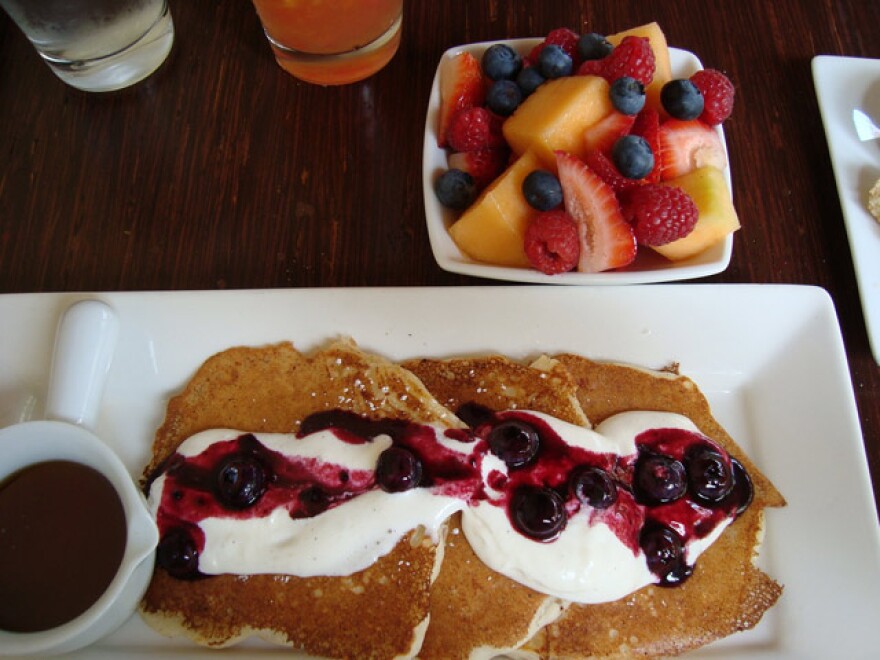 LAist relies on your reader support, not paywalls.
Freely accessible local news is vital. Please power our reporters and help keep us independent with a donation today.
It's that time again: Weekend breakfast. Or, if you prefer: Brunch.
May we tempt you with this Eye Nosh-able shot of the Ricotta Pancakes with Lemon Creme Fraiche and Blueberry Sauce, Side of Seasonal Fruit and Maple Syrup enjoyed by food blogger and LAist Featured Photos pool contributor LA & OC Foodventures? Need some words to go with your picture? How about this, from his blog report:
These were simply superb, griddled to an ever-so-thin layer of crispiness on the outside while being fluffy-tender within. The trio of pancakes were delicious enough to eat with just the whippy-tart lemon creme fraiche and blueberry sauce toppings, but even better with a little dip of the accompanying maple syrup.
This breakfast was found at Reservoir, the seasonal-foods-focused restaurant in Silver Lake that just started serving brunch.Got food porn? Submit your own Eye Nosh photos and mini-review to our LAist Featured Photos pool on Flickr (label them "Eye Nosh" too.)