This is an archival story that predates current editorial management.
This archival content was written, edited, and published prior to LAist's acquisition by its current owner, Southern California Public Radio ("SCPR"). Content, such as language choice and subject matter, in archival articles therefore may not align with SCPR's current editorial standards. To learn more about those standards and why we make this distinction, please click here.
Cheap Drunk: Great Wine Under $10
Before you read more...
Dear reader, we're asking you to help us keep local news available for all. Your financial support keeps our stories free to read, instead of hidden behind paywalls. We believe when reliable local reporting is widely available, the entire community benefits. Thank you for investing in your neighborhood.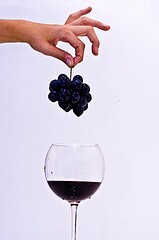 A few months ago I came home from work to find one of my roommates sitting on the couch with a glass of wine in hand. From the time I first met this friend, one thing was very clear: he loved wine. In fact, he had a very special relationship with one brand in particular, Charles Shaw. Good ole' Two Buck Chuck was a loyal friend to my roommate all through college. Chuck had become such a crucial part of his life, his day wouldn't be complete if he didn't have a glass. Or a bottle.
So you can imagine my surprise when I came home one day in May, after all of us had graduated from college and begun "real jobs", to find said roommate drinking not Two Buck, but a bottle of more expensive wine. It was then that he announced to me that he and Chuck were through and that from now on he was only buying "higher-end wines". As in 7-10 dollars...
So in honor of my roommate, here's a list of great wines under $10, as compiled by The New York Times.
Casa Cadaval Portugal Ribatejano , $8.99
Padre Pedro 2002
Smoke, earth, cherry and spice flavors in a well-structured Old World wine (Importer: HGC Imports, San Jose, Calif.).
Domaine de l'Ameillaud France , $9
Vin de Pays de Vaucluse 2005
Mild tannins with attractive, lingering flavors of berry, cassis and olive (David Bowler Wine, New York).
Viña Gormaz Spain Ribera del Duero , $9
Tempranillo 2005
Fresh and juicy with a lively spiciness (Classical Wines, Seattle).
Georges Duboeuf France , $9
Beaujolais-Villages 2006
Juicy, fruity and floral. Decent Beaujolais best served chilled (W. J. Deutsch & Sons, Harrison, N.Y.).
Altas Cumbres Argentina Mendoza , $9
Cabernet Sauvignon 2005
Lingering, jammy flavors of cherry and licorice (RV Distributors, Hoboken, N.J.).
Wyatt California Cabernet Sauvignon 2005 , $10
Big and almost over the top with dark fruit, oak and spice flavors.
J. Vidal-Fleury France , $10
Côtes-du-Ventoux 2005
Aroma of burnt rubber gives way to flavors of bitter cherry and spices (W. J. Deutsch & Sons, Harrison, N.Y.).
Domaine Monte de Luz , $7
Uruguay Tannat 2006
Rich and plummy with smoky, spicy cherry flavors (Baron Francois, New York).
Ravenswood California Vintner's Blend , $10
Merlot 2004
Fruit, floral and spice flavors; straightforward and pleasant.
Paringa , $9
South Australia Cabernet Sauvignon 2005
David Hickinbotham Individual Vineyard
Big and powerful with berry, oak and fruit flavors (Grateful Palate Imports, Oxnard, Calif.).