Cheap Drunk: Great Wine Under $10
LAist relies on your reader support, not paywalls.
Freely accessible local news is vital. Please power our reporters and help keep us independent with a donation today.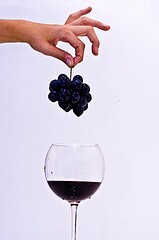 A few months ago I came home from work to find one of my roommates sitting on the couch with a glass of wine in hand. From the time I first met this friend, one thing was very clear: he loved wine. In fact, he had a very special relationship with one brand in particular, Charles Shaw. Good ole' Two Buck Chuck was a loyal friend to my roommate all through college. Chuck had become such a crucial part of his life, his day wouldn't be complete if he didn't have a glass. Or a bottle.
So you can imagine my surprise when I came home one day in May, after all of us had graduated from college and begun "real jobs", to find said roommate drinking not Two Buck, but a bottle of more expensive wine. It was then that he announced to me that he and Chuck were through and that from now on he was only buying "higher-end wines". As in 7-10 dollars...
So in honor of my roommate, here's a list of great wines under $10, as compiled by The New York Times.
Casa Cadaval Portugal Ribatejano , $8.99
Padre Pedro 2002
Smoke, earth, cherry and spice flavors in a well-structured Old World wine (Importer: HGC Imports, San Jose, Calif.).
Domaine de l'Ameillaud France , $9
Vin de Pays de Vaucluse 2005
Mild tannins with attractive, lingering flavors of berry, cassis and olive (David Bowler Wine, New York).
Viña Gormaz Spain Ribera del Duero , $9
Tempranillo 2005
Fresh and juicy with a lively spiciness (Classical Wines, Seattle).