This is an archival story that predates current editorial management.
This archival content was written, edited, and published prior to LAist's acquisition by its current owner, Southern California Public Radio ("SCPR"). Content, such as language choice and subject matter, in archival articles therefore may not align with SCPR's current editorial standards. To learn more about those standards and why we make this distinction, please click here.
The Best Booze Stores In Los Angeles
Before you read more...
Dear reader, we're asking you to help us keep local news available for all. Your financial support keeps our stories free to read, instead of hidden behind paywalls. We believe when reliable local reporting is widely available, the entire community benefits. Thank you for investing in your neighborhood.
Whether you're stocking up for the holidays, planning a dinner party or just upgrading your home bar, shopping at a quality liquor store for your booze makes all the difference in the world. From helpful staff who can guide you in the right direction to a diverse and deep selection of hard-to-find bottles, L.A. thankfully offers some excellent options for buying beer, wine and spirits. As an added bonus, many of our favorite places to shop for alcohol around town also offer frequent tastings, fun events with food and more, so you can get to know your booze before you even buy. So, whether you're a seasoned connoisseur or just looking to expand your palate, here are our favorite shops for booze around Los Angeles. As always, let us know yours in the comments.

Rows and rows at Silverlake Wine (via Facebook)
Silverlake Wine

For over 10 years, Silverlake Wine has been a great destination for artisanal spirits, select craft beers and an amazing selection of top-notch wines from small producers. And now that they've added an Arts District location in addition to their original Silver Lake spot, we have even more room to roam the aisles or seek the unpretentious and helpful advice of the staff. Throughout the week they also host tastings with quality cheeses and other tasty nibbles to keep you from floating away, including Thursday Night Flights and Blue Monday. Just be sure to make a reservation for their popular Sundays at Three tastings, which feature more substantial eats and an educational component. The staff is also super helpful if you're looking to put together a gift package or if you're just looking to upgrade from Two Buck Chuck. There's also talk that they'll be opening a Highland Park location sometime soon, which will include a restaurant and pizza shop, so we're looking forward to that.
Silverlake Wine is located at 2395 Glendale Blvd. in Silver Lake, (323) 662-9024; and 1948 E 7th St. in the Arts District, (213) 335-6235.
K&L Wine Merchants
If you're the type of person who feels overwhelmed going into a wine shop that has a selection way bigger than your local Ralph's, we suggest heading over to K&L Wine Merchants. All of their staff is helpful, knowledgeable and unpretentious—they can really just name a good bottle of wine off their top of their heads based on any parameters you give them. Tell them you have a $15 budget or that you're looking for a gift for your boss, and they've got you covered. Their huge Hollywood outpost doesn't just stop at wines though—you can also get some tips on their beer and spirits from their extensive collection. Also something great is they have a free parking lot out back, perfect for a quick in-and-out before your party that you're probably already late for. —Jean Trinh
K&L Wine Merchants is located at 1400 Vine St. in Hollywood, (323) 464-9463

Wally's Beverly Hills (Photo via Wally's)
Wally'sWally's has two locations: Wally's Wines & Spirits in Westwood, and Wally's Beverly Hills. These high-end shops are perfect for special occasions and gifts, or when you're looking for something really unique or hard to find. They both offer an ample selection of wines, beers, spirits and gourmet foods. The Westwood location has expanded to also include the nearby Cheese Box, where you can talk to their cheese specialist and sample some rare finds. You can also grab a sandwich to go or peruse their chocolate selection. The Beverly Hills location has over 2,500 different wines to choose from, as well as a huge display of cheese, truffles, caviars, meats and desserts. Plus, they also serve brunch, lunch and dinner. Both offer the occasional tasting if you're looking to expand your palate, and can help you put together a quality gift basket for any occasion. —Juliet Bennett Rylah
Wally's is located at 447 N. Canon Dr. in Beverly Hills, 310-457-3540; and 2107 Westwood Blvd. in Westwood, 310-475-0606

Bar Keeper in Silver Lake (via Facebook)
Bar Keeper
Bar Keeper in the Sunset Junction may be a cozy space, but it is a mighty one when it comes to all-things booze. They offer a highly curated selection of liquors, liqueurs and other mixology staples—including many California and L.A.-based spirit makers. It's a bartender's dream, even if you're only pouring at home for friends and family. They also have a huge selection of bitters in nearly any flavor you could imagine. You can also choose from a diverse array of barware staples, as well as cool vintage glasses, shakers and other bar accessories. Joe Keeper—owner and chief curator of the shop—clearly knows his stuff, and he and his helpful crew are happy to share the knowledge about the amazing collection they offer, and will even help you track down what they don't have, so don't be afraid to ask.
Bar Keeper is located at 3910 Sunset Blvd. in Silver Lake, (323) 669-1675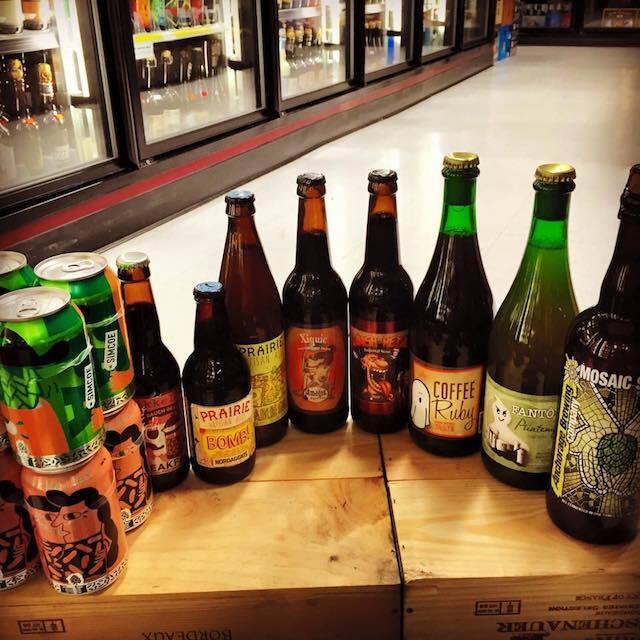 Another killer selection of craft beer from Bill's (via Facebook)
Bill's Liquor Store
Way beyond your average corner liquor store, Bill's Liquor Store in Atwater Village offers a heavenly treasure trove for craft beer nerds. While the liquor selection is solid and there's even some great wines—especially for a small shop—you're really here for the beer. From hard-to-find special releases and seasonals (yes, they get Pliny) to rare brews and small breweries from California, across the country and overseas, Bill's offers cooler after cooler of exciting surprises. And if you have trouble deciding or want to try out a few new brews, you can create your own mix-and-match six pack with many of the beers they offer. As an added bonus, they'll post to their Facebook page when they get in special beers, which is more than we can say for most neighborhood liquor stores.
Bill's Liquor Store is located at 3150 Glendale Blvd. in Atwater Village, (323) 663-0684

Domaine LA (via Instagram)
Domaine LA
If there is such a thing as a neighborhood wine store, then Domaine LA is exactly that. Located at a very cozy corner strip mall at Melrose and Mansfield avenues, Domaine started out as a web-only operation run by Jill Bernheimer that eventually moved into a brick-and-mortar spot in 2009. Their focus is on "honest wines" from Europe and the United States, which, according to them, "means wines made by people, not manufactured by corporations." With a focus on smaller, boutique producers and a helpful staff always willing to help make recommendations (including Bernheimer herself), it's the ideal place for both the connoisseur and the neophyte. Be sure to keep an eye on their calendar for tastings. — Carman Tse
Domaine LA is located at 6801 Melrose Ave. in Hollywood, (323) 932-0280.
Sunset Beer Company
While Sunset Beer Company may be more of a hangout for many of us, we forget sometimes that it's also just a really good craft beer store. Half of the space is lined with glass-door refrigerators, showing off their impressive selection of craft beers. And you can certainly ask the staff to crack one open for you to taste-test for a small corkage fee, while you hang out in their tasting room (that has beers on draft, too). There are so many options to choose from that you can never really go wrong with any selection you make. Since you can grab lots of single bottles, it gives you the chance to explore different beers without having to making a six-pack commitment. And bonus: you can drink a beer in their outdoor patio with your dogs. —Jean Trinh
Sunset Beer Company is located at 1498 Sunset Blvd. in Echo Park, (213) 481-2337

Get your Buzz on (via Facebook)
Buzz Wine Beer Shop

Quality places to buy booze in downtown L.A. are few and far between, so thankfully Buzz Wine Beer Shop is there to fill the parched void. Offering a massive selection of thoughtfully curated beer and wine, Buzz is not only a great place to go if you're a connoisseur, but also if you're looking to learn without all the stuffiness you might expect elsewhere. The attentive staff can offer recommendations whether you're buying for yourself or a gift. And if you're feeling particularly indecisive or just want to get your buzz on, you can head to the bar in the back and order up a flight of beer or wine to expand your palate. They'll even open up any bottle you purchase if you just can't wait to get home. They also frequently hold special tasting events, including food pairings, tap takeovers and tastings during downtown's monthly Art Walk.
Buzz Wine Beer Shop is located at 460 S Spring St. in downtown L.A., (213) 622-2222
Cap N' Cork Junior Market
Don't let the name fool you, Cap N' Cork Junior Market is anything but junior. The owners manage to pack a lot of quality booze in a small store, with rows and rows of neatly arranged wine, beer and spirit selections. It's the one-stop shop where you can grab that last-minute seasonal beer or hard-to-find Japanese whiskey to wow your friends, and any gourmet snacks or ice cream to go along with it. The staff is friendly and knowledgeable, and a bonus is that there's a free parking lot in the back—a rarity in that Los Feliz neighborhood. —Jean Trinh
Cap N' Cork Junior Market is located at 1674 Hillhurst Ave. in Los Feliz, (323) 665-1260

Vendome Win & Spirits in Studio City (via Facebook)
Vendome Wine & Spirits

With multiple locations around L.A. and Orange County, you're thankfully never too far from a Vendome store stocked with an impressive selection of craft beers, quality wines and stellar spirits. The family-run operation takes pride in not only offering great beverages for you to imbibe, but the staff is super knowledgeable about what they stock. They frequently host beer and wine tastings and food pairings, with the Beverly Hills location even offering a full-service deli with sandwiches and salads. Each location has its own personality and offers exclusive specials like the Toluca Lake spot, which offers blindfolded tasting workshops and wine and vinyl nights.
Vendome Wine & Spirits is located at 270 S Robertson Blvd. in Beverly Hills, (310) 276-9463; 10600 Riverside Dr. in Toluca Lake, (818) 766-9593; 11555 Ventura Blvd. in Studio City, (818) 766-5272; 958 Foothill Blvd. in La Cañada Flintridge, (818) 952-4084; and 3115 Yorba Linda Blvd. in Fullerton, (714) 524-0800/
Topline Wine & Spirits

Tucked at the back of a row of commercial warehouses of San Fernando Road, Topline is a hidden gem of a liquor store. We're even slightly hesitant to give up one of our favorite secrets. Stacked wall-to-wall with cases and crates, the small operation may not be much to look at, but if you're looking for an amazing deal on a great selection of wine and liquor, you've come to the right place. They also now offer a gradually expanding selection of craft beers. The super friendly staff is more than happy to help you find the vintage of wine you seek or help you discover something just by giving them a rough idea of the flavors you enjoy. They also stock lots of rare, top-shelf tequilas, whiskeys and other hard-to-find spirits, often for Costco-like prices.
Topline Wine & Spirits is located at 4718 San Fernando Rd. in Glendale, (818) 500-9670


A robust selection of craft and imported beer (Photo via Facebook)
The Oaks Gourmet
If you're looking to get a nice bottle of wine or an interesting spirit to take to a party, this neighborhood shop has you covered. They have a large selection of small batch bourbons, ryes and scotches, and a sizable beer and wine selection. A highlight here is that you don't have to pick up a six-pack, but can instead choose a number of single craft and imported beers for variety. If you're not in the mood for booze, Oaks Gourmet also offers some gourmet foods, including cheeses, artisanal ice cream and snacks. Plus they have a coffee, espresso and smoothie bar in the back with a host of pastries and baked goods. Their kitchen offers breakfast items in the morning, and heartier fare and night. They've also got a great burger, and will pack you a picnic basket perfect for the Hollywood Bowl. —Juliet Bennett Rylah
Oaks Gourmet is located at 1915 N. Bronson Ave. in Franklin Village, 323-871-8894