This is an archival story that predates current editorial management.
This archival content was written, edited, and published prior to LAist's acquisition by its current owner, Southern California Public Radio ("SCPR"). Content, such as language choice and subject matter, in archival articles therefore may not align with SCPR's current editorial standards. To learn more about those standards and why we make this distinction, please click here.
10 Delicious Noodle Dishes You Need To Try in The San Gabriel Valley
We need to hear from you.
Today during our spring member drive, put a dollar value on the trustworthy reporting you rely on all year long. The local news you read here every day is crafted for you, but right now, we need your help to keep it going. In these uncertain times, your support is even more important. We can't hold those in power accountable and uplift voices from the community without your partnership. Thank you.
Noodles are a serious business in the San Gabriel Valley. But what did you expect when you have an area so diverse with different cultures and cuisines? If you are ready to indulge your taste buds and up your noodle game with Burmese, Taiwanese, Chinese, Vietnamese and even Halal choices, here are 10 noodle dishes you need to try in the SGV.

Bull Demon King Café (Photo by Kristie Hang/LAist)
By Kristie Hang
BULL DEMON KING CAFE
The star noodle dish at Bull Demon King Café is the Taiwanese-style niu rou mian, better known here as the Full House Noodle. The rich broth comes with beef chunks, tendon, and tripe. Patrons are able to customize their desired spiciness level, portion of beef, and type of noodles. You can get the noodles four ways: thin, thick, flat, or glass. I prefer the thick noodles. The thin noodles are similar to skinny ramen noodles. Bull Demon King claims that they use more than 10 different spices to make their broth, which is then in turn brewed for over 12 hours.
FYI: For fans of competitive eating, Bull Demon King Café offers a Hell Style Beef Challenge. Competitors must finish every drop of the Hell Style Beef Noodles within 30 minutes to win a T-shirt and their picture on the wall. If you don't make it, the bowl of noodles will put you back $20.99. It's cash only for the Temple City location and there is a $25 minimum for credit card usage at the Diamond Bar location.
Bull Demon King Café is located at 5953 Temple City Boulevard in Temple City, (626) 286-4788, and at 1155 South Diamond Bar Boulevard in Diamond Bar, (909) 718-9877.

Molokhia Leaf noodles (Photo by Kristie Hang/LAist)
GREEN ZONE
Organic and healthy, my favorite noodles at Green Zone are their Molokhia Leaf noodles. They are $2 extra and taste similar to spinach noodles. I like to order either the beef soba or wonton noodles and replace the original noodles with the Molokhia ones. The green noodles are made from Molokhia leaf, which is a leaf used frequently in Egyptian cooking and is packed with lots of vitamins.
FYI: Make sure to order a bottomless Passionfruit Ice Tea. You can thank me later.
Green Zone is located at 534 East Valley Boulevard in San Gabriel, (626) 288-9300.

Dai Ho (Photo by Clarissa Wei)
DAI HO
Exclusivity at its finest, Dai Ho is only open for 3 ½ hours each day from Tuesday through Sunday. Although their Taiwanese Beef Noodle Soup is the restaurant's namesake, it's the minced meat dry noodles that is deserving of the spotlight. The chewy dry noodles are mixed with marinated ground pork and chili oil, and then topped with freshly diced scallions.
FYI: Cash only
Dai Ho is located at 9148 Las Tunas Drive in Temple City, (626) 291-2295.

Mohinga (Photo by Kristie Hang/LAist)
DAW YEE
Mohinga aka Catfish Chowder is widely accepted as Myanmar's National Dish. It is an extremely delectable noodle soup filled with catfish, lemongrass, vegetables, and eggs that will leave you wanting to order another bowl. Although Monhinga is often eaten as breakfast in Burma, I assure you that it tastes amazing as lunch and dinner as well.
Daw Yee Myanmar Café is located at 111 North Rural Drive in Monterey Park, (626) 573-8080.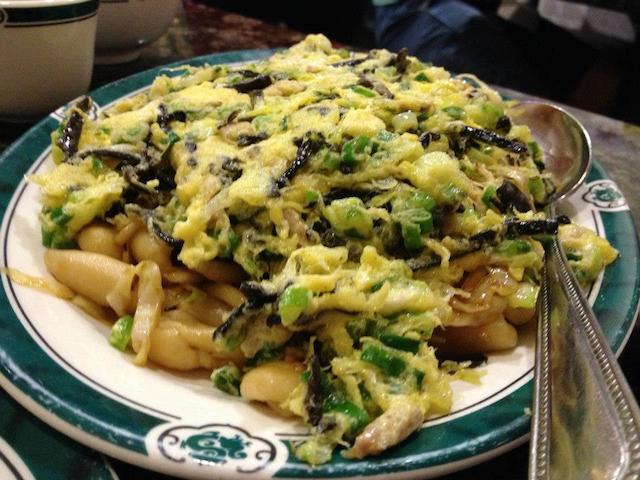 JTYH (Photo by Kristie Hang/LAist)
JTYH
JTYH touts Shanxi-style knife shaved noodles. The must-order noodle dish here is their knife-cut Mooshu Cat Ears. No, they're not actual cat ears. The 'ears' from JTYH are oval, shell-shaped pasta that is cooked to a doughy consistency then stir-fried with garlic and cabbage in a scramble egg and pork mix. It's like having an omelette and noodles all in one.
JTYH Restaurant is located at 9425 Valley Boulevard in Rosemead, (626) 442-8999.

Tasty Noodle House (Photo by Kristie Hang/LAist)
TASTY NOODLE HOUSE
Tasty Noodle House is a tiny shop made up of only 6-7 tables. They are known for their noodles, soups and dumplings. All the noodles from Tasty Noodle House are fresh, handmade and well, tasty, but the pork belly noodle soup is definitely worth a try. The broth has a thick, starchy consistency and is laden with pork belly slices and veggies. The pork they use is tender and not too fatty. Plus the noodles are very chewy and filling. FYI: it's cash only.
Tasty Noodle House is located at 827 West Las Tunas Drive in San Gabriel, (626) 284-8898.

Spicy sweet potato noodles from Flavor Garden (Photo by Kristie Hang/LAist)
FLAVOR GARDEN
An impeccable juxtaposition of flavors, the suan la fen aka spicy sweet potato noodles at Flavor Garden is made of sweet potato flour noodles paired with a hearty broth topped with peanuts, fried soy beans, chili, cilantro and other spices. Don't worry though, the soup isn't as spicy as it looks. The sweet potato noodles soak up the soup to give each bite a delicious, chewy punch of flavor.
Flavor Garden is located at 1269 East Valley Boulevard in Alhambra, (626) 284-3549.

HP Pho Ga Bac Ninh (Photo by Kristie Hang/LAist)
HP PHO GA BAC NINH
HP Pho Ga Bac Ninh specializes in free-range chicken. Their star noodle dish is their chicken pho, which comes with a unique ginger-dipping sauce made with lots of minced ginger, vinegar and fish sauce. The chicken is juicy and tender. You can choose between dark or white meat, more or less chicken skin. The chicken pho broth is made with fresh chicken stock, tastes light and healthy, and contains no MSG. FYI: It's cash only.
HP Pho Ga Bac Ninh is located at 8930 Mission Drive in Rosemead, (626) 288-9999.

Lamb noodles (Photo by Kristie Hang/LAist)
OMAR'S XINJIANG HALAL RESTAURANT
Due to the sizeable Muslim population in China, many Chinese restaurants serve Chinese Islamic/Halal cuisine. Omar's in San Gabriel is one of those restaurants. With only 8 tables, prepare to wait a bit for a seat. The lamb hand-pulled noodles are made fresh daily and not cooked until you order it. With a texture similar to Japanese udon, the freshly made lamb noodles are topped with a mixture of stir-fried celery, lamb, tomatoes, and onions. Don't worry about the bright red sauce. The dish is not spicy at all. FYI: it's cash only.
Omar's Xinjiang Halal Restaurant is located at 1718 New Avenue in San Gabriel, (626) 570-9778.

Dan Dan Noodles (Photo by Carmen To)
CHUAN MA
You really can't go wrong with any of the noodle dishes at Chuan Ma, but the dan dan noodles are on the top of my list. Each bowl of dan dan mian is topped with peanut sauce, crushed peanuts, chilies, ground pork, and freshly chopped scallions giving each bite a creamy, spicy kick! You have the option to customize the desired spiciness of your noodles. The sky's the limit! FYI: It's cash only.
Chuan Ma Noodle House is located at 18438 Colima Road in Rowland Heights, (626) 888-6318.
How to get the best eggs in town without leaving your yard.

Beautiful views aren't the only thing drawing Angelenos to the region

Gab Chabrán reflects on growing up in L.A. in a Latino home that doesn't celebrate Thanksgiving and the traditions they formed instead.

Oklahoma-style smash burgers and Georgian dumplings make for some excellent cheap bites in Glendale

Husband and wife Felix Agyei and Hazel Rojas combine food from their heritages, creating a marriage of West African and Filipino cooking

Baby Yoda cocktails. Boozy Dole Whips. Volcanic tiki drinks. If you can dream it, they're probably mixing it somewhere on property.