This is an archival story that predates current editorial management.
This archival content was written, edited, and published prior to LAist's acquisition by its current owner, Southern California Public Radio ("SCPR"). Content, such as language choice and subject matter, in archival articles therefore may not align with SCPR's current editorial standards. To learn more about those standards and why we make this distinction, please click here.
Flat Stanley Does Hollywood
Our June member drive is live: protect this resource!
Right now, we need your help during our short June member drive to keep the local news you read here every day going. This has been a challenging year, but with your help, we can get one step closer to closing our budget gap. Today, put a dollar value on the trustworthy reporting you rely on all year long. We can't hold those in power accountable and uplift voices from the community without your partnership.
The Flat Stanley project was started in 1995 by Dale Hubert, a Canadian schoolteacher. The project is based on the title character in Flat Stanley, a 1964 children's book. In the book, Stanley Lambchop is squished flat, which gives him unique abilities, like being able to slide under doors and travel in envelopes. The project is intended to increase literacy and educate children about geography.
Classes participating in the Flat Stanley Project make their own Stanley Lambchop out of paper, and usually laminate him. Flat Stanley is mailed around the world to willing participants, who are asked to treat Stanley as a visiting guest and to keep a journal of Stanley's activities. Most people also photograph Flat Stanley around town, making the project somewhat similar to the traveling gnome phenomenon. Some people send back postcards, videos or emails. Clint Eastwood took his daughter's Flat Stanley to the Oscars. Governor Arnold Schwarzenegger took his son's Flat Stanley with him on the campaign trail.
Flat Stanley has flown in a B-1 at 45,000 feet, and visited places as diverse as Antarctica and the great wall of China. He has been dressed up in full scuba gear and gone diving, and even did a stint as an Elvis impersonator in Vegas -- proving that I am not the craziest person ever to host Flat Stanley. In fact, if you do a Flickr search of "Flat Stanley" you will find some very questionable goings-on.
There are a variety of templates for different characters to keep things interesting. My visitor was named Flat Allen. But it's easier to stick with the generic "Stanley" as we join him on the first installment of his adventures around LA.
Here I am at Mann's. Movie stars put their footprints in cement and they hold huge movie premieres here. This is also where the tourist buses pick you up, and where to go if you want to watch a TV show being taped.
Everybody in my class back on Vancouver Island loves Johnny Depp. My feet almost fit in his footprints. Almost.
I could fit my whole body in Donald Duck's footprint
Now if anyone deserves a star it's this guy.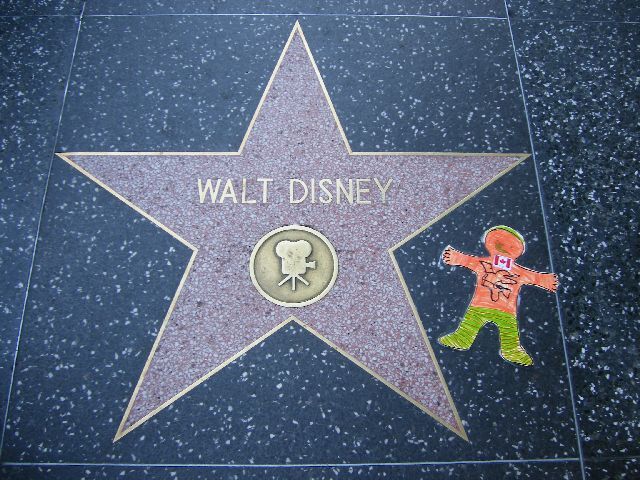 Woaaahhhh Hey! Let me down! This isn't funny!
I bet Elmer Fudd doesn't have a star on the Walk of Fame.
I wanted a hamburger for lunch, so we stopped at 25 Degrees. Their french fries were weird. No vinegar or gravy or anything.
Here I am at the Hollywood Roosevelt Hotel. Some people say it's haunted but I wasn't afraid. Not even a little.
Can we go home now?
All photos by Elise Thompson for Colleen Devlin's 1st grade class in Courtenay, BC
Cruise off the highway and hit locally-known spots for some tasty bites.

Fentanyl and other drugs fuel record deaths among people experiencing homelessness in L.A. County. From 2019 to 2021, deaths jumped 70% to more than 2,200 in a single year.

This fungi isn't a "fun guy." Here's what to do if you spot or suspect mold in your home.

Donald Trump was a fading TV presence when the WGA strike put a dent in network schedules.

Edward Bronstein died in March 2020 while officers were forcibly taking a blood sample after his detention.

A hike can be a beautiful backdrop as you build your connection with someone.